6 Bollywood Celebrities And Their Startling Bedroom Secrets: From Ranbir Kapoor To Priyanka Chopra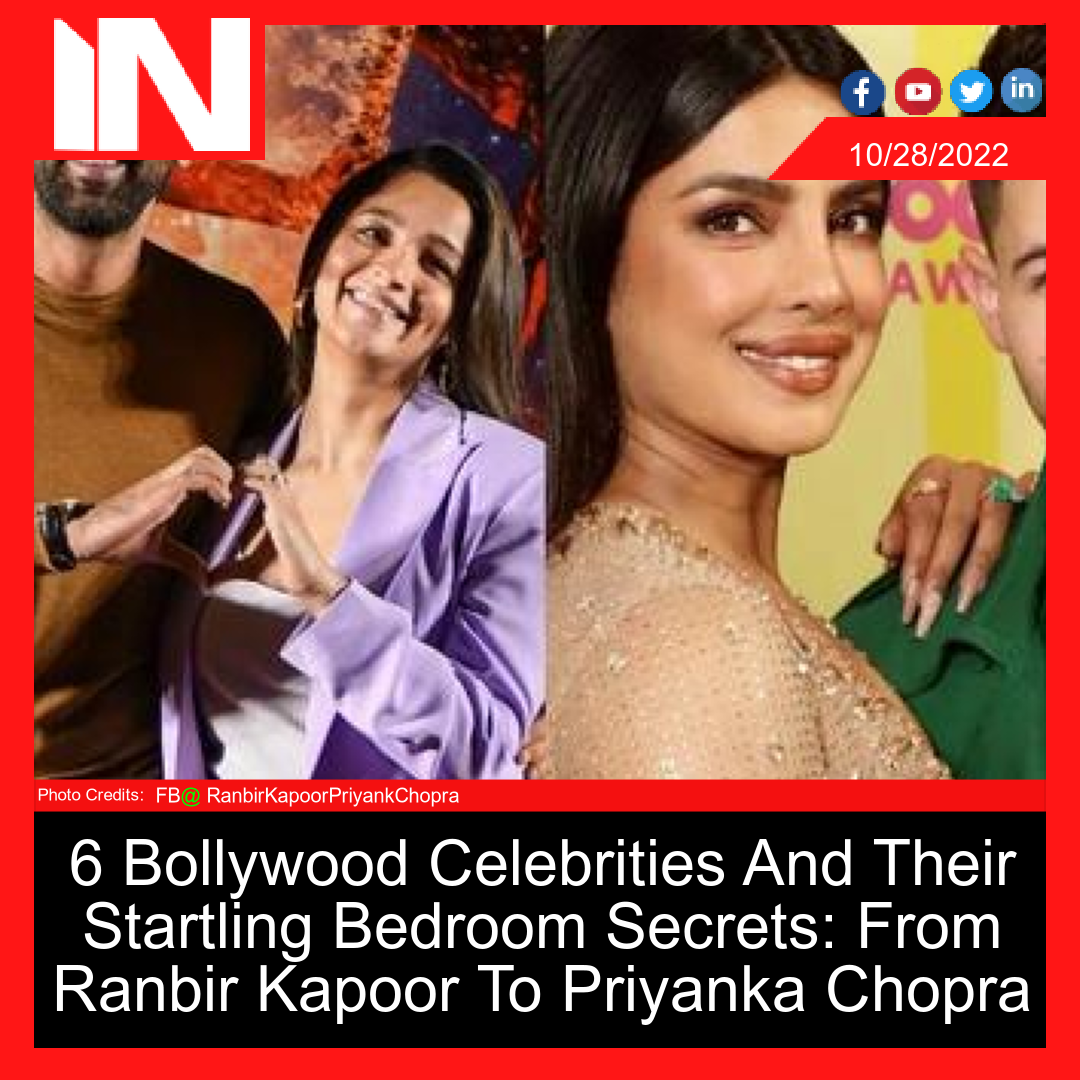 Celebrity lifestyles, fame, glamour, and media attention are frequently linked. Additionally, followers want to know what's new in the life of their favourite celebrity. Fans of popular celebrities are now closer because of the developments in social media. There are very few celebrities whose admirers don't know anything about their personal lives. Fans are not unmoved by any aspect of their favourite celebs' lives, from their relationships to their spectacular closets stocked with great fashion combinations.
Additionally, these famous people have a range of intriguing and spicy secrets, just like everyone else on the earth. A hand-selected list of Bollywood actors and actresses is provided here, along with some of their open nighttime secrets. Without further ado, let's discover more about these superstars by taking a glimpse inside their personal life.
First: Ranbir Kapoor
One of the most remarkable couples in the entertainment business is Ranbir Kapoor and Alia Bhatt. The couple had been turning heads with their sweet romance and adorable PDA moments ever since they started dating. Additionally, Alia and Ranbir are expecting their first child together, and ever since the actress discovered she was carrying, she has developed some peculiar sleeping habits that her adoring husband, Ranbir, has to put up with. Ranbir Kapoor was frank in an interview with the Bollywood Bubble about Alia's tendency to move diagonally on the bed as she sleeps, which causes the bed to get smaller and smaller. The actor had also mentioned that he must sleep on the bed's corner. Earlier, Ranbir had said:
"When she sleeps, she begins to move diagonally, which causes your bed to gradually get smaller as a result. I soon find myself wrestling on the corner of the bed with her head and legs somewhere else."
Second: Priyanka Chopra
Priyanka Chopra, a global celebrity, is one of the best actresses in the entertainment business. She has established herself not only in Bollywood but also in Hollywood. Regarding her private life, Priyanka married American musician Nick Jonas in 2018, and the union resulted in the birth of their stunning daughter, Malti Marie Chopra Jonas. One of the cutest couples, Priyanka and Nick aren't afraid to show their affection for one another. PeeCee once mentioned in an interview with ET Online that her adoring husband Nick enjoys gazing at her beauty every morning. Her words are:
"He keeps staring at my face when I wake up, which is honestly pretty annoying. I'm simply like, hold on a second. Just give me a moment to apply some mascara and moisturiser. I currently have a sleepy-eyed expression, but he's just…great it's and really lovely. You want your husband to act in that way. However, it's also a little awkward. Ok. Let me stare at you, he says; you're not even awake. In all seriousness, I'm not even kidding. It's very fantastic."

Third: Mira Rajput Kapoor
Mira Rajput Kapoor, the actor Shahid Kapoor's wife, gained notoriety after their July 7, 2015 wedding. The couple has been setting huge relationship objectives ever since. And without a doubt, they are Hollywood's "IT" couple. Additionally, Mira and Shahid never pass up an opportunity to publicly declare their love for one another and chat about one another. One of their intriguing bedroom secrets had already been divulged by the star wife. Mira claimed that her husband Shahid is a control freak in bed during a portion of Neha Dhupia's chat programme Vogue BFF. She'd stated:
Fourth: Sonam Kapoor
Sonam Kapoor never passes up the chance to win our hearts since she is a fashion icon. Her incredible sense of style frequently generates discussion online. Additionally, the actress frequently appears in the news due to her outspoken, unapologetic views. The famous daughter had once made an appearance on Anita Adjania's programme, Feet Up with the Stars. Sonam had discussed her marriage and disclosed some shocking bedroom secrets during the meeting. Sonam, being Sonam, had remarked that she appreciates her husband Anand Ahuja's lack of sexual inventiveness in bed.
You Might Also Like: Mamta Kulkarni to Monica Bedi Are Just Two Of The 7 Bollywood Actresses Who Fell In Love With Real-Life Gangsters
Fifth Malaika Arora
One of Bollywood's sexiest actresses, Malaika Arora, danced her way into our hearts with the uptempo song Chaiyya Chaiyya. Like a superb wine, the actress is aged backwards and is becoming younger every day. Malla is an inspiration to millions, whether it is for her exercise regimen or her sense of style. The diva's fans also adore her for making provocative statements. Malaika Arora shared her favourite sex position during a talk segment on Neha Dhupia's chat show, Vogue BFF. What is your favourite sex position, I asked Malaika. Malaika replied.

Sixth: Alia Bhatt
One of Bollywood's cutest actresses is Alia Bhatt. Thanks to her amazing acting abilities, the actress has cemented her place in the profession. In addition to her professional life, Alia frequently appears in the news for her personal life. For those who don't know, The Razi actress married her true love, Ranbir Kapoor, in 2022, and the two are currently expecting their first child. After revealing her preferred sex position, Alia refrained from discussing about her personal life and decisions. Alia stated that she like the "traditional missionary" role since she is a straightforward person in a Vogue interview.
Indeed, we were astonished by the audacious and frank bedroom secrets of B-town celebs. How are you doing? Inform us!
Group Media Publications
Entertainment News Platforms – anyflix.in
Construction Infrastructure and Mining News Platform – https://cimreviews.com/
General News Platform – https://ihtlive.com/
Legal and Laws News Platforms – https://legalmatters.in/
Podcast Platforms – https://anyfm.in/
Selena Gomez excitedly displays Taylor Swift's Eras Tour merchandise while cheering on her BFF in LA and exclaims, "Another one!"
The power of friendship and mutual support in the entertainment industry is a heartwarming sight to behold. Recently, Selena Gomez showcased her unwavering support for her best friend, Taylor Swift, by excitedly displaying merchandise from Swift's ongoing Eras Tour while cheering her on in Los Angeles. The heartening display of camaraderie between these two pop icons highlights the beauty of genuine friendships and the infectious excitement that accompanies a friend's success. In this blog post, we explore the significance of Selena Gomez's enthusiastic endorsement of Taylor Swift's tour merchandise and the enduring bond they share.
Celebrating Friendship and Success
Selena Gomez and Taylor Swift's friendship has been a constant source of admiration and inspiration for fans around the world. Their public displays of support for each other's achievements emphasize the importance of uplifting one another, even in the competitive entertainment industry. Gomez's enthusiastic endorsement of Swift's Eras Tour merchandise while cheering her on at a Los Angeles event beautifully encapsulates the spirit of celebrating each other's successes with genuine joy.
The "Another One!" Moment
Gomez's exclamation of "Another one!" as she proudly displayed the Eras Tour merchandise speaks volumes about her excitement and pride in Swift's accomplishments. This endearing moment not only showcases their strong friendship but also emphasizes the joy that comes with witnessing a friend's continuous journey of growth, creativity, and achievement.
The Influence of Celebrity Friendships
Celebrity friendships, like that of Gomez and Swift, hold a unique place in pop culture. They offer fans a glimpse into the personal lives of their favorite stars, making them more relatable and human. Such friendships also challenge the notion of rivalry in the entertainment industry, proving that true friendships can coexist even in a competitive environment.
Supporting Each Other's Creative Ventures
When one celebrity supports another's creative ventures, it sends a powerful message about unity and mutual admiration. Gomez's display of the Eras Tour merchandise not only promotes Swift's work but also encourages fans to engage with and celebrate their favorite artists' achievements. This kind of endorsement resonates deeply with fans, contributing to the overall success of an artist's projects.
Selena Gomez's enthusiastic display of Taylor Swift's Eras Tour merchandise while cheering her on in Los Angeles is a heartening testament to the enduring power of friendship and support in the entertainment industry. This authentic gesture reflects the genuine camaraderie these pop icons share and sends a message of positivity and unity to their fans. As Gomez and Swift continue to inspire each other and celebrate their individual journeys, their friendship remains a shining example of how genuine connections can flourish amidst the glitz and glamour of the celebrity world.
Group Media Publications
Entertainment News Platforms – anyflix.in      
Construction Infrastructure and Mining News Platform – https://cimreviews.com/
General News Platform – https://ihtlive.com/
Podcast Platforms – https://anyfm.in