Ankit Tiwari on a fan accessing his property and threatening to hurt themselves: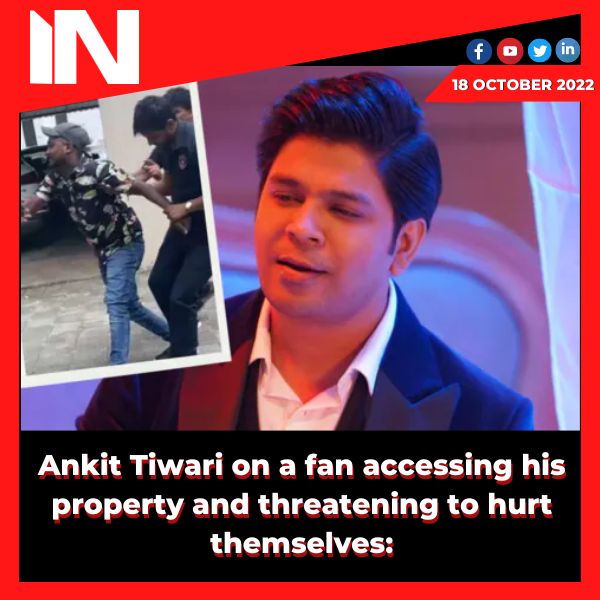 Ankit Tiwari, a singer, was recently shocked when a stranger who claimed to be a fan caused mayhem on the premises of his building. On Monday night, the man came into Tiwari's office because he wanted to speak with the Teri Galliyan singer. Guards from the building stopped him, and eventually even Tiwari's manager got involved. An onlooker reports that during the 30-minute argument, the man yelled, screamed, and threatened to sever his wrist.
"Shocking toh tha," responds Tiwari, "as a singer, we get to meet a lot of people when we perform. But this was a unique experience. He made some unsettling remarks. If I don't meet him, he'll damage himself, he said. I only had two choices at that moment. To prevent any additional disruption, I could have either contacted the police or gone down myself. So I made the decision to resign.
Was he afraid? The singer responds, "I wasn't worried at all; I just became scared when I saw him and met him. He was being held by the guards, yet he never seemed to relax. Anyone may have gotten hurt in that scenario.
Tiwari approached the man when others were there and learned that he was simply another one of his admirers. "I spoke to him politely, and he even expressed regret for starting the commotion. He shouldn't be doing these things, I even informed him. You see, there is a lot of negativity around, and I felt that whatever action I took, it must be kind and loving," he continues.
Tiwari, who was last seen in Smart Jodi, claims that his wife and neighbours were also surprised. "They had an assembly. I went for my studio right away after the event, so I'm not sure exactly what was said, but they phoned me. So I'll take care of that," he declares.
Group Media Publications
Entertainment News Platforms – anyflix.in
Construction Infrastructure and Mining News Platform – https://cimreviews.com/
General News Platform – https://ihtlive.com/
Legal and Laws News Platforms – https://legalmatters.in/
Podcast Platforms – https://anyfm.in/
Selena Gomez excitedly displays Taylor Swift's Eras Tour merchandise while cheering on her BFF in LA and exclaims, "Another one!"
The power of friendship and mutual support in the entertainment industry is a heartwarming sight to behold. Recently, Selena Gomez showcased her unwavering support for her best friend, Taylor Swift, by excitedly displaying merchandise from Swift's ongoing Eras Tour while cheering her on in Los Angeles. The heartening display of camaraderie between these two pop icons highlights the beauty of genuine friendships and the infectious excitement that accompanies a friend's success. In this blog post, we explore the significance of Selena Gomez's enthusiastic endorsement of Taylor Swift's tour merchandise and the enduring bond they share.
Celebrating Friendship and Success
Selena Gomez and Taylor Swift's friendship has been a constant source of admiration and inspiration for fans around the world. Their public displays of support for each other's achievements emphasize the importance of uplifting one another, even in the competitive entertainment industry. Gomez's enthusiastic endorsement of Swift's Eras Tour merchandise while cheering her on at a Los Angeles event beautifully encapsulates the spirit of celebrating each other's successes with genuine joy.
The "Another One!" Moment
Gomez's exclamation of "Another one!" as she proudly displayed the Eras Tour merchandise speaks volumes about her excitement and pride in Swift's accomplishments. This endearing moment not only showcases their strong friendship but also emphasizes the joy that comes with witnessing a friend's continuous journey of growth, creativity, and achievement.
The Influence of Celebrity Friendships
Celebrity friendships, like that of Gomez and Swift, hold a unique place in pop culture. They offer fans a glimpse into the personal lives of their favorite stars, making them more relatable and human. Such friendships also challenge the notion of rivalry in the entertainment industry, proving that true friendships can coexist even in a competitive environment.
Supporting Each Other's Creative Ventures
When one celebrity supports another's creative ventures, it sends a powerful message about unity and mutual admiration. Gomez's display of the Eras Tour merchandise not only promotes Swift's work but also encourages fans to engage with and celebrate their favorite artists' achievements. This kind of endorsement resonates deeply with fans, contributing to the overall success of an artist's projects.
Selena Gomez's enthusiastic display of Taylor Swift's Eras Tour merchandise while cheering her on in Los Angeles is a heartening testament to the enduring power of friendship and support in the entertainment industry. This authentic gesture reflects the genuine camaraderie these pop icons share and sends a message of positivity and unity to their fans. As Gomez and Swift continue to inspire each other and celebrate their individual journeys, their friendship remains a shining example of how genuine connections can flourish amidst the glitz and glamour of the celebrity world.
Group Media Publications
Entertainment News Platforms – anyflix.in      
Construction Infrastructure and Mining News Platform – https://cimreviews.com/
General News Platform – https://ihtlive.com/
Podcast Platforms – https://anyfm.in