Check your astrological forecast for Scorpio, Sagittarius, Cancer, Aries, and other signs today, October 29, 2022.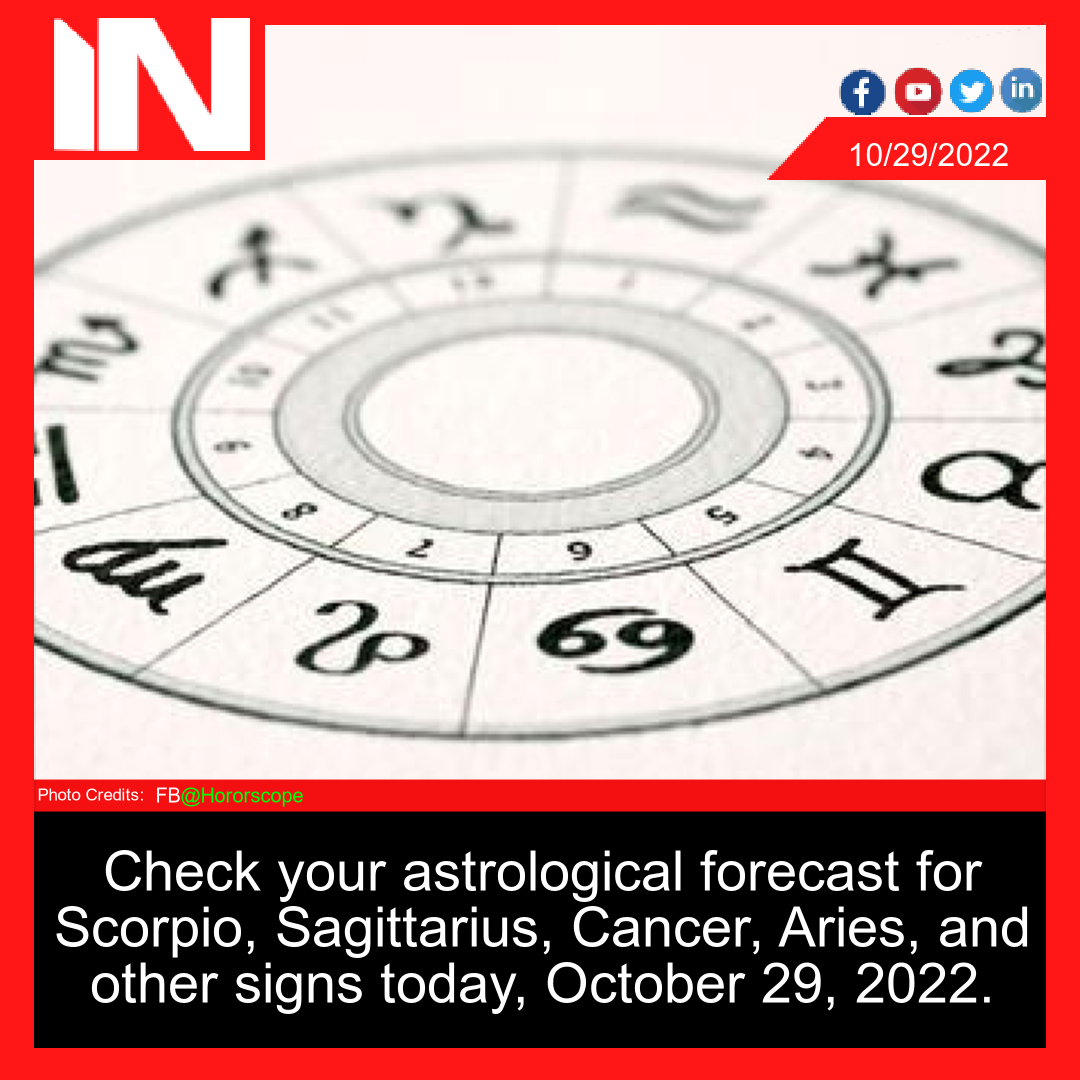 horoscope for today, October 29:
ARIES (Mar 21 – Apr. 20) (Mar 21 – Apr. 20)
Mars will soon finish its extravagant alignments, so it's likely that you won't be thinking about any practical considerations. But keep in mind that negligence leads to mishaps; the last thing you want to do right now is undo all your hard work by overlooking important particulars.
TAURUS (Apr. 21 – May 21) (Apr. 21 – May 21)
Right now, you risk biting off more than you can chew. Jupiter, the planet of growth, has a propensity to inflate your aspirations and exaggerate your claims. You might be tempted to double book, which might irritate your companions. Prepare yourself!
GEMINI (May 22 – June 21) (May 22 – June 21)
Although there is little indication as to whether your goals will be best served by spending or conserving, the emphasis on money, survival, and security seems likely to continue over the coming days. It could be another three months before you get a proper grasp on material concerns.
CANCER (June 22 – July 23) (June 22 – July 23)
The significant lunar alignment from yesterday is still very much in force today, making you more sensitive than normal but also more determined than ever to get over any problems at home or at work. You can, in other words, have your cake and eat it too!
LEO (July 24 – Aug. 23) (July 24 – Aug. 23)
Despite having a travel bug and possibly being fascinated with the notion that the grass is always greener on the other side of the world, you'll be in a very serious phase. A pilgrimage of some kind would reflect the zeitgeist. A journey into your personal past might be the answer.
VIRGO (Aug. 24 – Sept. 23) (Aug. 24 – Sept. 23)
You'll demand passion from your partners. The only problem is that you are so self-conscious that you even hide certain basic emotional desires from yourself. There could be countless problems as a result of this! Talking to yourself is the initial stage, after which you should share what you learn with others.
LIBRA (Sept. 24 – Oct. 23) (Sept. 24 – Oct. 23)
Don't think that a new buddy or acquaintance can replace an existing one. If business plans are in motion, keep going whether it's the weekend or not. Given that business and pleasure seem to have become closely connected, romantic occurrences may result in increased prices.
SCORPIO (Oct. 24 – Nov. 22) (Oct. 24 – Nov. 22)
The Moon inspires you to seek the attention and respect you deserve and suggests that your life is going on a positive, dynamic path. Scorpios who love to travel and are daring have chosen a good moment, and all your excursions may have a creative component.
SAGITTARIUS (Nov. 23 – Dec. 22) (Nov. 23 – Dec. 22)
Spending is more advantageous than conserving, so you might as well go all out today without considering tomorrow. What you actually need right now is company and a sense of belonging. Social and romantic connections are likely to be centred on common interests and pursuits.
CAPRICORN (Dec. 23 – Jan. 20) (Dec. 23 – Jan. 20)
If you have been able to maintain composure and control your temper even when it was obvious that others were trying to mislead you, you might find it difficult to resist the urge to lose your cool in the coming days. However, you might find yourself having to apologise!
AQUARIUS (Jan. 21 – Feb. 19) (Jan. 21 – Feb. 19)
The planetary alignments of today favour Aquarians who prioritise their values over their own interests. You can indulge in amorous whims and even self-sacrificing fantasies if you so want! Remember that you still need other people to be there for you and to support you.
PISCES (Feb. 20 – Mar 20) (Feb. 20 – Mar 20)
The reason you should let others make the rules is that even if you disagree, they won't pay attention. One of those instances when you should adopt the well-known Piscean shrug and let things continue in their charming way. You're not really as carefree as you make out, but that's your little secret!
Group Media Publications
Entertainment News Platforms – anyflix.in
Construction Infrastructure and Mining News Platform – https://cimreviews.com/
General News Platform – https://ihtlive.com/
Legal and Laws News Platforms – https://legalmatters.in/
Podcast Platforms – https://anyfm.in/
Selena Gomez excitedly displays Taylor Swift's Eras Tour merchandise while cheering on her BFF in LA and exclaims, "Another one!"
The power of friendship and mutual support in the entertainment industry is a heartwarming sight to behold. Recently, Selena Gomez showcased her unwavering support for her best friend, Taylor Swift, by excitedly displaying merchandise from Swift's ongoing Eras Tour while cheering her on in Los Angeles. The heartening display of camaraderie between these two pop icons highlights the beauty of genuine friendships and the infectious excitement that accompanies a friend's success. In this blog post, we explore the significance of Selena Gomez's enthusiastic endorsement of Taylor Swift's tour merchandise and the enduring bond they share.
Celebrating Friendship and Success
Selena Gomez and Taylor Swift's friendship has been a constant source of admiration and inspiration for fans around the world. Their public displays of support for each other's achievements emphasize the importance of uplifting one another, even in the competitive entertainment industry. Gomez's enthusiastic endorsement of Swift's Eras Tour merchandise while cheering her on at a Los Angeles event beautifully encapsulates the spirit of celebrating each other's successes with genuine joy.
The "Another One!" Moment
Gomez's exclamation of "Another one!" as she proudly displayed the Eras Tour merchandise speaks volumes about her excitement and pride in Swift's accomplishments. This endearing moment not only showcases their strong friendship but also emphasizes the joy that comes with witnessing a friend's continuous journey of growth, creativity, and achievement.
The Influence of Celebrity Friendships
Celebrity friendships, like that of Gomez and Swift, hold a unique place in pop culture. They offer fans a glimpse into the personal lives of their favorite stars, making them more relatable and human. Such friendships also challenge the notion of rivalry in the entertainment industry, proving that true friendships can coexist even in a competitive environment.
Supporting Each Other's Creative Ventures
When one celebrity supports another's creative ventures, it sends a powerful message about unity and mutual admiration. Gomez's display of the Eras Tour merchandise not only promotes Swift's work but also encourages fans to engage with and celebrate their favorite artists' achievements. This kind of endorsement resonates deeply with fans, contributing to the overall success of an artist's projects.
Selena Gomez's enthusiastic display of Taylor Swift's Eras Tour merchandise while cheering her on in Los Angeles is a heartening testament to the enduring power of friendship and support in the entertainment industry. This authentic gesture reflects the genuine camaraderie these pop icons share and sends a message of positivity and unity to their fans. As Gomez and Swift continue to inspire each other and celebrate their individual journeys, their friendship remains a shining example of how genuine connections can flourish amidst the glitz and glamour of the celebrity world.
Group Media Publications
Entertainment News Platforms – anyflix.in      
Construction Infrastructure and Mining News Platform – https://cimreviews.com/
General News Platform – https://ihtlive.com/
Podcast Platforms – https://anyfm.in