Facts about trick-or-treating for Halloween in 2022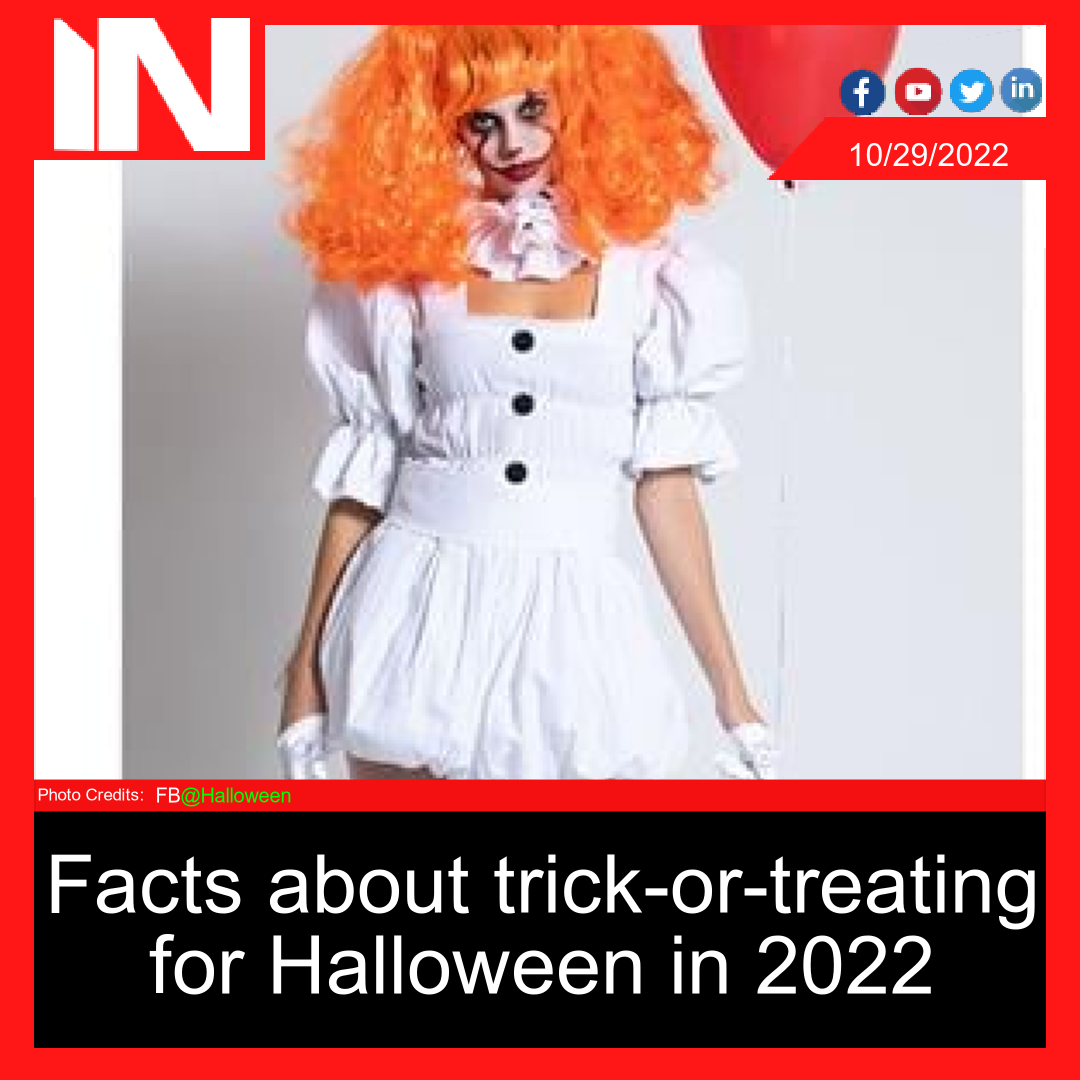 Halloween 2022: Here are some astounding facts about the well-known Halloween custom, including the fact that participating in trick-or-treating can result in fines and how the activity nearly ceased during World War II.

October 31st, 2022 The holiday is quickly approaching. Halloween, one of the biggest holidays honoured worldwide, will be observed on October 31 like it does every year. Halloween is the night before All Hallows' Day, a Christian holiday. People participate in a variety of activities to mark this day, including attending Halloween parties, dressing up as spooky characters from their favourite novels and movies, and carving pumpkins into Jack-o-lanterns. Another draw of this celebration is trick or treating. Children visiting this ritual in secret while wearing Halloween costumes
"Trick or treat" houses in the neighbourhood. Getting candy or other treats is considered a treat, whereas making harmless mischief is considered a trick.

Trick-or-treating as a Halloween tradition has a variety of fascinating facts, some of which are just as eerie as the festival's atmosphere.
Medieval times: Trading candies for mischief or other activities with strangers dates back to the Middle Ages. When young people used to go to the homes in their neighbourhood and trade a song or a poem for food. The practise now, however, exclusively involves young children.
Finding a husband: Young women used to stand in a dark room with a candle in front of the mirror in the hopes of seeing the face of their future husband emerge in the mirror as part of a Halloween tradition.
Trick-or-treating was interrupted by WWII: The practise of trick-or-treating was discontinued during World War II due to sugar rationing. However, soon after, candy manufacturers began to promote the holiday and ritual through commercials.
Stingy Jack's tale: Have you ever wondered how the term "Jack-o-lantern" came to be? This is related to the tale of Stingy Jack, an Irishman who was refused entry to both paradise and hell. So he wandered the land with a lantern.
Trick-or-treaters in the Canadian city of Bathurst are subject to fines if they are discovered engaging in the practise.
Group Media Publications
Entertainment News Platforms – anyflix.in
Construction Infrastructure and Mining News Platform – https://cimreviews.com/
General News Platform – https://ihtlive.com/
Legal and Laws News Platforms – https://legalmatters.in/
Podcast Platforms – https://anyfm.in/
Selena Gomez excitedly displays Taylor Swift's Eras Tour merchandise while cheering on her BFF in LA and exclaims, "Another one!"
The power of friendship and mutual support in the entertainment industry is a heartwarming sight to behold. Recently, Selena Gomez showcased her unwavering support for her best friend, Taylor Swift, by excitedly displaying merchandise from Swift's ongoing Eras Tour while cheering her on in Los Angeles. The heartening display of camaraderie between these two pop icons highlights the beauty of genuine friendships and the infectious excitement that accompanies a friend's success. In this blog post, we explore the significance of Selena Gomez's enthusiastic endorsement of Taylor Swift's tour merchandise and the enduring bond they share.
Celebrating Friendship and Success
Selena Gomez and Taylor Swift's friendship has been a constant source of admiration and inspiration for fans around the world. Their public displays of support for each other's achievements emphasize the importance of uplifting one another, even in the competitive entertainment industry. Gomez's enthusiastic endorsement of Swift's Eras Tour merchandise while cheering her on at a Los Angeles event beautifully encapsulates the spirit of celebrating each other's successes with genuine joy.
The "Another One!" Moment
Gomez's exclamation of "Another one!" as she proudly displayed the Eras Tour merchandise speaks volumes about her excitement and pride in Swift's accomplishments. This endearing moment not only showcases their strong friendship but also emphasizes the joy that comes with witnessing a friend's continuous journey of growth, creativity, and achievement.
The Influence of Celebrity Friendships
Celebrity friendships, like that of Gomez and Swift, hold a unique place in pop culture. They offer fans a glimpse into the personal lives of their favorite stars, making them more relatable and human. Such friendships also challenge the notion of rivalry in the entertainment industry, proving that true friendships can coexist even in a competitive environment.
Supporting Each Other's Creative Ventures
When one celebrity supports another's creative ventures, it sends a powerful message about unity and mutual admiration. Gomez's display of the Eras Tour merchandise not only promotes Swift's work but also encourages fans to engage with and celebrate their favorite artists' achievements. This kind of endorsement resonates deeply with fans, contributing to the overall success of an artist's projects.
Selena Gomez's enthusiastic display of Taylor Swift's Eras Tour merchandise while cheering her on in Los Angeles is a heartening testament to the enduring power of friendship and support in the entertainment industry. This authentic gesture reflects the genuine camaraderie these pop icons share and sends a message of positivity and unity to their fans. As Gomez and Swift continue to inspire each other and celebrate their individual journeys, their friendship remains a shining example of how genuine connections can flourish amidst the glitz and glamour of the celebrity world.
Group Media Publications
Entertainment News Platforms – anyflix.in      
Construction Infrastructure and Mining News Platform – https://cimreviews.com/
General News Platform – https://ihtlive.com/
Podcast Platforms – https://anyfm.in