Monkeypox risk is greatest in children under the age of 8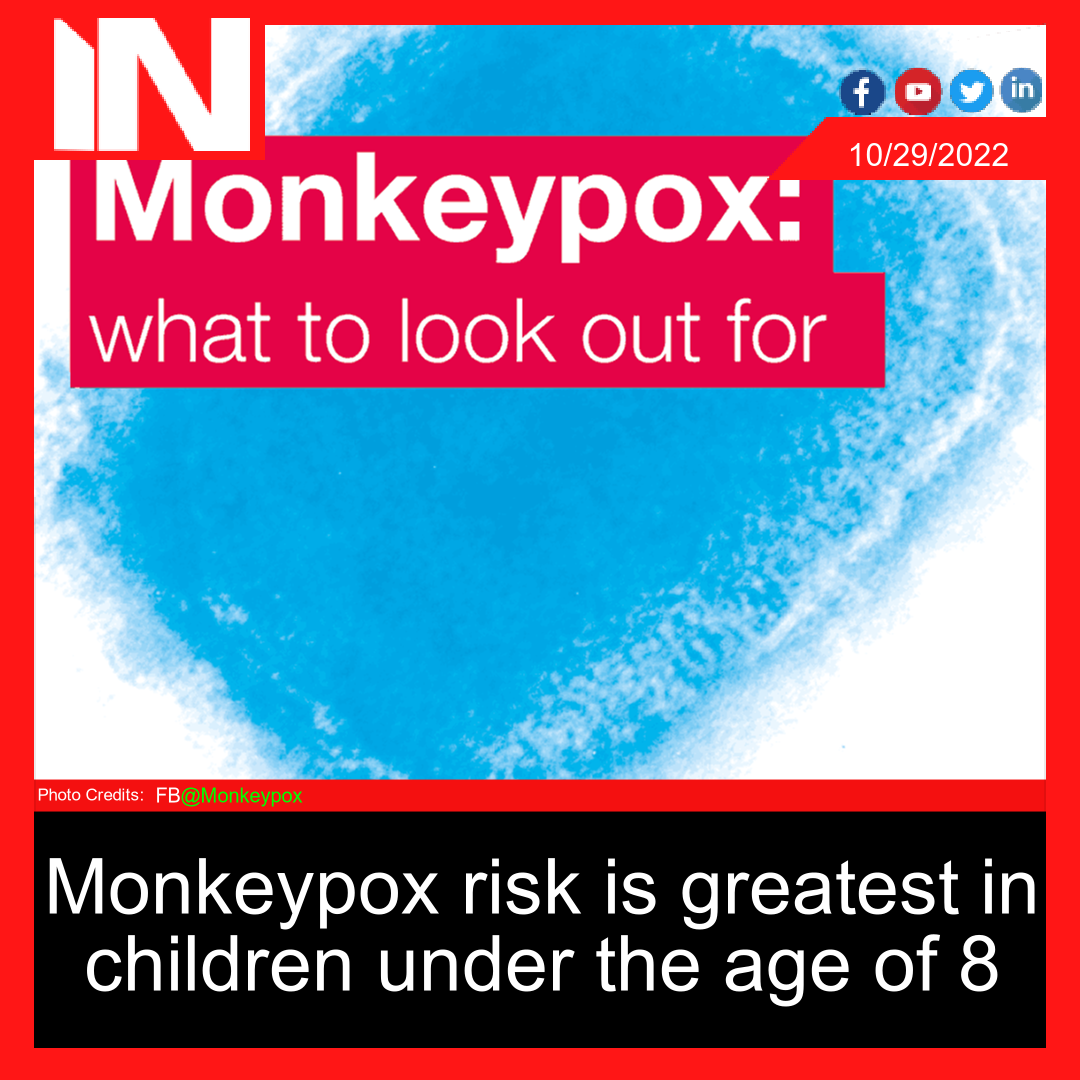 As of August 2022, there had been about 47,000 confirmed cases of monkeypox worldwide. Only 211 of these cases included people who were younger than 18 years old.
Children aged 8 or younger should be considered a population at high risk for more severe monkeypox disease, according to The Pediatric Infectious Disease Journal, the official journal of The European Society for Paediatric Infectious Diseases. The journal is published by Wolters Kluwer under the Lippincott banner.
Young children would be a key target group for smallpox vaccination and other urgent measures if the outbreak widens, according to the review by Petra Zimmermann, MD, Ph.D., of the University of Fribourg, Switzerland, and Nigel Curtis, Ph.D., of The University of Melbourne and Murdoch Children's Research Institute, Australia. They provide an expert perspective on "What clinicians need to know" on childhood monkeypox.
Concerns regarding the hazards of monkeypox in young infants stem from previous outbreaks.
As of August 2022, there had been about 47,000 confirmed cases of monkeypox worldwide. Only 211 of these cases included people who were younger than 18 years old. In the current outbreak, close sexual or other types of contact appear to have been the primary means of transmission for the monkeypox virus. We still don't know what role other transmission channels, such droplets and infected items and surfaces, play.
The majority of monkeypox cases are "self-limiting," with the rash developing and going away. The absence or mildness of the symptoms might lead to missed diagnoses. High-risk groups, such as children under 8 and people with underlying skin disorders, need specialized care.
Given that monkeypox can be asymptomatic, an outbreak could spiral out of control and spread to vulnerably affected groups like young children. The smallpox vaccine would be crucial in that circumstance, necessitating the need for "additional urgent steps." According to Drs. Zimmermann and Curtis, smallpox vaccination protects against monkeypox. If the current infection spreads to children, authorities should be prepared to quickly implement immunisation of this age group.
Group Media Publications
Entertainment News Platforms – anyflix.in
Construction Infrastructure and Mining News Platform – https://cimreviews.com/
General News Platform – https://ihtlive.com/
Legal and Laws News Platforms – https://legalmatters.in/
Podcast Platforms – https://anyfm.in/
Selena Gomez excitedly displays Taylor Swift's Eras Tour merchandise while cheering on her BFF in LA and exclaims, "Another one!"
The power of friendship and mutual support in the entertainment industry is a heartwarming sight to behold. Recently, Selena Gomez showcased her unwavering support for her best friend, Taylor Swift, by excitedly displaying merchandise from Swift's ongoing Eras Tour while cheering her on in Los Angeles. The heartening display of camaraderie between these two pop icons highlights the beauty of genuine friendships and the infectious excitement that accompanies a friend's success. In this blog post, we explore the significance of Selena Gomez's enthusiastic endorsement of Taylor Swift's tour merchandise and the enduring bond they share.
Celebrating Friendship and Success
Selena Gomez and Taylor Swift's friendship has been a constant source of admiration and inspiration for fans around the world. Their public displays of support for each other's achievements emphasize the importance of uplifting one another, even in the competitive entertainment industry. Gomez's enthusiastic endorsement of Swift's Eras Tour merchandise while cheering her on at a Los Angeles event beautifully encapsulates the spirit of celebrating each other's successes with genuine joy.
The "Another One!" Moment
Gomez's exclamation of "Another one!" as she proudly displayed the Eras Tour merchandise speaks volumes about her excitement and pride in Swift's accomplishments. This endearing moment not only showcases their strong friendship but also emphasizes the joy that comes with witnessing a friend's continuous journey of growth, creativity, and achievement.
The Influence of Celebrity Friendships
Celebrity friendships, like that of Gomez and Swift, hold a unique place in pop culture. They offer fans a glimpse into the personal lives of their favorite stars, making them more relatable and human. Such friendships also challenge the notion of rivalry in the entertainment industry, proving that true friendships can coexist even in a competitive environment.
Supporting Each Other's Creative Ventures
When one celebrity supports another's creative ventures, it sends a powerful message about unity and mutual admiration. Gomez's display of the Eras Tour merchandise not only promotes Swift's work but also encourages fans to engage with and celebrate their favorite artists' achievements. This kind of endorsement resonates deeply with fans, contributing to the overall success of an artist's projects.
Selena Gomez's enthusiastic display of Taylor Swift's Eras Tour merchandise while cheering her on in Los Angeles is a heartening testament to the enduring power of friendship and support in the entertainment industry. This authentic gesture reflects the genuine camaraderie these pop icons share and sends a message of positivity and unity to their fans. As Gomez and Swift continue to inspire each other and celebrate their individual journeys, their friendship remains a shining example of how genuine connections can flourish amidst the glitz and glamour of the celebrity world.
Group Media Publications
Entertainment News Platforms – anyflix.in      
Construction Infrastructure and Mining News Platform – https://cimreviews.com/
General News Platform – https://ihtlive.com/
Podcast Platforms – https://anyfm.in