Movie review of Ammu: The terrifying drama starring Aishwarya Lekshmi is about a woman's struggle against domestic abuse.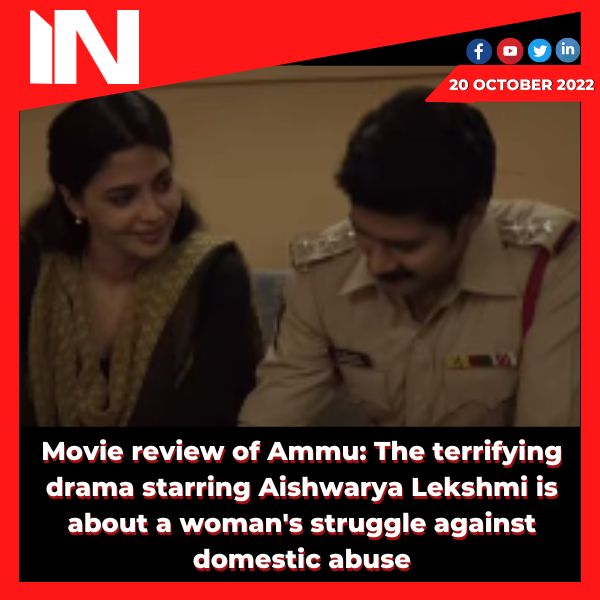 Contrary to many of her colleagues, Aishwarya Lekshmi has a persistent need to choose scripts that matter. She is definitely emerging as a force to be reckoned with thanks to it. She opted to feature in Ammu, a tense thriller directed by newcomer Charukesh Sekar, after financing Sai Pallavi's Gargi, unquestionably one of the best movies of the year. Ammu is about a domestic violence survivor who stands up for herself. Aishwarya's Ammu, which is modelled after movies like Thappad and 47 Naatkal, is a very well-known story of domestic violence of a weak wife, but happily it takes a really fascinating detour to provide a novel conclusion.
Playing Ammu is Aishwarya Lekshmi. The dialogue between a young girl and Ammu, who is getting ready to wed her police officer neighbour Ravi (Naveen Chandra), opens the movie. The young girl questions Ammu about her feelings for Ravi and her readiness for marriage. Ammu responds by saying she believes she is familiar with him and then inquires as to her motives for posing the query.
The character of Ravi is expertly introduced in one of the best scenes of the film, and it doesn't take long for the audience to discover his actual motivations. As soon as Ammu discovers of Ravi's aggressive and domineering conduct, her entire life begins to fall apart. The rest of the narrative focuses on Ammu's response to domestic abuse and if she is successful in making her husband learn a lesson.
Ammu will undoubtedly rank among this year's most significant movies. With the manner it decides to end the film, it takes a very pertinent issue that has been a subject of conversation for a while and gives it a very interesting spin. Even if one were to imagine such a tale and write down every scenario that might occur, the conclusion of this movie would still catch you off guard. Ammu explores important topics that must be considered when it comes to a woman's engagement in a marriage, rather than acting out like an awareness video on domestic abuse. Ammu sobs to her mother in one of the most important scenes of the movie and berates her for getting married so young. The mother jokingly replies, 'you're already 25'. In the subsequent scene, when Ammu opens up to her mother about Ravi turning abusive, she quotes the examples of her father and defends it by saying men have no other means to take out their anger and stress.
The video skillfully examines how women have been socialised to domestic violence through decades and how the majority of them have come to accept it as a way of life. There is also a lovely scene regarding a woman's right to an abortion, which couldn't have occurred at a better time than right now as the Supreme Court of India upheld that right.
Aishwarya is pretty gutsy to be the star of such a project at a time when she can get away with portraying the stereotypical heroine. It appears as though she intends to use her films to express a point. Aishwarya is therefore choosing projects deliberately that go beyond the conventional notion of entertainment. Aishwarya excels in her role as the weak wife trying to collect the courage to leave her terrible marriage. One of her better performances is this one. Naveen Chandra had the guts to perform this part, and he does a great job of portraying the frightening spouse. In a significant cameo, Bobby Simhaa excels. Streaming of Ammu on Prime Video started on October 19.
Group Media Publications
Entertainment News Platforms – anyflix.in      
Construction Infrastructure and Mining News Platform – https://cimreviews.com/
General News Platform – https://ihtlive.com/
Legal and Laws News Platforms – https://legalmatters.in/
Podcast Platforms – https://anyfm.in/
Jungkook's song Seven has become the fastest to surpass 900 million streams on Spotify.
Jungkook's "Seven": A Record-Breaking Phenomenon on Spotify
In the world of music streaming, there are certain milestones that artists dream of achieving, and breaking records is often one of them. Recently, Jungkook, a member of the globally renowned K-pop group BTS, achieved a remarkable feat when his solo track, "Seven," became the fastest song to surpass 900 million streams on Spotify.
BTS, known for their chart-topping hits and dedicated fanbase, has been at the forefront of the K-pop revolution, captivating audiences worldwide. While the group's collective success is widely recognized, Jungkook's individual accomplishments have been equally awe-inspiring. His solo track "Seven" is a testament to his talent and the unwavering support of the ARMY, BTS's dedicated fanbase.
"Seven," a soulful and heartfelt song, showcases Jungkook's versatility as an artist. The track's captivating melody and poignant lyrics have resonated with fans on a profound level, making it a favorite in his discography. Its soaring popularity and streaming records are a reflection of the emotional connection that Jungkook shares with his listeners.
Spotify, one of the world's leading music streaming platforms, has become a barometer for an artist's global reach and impact. The fact that "Seven" achieved this milestone on the platform in record time speaks volumes about Jungkook's popularity and the loyalty of the ARMY.
It's important to acknowledge the influence and significance of this accomplishment. Surpassing 900 million streams is not just about the number; it's a testament to the emotional resonance that "Seven" has with listeners around the world. It's a song that has offered solace and inspiration to fans during challenging times, underlining the profound impact of music.
Jungkook's rise as a solo artist within the BTS universe is a testament to the group's commitment to individual growth and artistic exploration. "Seven" serves as a shining example of how each member of the group has something unique to offer, and Jungkook's success reaffirms the power of their collective and individual talents.
The ARMY, known for their unwavering support, played a crucial role in this achievement. Their dedication and passion for BTS and its members have consistently propelled the group and its individual members to new heights. This milestone stands as a testament to their love and commitment.
As "Seven" continues to make waves on Spotify and Jungkook's star continues to rise, it's clear that K-pop and BTS have transcended borders, languages, and cultures. They have redefined the global music landscape, and this record-breaking achievement only further solidifies their status as trailblazers in the industry.
In the world of music streaming, Jungkook's "Seven" has made history, and in the hearts of fans, it has created lasting memories. It's a reminder of the power of music to unite, inspire, and break records, and it paves the way for a future where K-pop continues to shine on the global stage. Congratulations to Jungkook and the ARMY for this remarkable achievement!
Group Media Publications
Entertainment News Platforms – anyflix.in      
Construction Infrastructure and Mining News Platform – https://cimreviews.com/
General News Platform – https://ihtlive.com/
Podcast Platforms – https://anyfm.in