Popular Bollywood director Shiv Kumar Khurana passes away at 83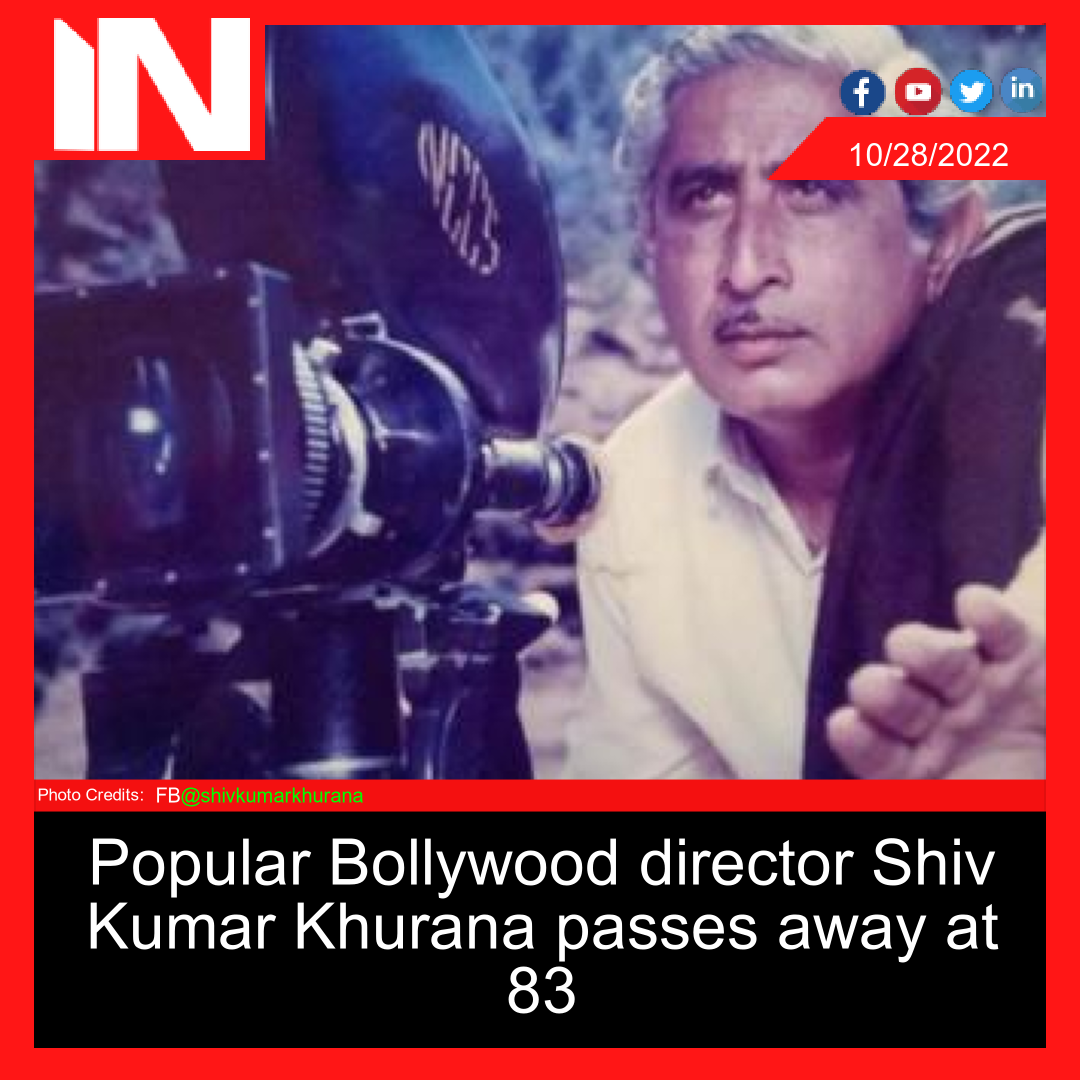 Shiv Kumar Khurana, a seasoned director who worked on several Bollywood movies, passed suddenly on Thursday at a Mumbai hospital. He was hospitalised for ailments connected to ageing and later passed away at the age of 83. Films like Mitti Aur Sona, Badnaam, Badkaar, Bud Naseeb, Be Aabroo, and Sone Ki Zanjeer are just a few of Shiv Kumar Khurana's best productions, for those who are ignorant.
Shiv Kumar Khurana passed away at the Brahmakumari Global Hospital in Bombay as a result of a recent age-related illness, according to an article in the ETimes. His prayer meeting will take place at the Gurudwara Sri Guru Singh Sabha, Four Bungalows, Andheri West, Bombay, today, October 28, from 4 to 5 p.m.
Celebrities send Shiv Kumar Khurana their condolences after his passing. As soon as this news became public, a number of celebrities began sending their condolences. A touching homage to Khurrana was also given by television actor Vindu Dara Singh, who became well-known in the entertainment sector after winning the third season of Bigg Boss. "Wonderful soul may God grant his family the strength to face this irreplaceable loss," he posted on Twitter. Notably, Khurrana was the filmmaker who introduced Singh in the 1994 Bollywood film "Karan."
Actor Vinod Khanna was chosen by Shiv Kumar Khurana to be his hero. In-depth research into the director's past suggests that Shiv Kumar Khurana was also the first to cast prominent Bollywood actor Vinod Khanna as a hero. In the middle of the 1990s, Vinod Khanna gained notoriety for portraying villains in movies. Knowing that, it would not have been simple to choose him as the movie's hero. Vinod Khanna gained notoriety for his performance as the villain in the blockbuster hit "Mera Gaon Mera Desh" and his first solo starring part in "Hum Tum Aur Woh" the following year.Shiv Kumar Khurana was the director and producer of "Hum Tum Aur Woh." The renowned director has our condolences.
Group Media Publications
Entertainment News Platforms – anyflix.in
Construction Infrastructure and Mining News Platform – https://cimreviews.com/
General News Platform – https://ihtlive.com/
Legal and Laws News Platforms – https://legalmatters.in/
Podcast Platforms – https://anyfm.in/
'
Selena Gomez excitedly displays Taylor Swift's Eras Tour merchandise while cheering on her BFF in LA and exclaims, "Another one!"
The power of friendship and mutual support in the entertainment industry is a heartwarming sight to behold. Recently, Selena Gomez showcased her unwavering support for her best friend, Taylor Swift, by excitedly displaying merchandise from Swift's ongoing Eras Tour while cheering her on in Los Angeles. The heartening display of camaraderie between these two pop icons highlights the beauty of genuine friendships and the infectious excitement that accompanies a friend's success. In this blog post, we explore the significance of Selena Gomez's enthusiastic endorsement of Taylor Swift's tour merchandise and the enduring bond they share.
Celebrating Friendship and Success
Selena Gomez and Taylor Swift's friendship has been a constant source of admiration and inspiration for fans around the world. Their public displays of support for each other's achievements emphasize the importance of uplifting one another, even in the competitive entertainment industry. Gomez's enthusiastic endorsement of Swift's Eras Tour merchandise while cheering her on at a Los Angeles event beautifully encapsulates the spirit of celebrating each other's successes with genuine joy.
The "Another One!" Moment
Gomez's exclamation of "Another one!" as she proudly displayed the Eras Tour merchandise speaks volumes about her excitement and pride in Swift's accomplishments. This endearing moment not only showcases their strong friendship but also emphasizes the joy that comes with witnessing a friend's continuous journey of growth, creativity, and achievement.
The Influence of Celebrity Friendships
Celebrity friendships, like that of Gomez and Swift, hold a unique place in pop culture. They offer fans a glimpse into the personal lives of their favorite stars, making them more relatable and human. Such friendships also challenge the notion of rivalry in the entertainment industry, proving that true friendships can coexist even in a competitive environment.
Supporting Each Other's Creative Ventures
When one celebrity supports another's creative ventures, it sends a powerful message about unity and mutual admiration. Gomez's display of the Eras Tour merchandise not only promotes Swift's work but also encourages fans to engage with and celebrate their favorite artists' achievements. This kind of endorsement resonates deeply with fans, contributing to the overall success of an artist's projects.
Selena Gomez's enthusiastic display of Taylor Swift's Eras Tour merchandise while cheering her on in Los Angeles is a heartening testament to the enduring power of friendship and support in the entertainment industry. This authentic gesture reflects the genuine camaraderie these pop icons share and sends a message of positivity and unity to their fans. As Gomez and Swift continue to inspire each other and celebrate their individual journeys, their friendship remains a shining example of how genuine connections can flourish amidst the glitz and glamour of the celebrity world.
Group Media Publications
Entertainment News Platforms – anyflix.in      
Construction Infrastructure and Mining News Platform – https://cimreviews.com/
General News Platform – https://ihtlive.com/
Podcast Platforms – https://anyfm.in