Seven heart-healthy recommendations to avoid cardiovascular problems this holiday season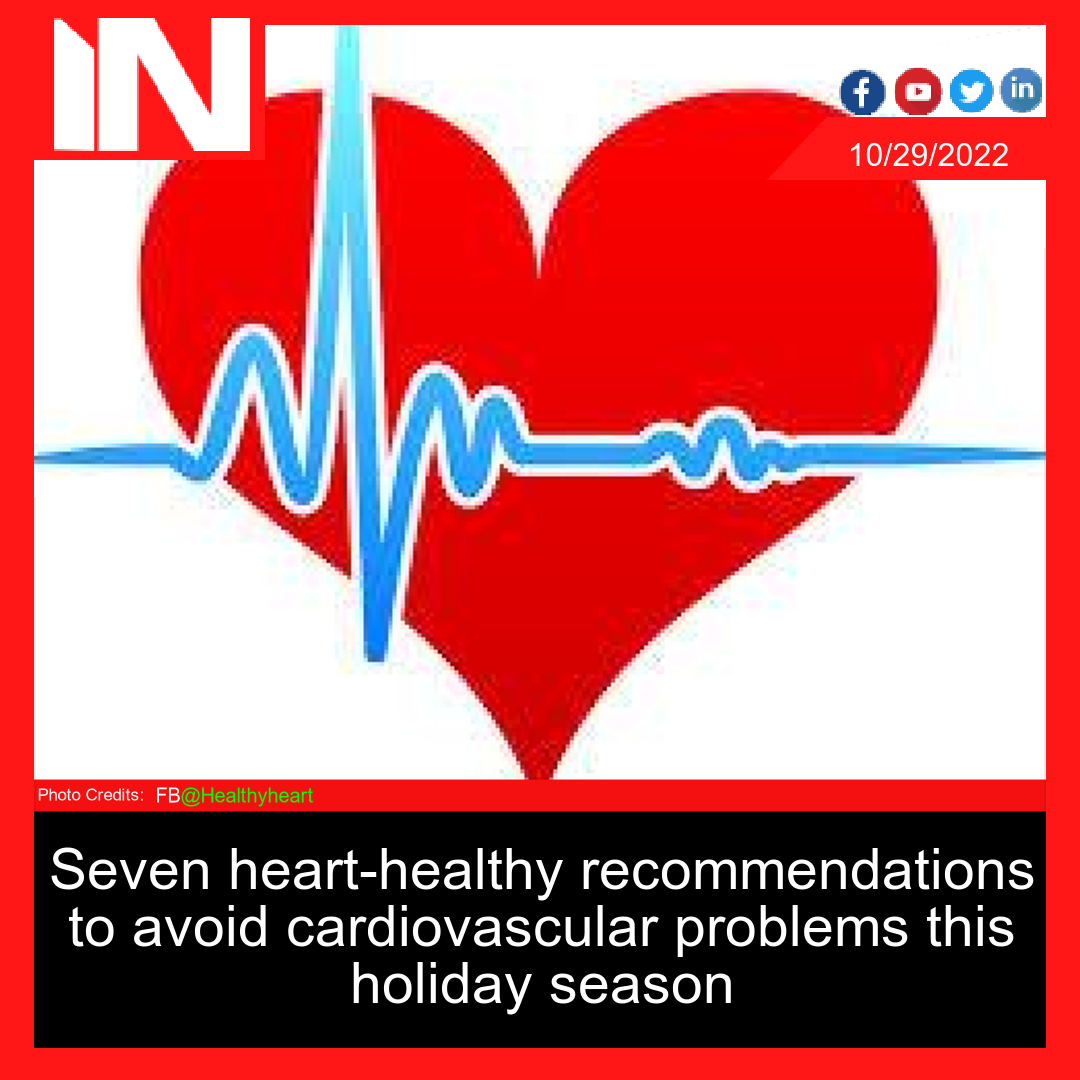 We need to take extra precautions to protect our heart health over the holiday season. Here are seven ways to control your heart behaviours and avoid cardiovascular illness this holiday season.

Numerous causes, some of which are beyond our control, contribute to the global problem of cardiovascular disease. We must, however, take extra precautions to protect our heart health over the holiday season.
Dr. Tilak Suvarna, a cardiologist at the Asian Cardiac Institute in Mumbai, offered some tips for preventing cardiovascular disorders this holiday season and taking control of our heart habits in an interview with HT Lifestyle. These are
Mindfully meditate – Daily meditation has been shown to help lower stress. When you're feeling overwhelmed, try to stay away from unhealthy coping strategies like binge eating, excessive drinking, or smoking because these will only make the situation worse in the long term. You can keep the discipline of taking your current meds as prescribed with the aid of mindfulness.
Refrain from excessive drinking and smoking – It's crucial to be mindful of your heart's needs when taking part in the festivities. Avoid using smokeless tobacco, smoking too much, or being around people who are smoking. Your blood's oxygen content may decrease as a result of these factors, raising your blood pressure and heart rate.
Get a good night's rest – Maintaining a healthy lifestyle requires a good night's sleep. This gets very little attention. Late nights spent partying can seriously disrupt your sleep cycle and, as a result, your body clock. Make an effort to obtain enough rest and sleep whenever you can. A increased risk of obesity, high blood pressure, heart attack, diabetes, and depression can be brought on by sleep deprivation. A good sleep cycle consists of getting at least seven hours per night.
Use the stairs – It's crucial to keep active and receive at least 30 minutes of exercise every day, regardless of how much rest you give your body over the holidays. It has been demonstrated that regular exercise lowers the risk of diabetes, high cholesterol, high blood pressure, and obesity. By choosing the stairs over the elevator, you can improve your health with just one tiny change.
Consume fresh meals – Eating healthfully is necessary year-round, but it's more crucial during Indian celebrations when there are many alluring sweets and fatty foods available. To protect your heart, lower your blood pressure and cholesterol, improve your blood pressure, and lower your risk of type 2 diabetes, try to eat enough of fruits and vegetables on a daily basis. Processed foods, beverages, sugary snacks, and salty snacks should all be avoided or consumed in moderation.
Read a lot. Reading is believed to lessen stimuli and free up mental space for in-depth decision-making. There is a book that offers the solution to any issue you are having. Reading encourages us to live in the moment, to be more aware of our mind and body
Yoga is beneficial – Yoga is said to assist the body detoxify, reduce chronic fatigue, increase endurance, and enhance organ and immunological functioning. It thus has a reputation for reducing cardiovascular risk factors and fostering a healthier lifestyle.
Prevention is mostly in your hands by adopting a healthy lifestyle plan and implementing the aforementioned advice.
Group Media Publications
Entertainment News Platforms – anyflix.in
Construction Infrastructure and Mining News Platform – https://cimreviews.com/
General News Platform – https://ihtlive.com/
Legal and Laws News Platforms – https://legalmatters.in/
Podcast Platforms – https://anyfm.in/
Selena Gomez excitedly displays Taylor Swift's Eras Tour merchandise while cheering on her BFF in LA and exclaims, "Another one!"
The power of friendship and mutual support in the entertainment industry is a heartwarming sight to behold. Recently, Selena Gomez showcased her unwavering support for her best friend, Taylor Swift, by excitedly displaying merchandise from Swift's ongoing Eras Tour while cheering her on in Los Angeles. The heartening display of camaraderie between these two pop icons highlights the beauty of genuine friendships and the infectious excitement that accompanies a friend's success. In this blog post, we explore the significance of Selena Gomez's enthusiastic endorsement of Taylor Swift's tour merchandise and the enduring bond they share.
Celebrating Friendship and Success
Selena Gomez and Taylor Swift's friendship has been a constant source of admiration and inspiration for fans around the world. Their public displays of support for each other's achievements emphasize the importance of uplifting one another, even in the competitive entertainment industry. Gomez's enthusiastic endorsement of Swift's Eras Tour merchandise while cheering her on at a Los Angeles event beautifully encapsulates the spirit of celebrating each other's successes with genuine joy.
The "Another One!" Moment
Gomez's exclamation of "Another one!" as she proudly displayed the Eras Tour merchandise speaks volumes about her excitement and pride in Swift's accomplishments. This endearing moment not only showcases their strong friendship but also emphasizes the joy that comes with witnessing a friend's continuous journey of growth, creativity, and achievement.
The Influence of Celebrity Friendships
Celebrity friendships, like that of Gomez and Swift, hold a unique place in pop culture. They offer fans a glimpse into the personal lives of their favorite stars, making them more relatable and human. Such friendships also challenge the notion of rivalry in the entertainment industry, proving that true friendships can coexist even in a competitive environment.
Supporting Each Other's Creative Ventures
When one celebrity supports another's creative ventures, it sends a powerful message about unity and mutual admiration. Gomez's display of the Eras Tour merchandise not only promotes Swift's work but also encourages fans to engage with and celebrate their favorite artists' achievements. This kind of endorsement resonates deeply with fans, contributing to the overall success of an artist's projects.
Selena Gomez's enthusiastic display of Taylor Swift's Eras Tour merchandise while cheering her on in Los Angeles is a heartening testament to the enduring power of friendship and support in the entertainment industry. This authentic gesture reflects the genuine camaraderie these pop icons share and sends a message of positivity and unity to their fans. As Gomez and Swift continue to inspire each other and celebrate their individual journeys, their friendship remains a shining example of how genuine connections can flourish amidst the glitz and glamour of the celebrity world.
Group Media Publications
Entertainment News Platforms – anyflix.in      
Construction Infrastructure and Mining News Platform – https://cimreviews.com/
General News Platform – https://ihtlive.com/
Podcast Platforms – https://anyfm.in