These yoga poses, demonstrated by Alia Bhatt's trainer, can help you define your abs this Diwali.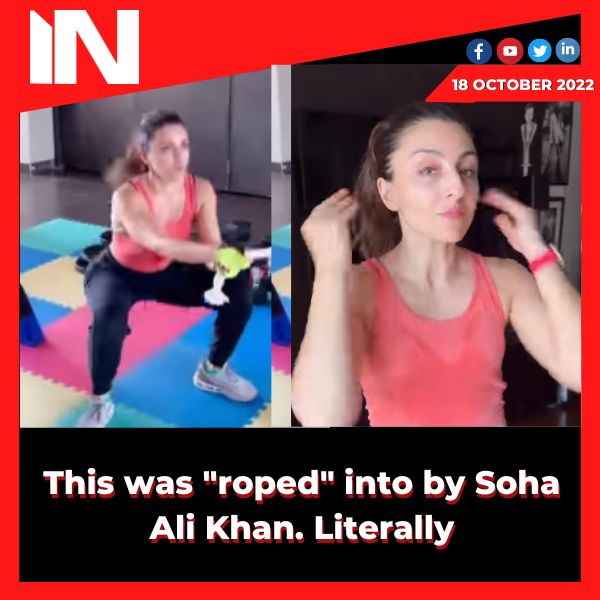 Diwali has arrived. There is a great deal of pomp and circumstance that comes with the holiday season. Everywhere in the nation, the festival of lights is observed with joy and wealth. At this time of year, people also enjoy mouthwatering cakes and sweets made especially for Diwali. People stay at home to rejoice with their loved ones. Parties and gatherings specifically for Diwali take place at this time. As a result, many enjoy getting in shape before the festival so they can dress up in new outfits and enjoy the festivities. Due to the coronavirus's two-year battle with the world, Diwali will be celebrated this year with great passion and joy.
Anshuka Parwani, a Bollywood celebrity trainer who works with stars like Alia Bhatt and Kareena Kapoor, released a yoga practise on her Instagram page. In it, she showed how to get rid of those obstinate abs. An excerpt from Anshuka's post, in which she demonstrated five yoga asanas to aid in exercising the abs and feeling the burn, read, "It's time to exercise those abs and feel the burn. Yoga is not only practised to promote relaxation and balance, but also to help burn stubborn fat and strengthen muscles. Here is Anshuka's yoga sequence that you can view:
15 reps of butterfly crunches
15 reps of crunches on a table
15 reps of crunches at 90 degrees
One minute tabletop hold
15 reps of hip dips
Anshuka's routine has several advantages for your health. The core muscles that are targeted by butterfly crunches are stretched, as well as the inner thighs. Additionally, it aids with hip opening. Tabletop crunches aid in reducing belly fat and shaping the abs. Additionally, it aids in bettering the body's equilibrium and overall posture. While Hip Dips give the body balance and stability, Table Top Hold works the abdomen, shoulders, arms, and legs.
Group Media Publications
Entertainment News Platforms – anyflix.in
Construction Infrastructure and Mining News Platform – https://cimreviews.com/
General News Platform – https://ihtlive.com/
Legal and Laws News Platforms – https://legalmatters.in/
Podcast Platforms – https://anyfm.in/
Selena Gomez excitedly displays Taylor Swift's Eras Tour merchandise while cheering on her BFF in LA and exclaims, "Another one!"
The power of friendship and mutual support in the entertainment industry is a heartwarming sight to behold. Recently, Selena Gomez showcased her unwavering support for her best friend, Taylor Swift, by excitedly displaying merchandise from Swift's ongoing Eras Tour while cheering her on in Los Angeles. The heartening display of camaraderie between these two pop icons highlights the beauty of genuine friendships and the infectious excitement that accompanies a friend's success. In this blog post, we explore the significance of Selena Gomez's enthusiastic endorsement of Taylor Swift's tour merchandise and the enduring bond they share.
Celebrating Friendship and Success
Selena Gomez and Taylor Swift's friendship has been a constant source of admiration and inspiration for fans around the world. Their public displays of support for each other's achievements emphasize the importance of uplifting one another, even in the competitive entertainment industry. Gomez's enthusiastic endorsement of Swift's Eras Tour merchandise while cheering her on at a Los Angeles event beautifully encapsulates the spirit of celebrating each other's successes with genuine joy.
The "Another One!" Moment
Gomez's exclamation of "Another one!" as she proudly displayed the Eras Tour merchandise speaks volumes about her excitement and pride in Swift's accomplishments. This endearing moment not only showcases their strong friendship but also emphasizes the joy that comes with witnessing a friend's continuous journey of growth, creativity, and achievement.
The Influence of Celebrity Friendships
Celebrity friendships, like that of Gomez and Swift, hold a unique place in pop culture. They offer fans a glimpse into the personal lives of their favorite stars, making them more relatable and human. Such friendships also challenge the notion of rivalry in the entertainment industry, proving that true friendships can coexist even in a competitive environment.
Supporting Each Other's Creative Ventures
When one celebrity supports another's creative ventures, it sends a powerful message about unity and mutual admiration. Gomez's display of the Eras Tour merchandise not only promotes Swift's work but also encourages fans to engage with and celebrate their favorite artists' achievements. This kind of endorsement resonates deeply with fans, contributing to the overall success of an artist's projects.
Selena Gomez's enthusiastic display of Taylor Swift's Eras Tour merchandise while cheering her on in Los Angeles is a heartening testament to the enduring power of friendship and support in the entertainment industry. This authentic gesture reflects the genuine camaraderie these pop icons share and sends a message of positivity and unity to their fans. As Gomez and Swift continue to inspire each other and celebrate their individual journeys, their friendship remains a shining example of how genuine connections can flourish amidst the glitz and glamour of the celebrity world.
Group Media Publications
Entertainment News Platforms – anyflix.in      
Construction Infrastructure and Mining News Platform – https://cimreviews.com/
General News Platform – https://ihtlive.com/
Podcast Platforms – https://anyfm.in