Varaha Roopam cannot be utilised in a movie "without permission of," according to the court in the plagiarism dispute involving the Kantara song.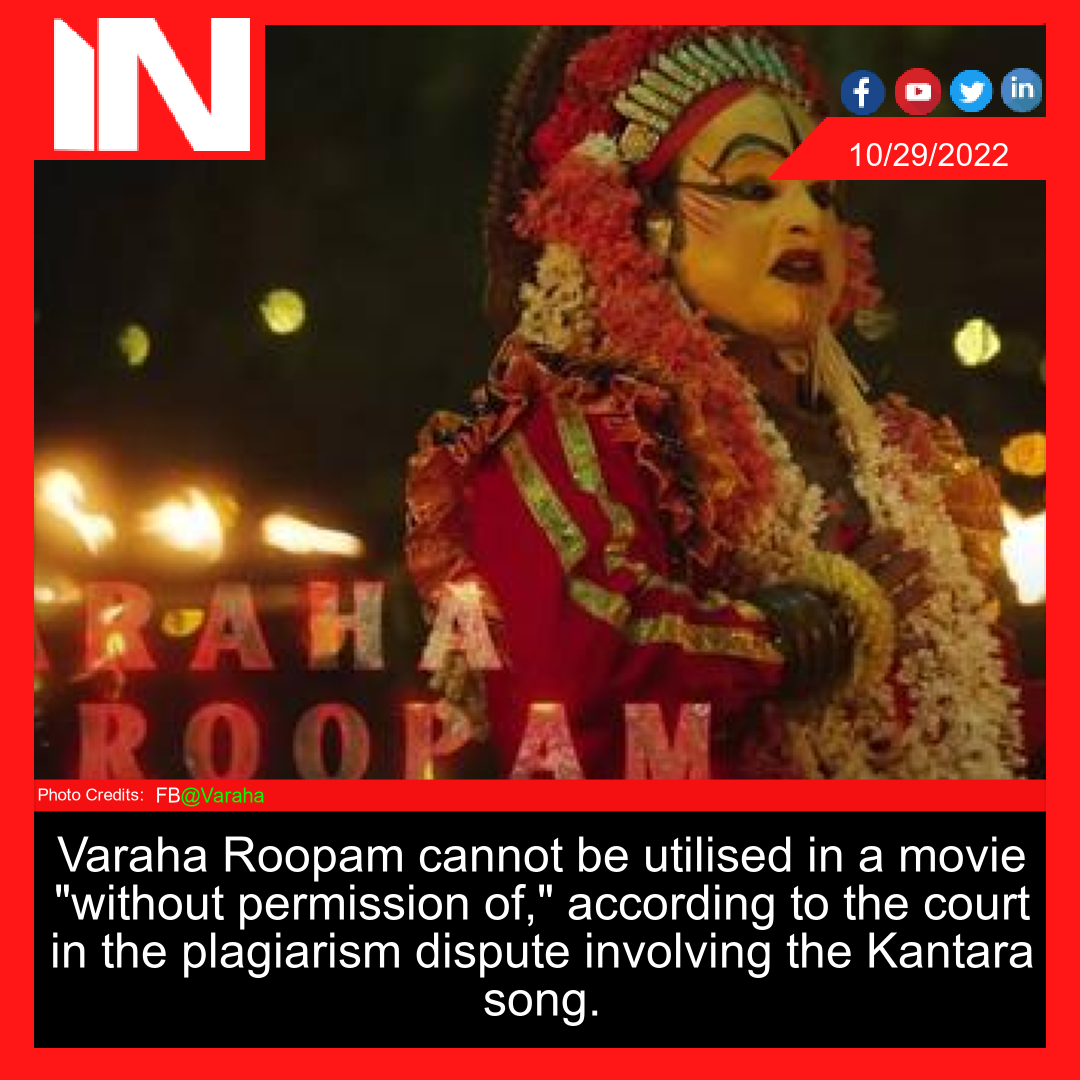 The Kantara squad has been ordered by a Kerala court not to play Varaha Roopam without Thaikkudam Bridge's consent. Varaha Roopam, according to the band, was lifted verbatim from Navarasam.

A court's judgement about the Kantara song Varaha Roopam has been updated by the Kerala-based band Thaikkudam Bridge. Recently, Thaikkudam Bridge claimed that their song Navarasam, which is included in Varaha Roopam, was copied.
Thaikkudam Bridge shared a post on Instagram. "The Producer, Director, Music Composer, Amazon, YouTube, Spotify, Wynk Music, Jiosavan and others have been enjoined from playing the Song Varaha Roopam in the Film Kantara," it stated.
Without Thaikkudam Bridge's consent. On behalf of Thaikkudam Bridge, music lawyer Satish Murthi, an advocate of the Supreme Court of India, has filed a lawsuit seeking an injunction.
Thank you for everyone's ongoing support, the post's caption read. A follower commented on the post, "Setting a historical precedent! #navarasam #thaikkudambridge #bethebridge." Don't ever steal someone else's property, another commenter said. "More power to you guys!! "
In a lengthy post on Instagram, Thaikkudam Bridge stated that "Kantara" is in no way connected to Thaikkudam Bridge from the perspective of both of us and our partners. Therefore, there has been a flagrant violation of copyright rules due to the unavoidable auditory similarities between Varaha Roopam and our intellectual property, Navarasam.
The statement continued, "From our perspective, the distinction between "Inspired" and "Plagiarized" is clear and unmistakable, and as a result, we will seek legal action against the creative team accountable for this. The song is promoted by the film's creative team as an original composition, and our ownership of the content has not been acknowledged. We kindly ask for your cooperation and urge you to let others know about this.

Sai Vignesh performed the song Varaha Roopam, which was written by B Ajaneesh Loknath. Kantara, directed by Rishab Shetty, came out on September 30. For its plot and stunning images, the movie has received a tonne of positive feedback from viewers.
Group Media Publications
Entertainment News Platforms – anyflix.in
Construction Infrastructure and Mining News Platform – https://cimreviews.com/
General News Platform – https://ihtlive.com/
Legal and Laws News Platforms – https://legalmatters.in/
Podcast Platforms – https://anyfm.in/
Selena Gomez excitedly displays Taylor Swift's Eras Tour merchandise while cheering on her BFF in LA and exclaims, "Another one!"
The power of friendship and mutual support in the entertainment industry is a heartwarming sight to behold. Recently, Selena Gomez showcased her unwavering support for her best friend, Taylor Swift, by excitedly displaying merchandise from Swift's ongoing Eras Tour while cheering her on in Los Angeles. The heartening display of camaraderie between these two pop icons highlights the beauty of genuine friendships and the infectious excitement that accompanies a friend's success. In this blog post, we explore the significance of Selena Gomez's enthusiastic endorsement of Taylor Swift's tour merchandise and the enduring bond they share.
Celebrating Friendship and Success
Selena Gomez and Taylor Swift's friendship has been a constant source of admiration and inspiration for fans around the world. Their public displays of support for each other's achievements emphasize the importance of uplifting one another, even in the competitive entertainment industry. Gomez's enthusiastic endorsement of Swift's Eras Tour merchandise while cheering her on at a Los Angeles event beautifully encapsulates the spirit of celebrating each other's successes with genuine joy.
The "Another One!" Moment
Gomez's exclamation of "Another one!" as she proudly displayed the Eras Tour merchandise speaks volumes about her excitement and pride in Swift's accomplishments. This endearing moment not only showcases their strong friendship but also emphasizes the joy that comes with witnessing a friend's continuous journey of growth, creativity, and achievement.
The Influence of Celebrity Friendships
Celebrity friendships, like that of Gomez and Swift, hold a unique place in pop culture. They offer fans a glimpse into the personal lives of their favorite stars, making them more relatable and human. Such friendships also challenge the notion of rivalry in the entertainment industry, proving that true friendships can coexist even in a competitive environment.
Supporting Each Other's Creative Ventures
When one celebrity supports another's creative ventures, it sends a powerful message about unity and mutual admiration. Gomez's display of the Eras Tour merchandise not only promotes Swift's work but also encourages fans to engage with and celebrate their favorite artists' achievements. This kind of endorsement resonates deeply with fans, contributing to the overall success of an artist's projects.
Selena Gomez's enthusiastic display of Taylor Swift's Eras Tour merchandise while cheering her on in Los Angeles is a heartening testament to the enduring power of friendship and support in the entertainment industry. This authentic gesture reflects the genuine camaraderie these pop icons share and sends a message of positivity and unity to their fans. As Gomez and Swift continue to inspire each other and celebrate their individual journeys, their friendship remains a shining example of how genuine connections can flourish amidst the glitz and glamour of the celebrity world.
Group Media Publications
Entertainment News Platforms – anyflix.in      
Construction Infrastructure and Mining News Platform – https://cimreviews.com/
General News Platform – https://ihtlive.com/
Podcast Platforms – https://anyfm.in