What is harming the Hindi film industry? Bollywood is in a funk.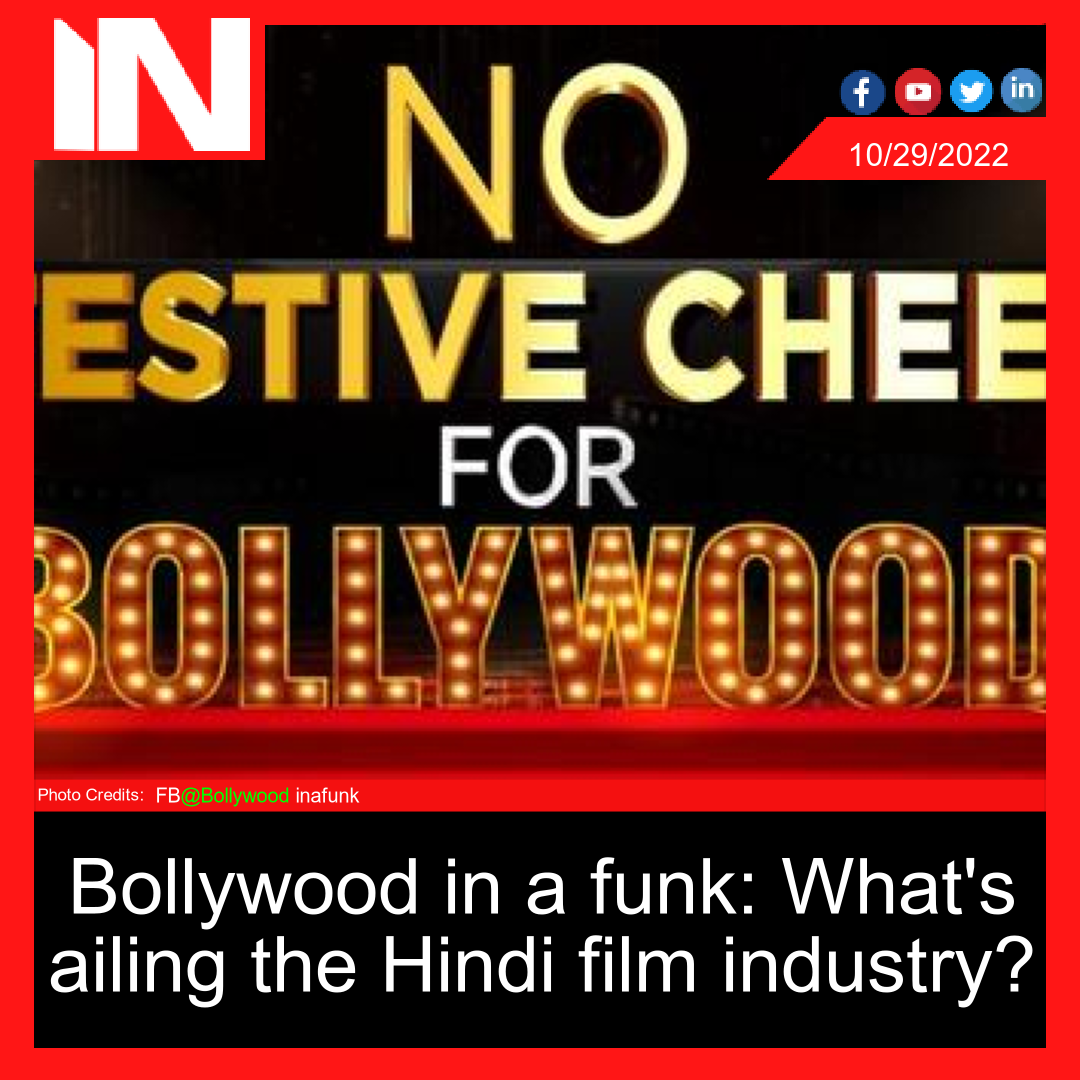 Bollywood is struggling as a result of two consecutive box office flops. The Hindi film business, which used to be recognised for producing three to four blockbuster hits every year, is currently having trouble holding the audience's attention.

India has recently finished its nationwide Diwali celebrations, but Bollywood is still in trouble. Unquestionably, a lacklustre content show is to be blamed for the underwhelming box office take for Hindi movies, and to add insult to injury, a movement in consumer preference for diverse content consumption on a variety of OTT (Over-The-Top) apps is also a factor in the decreased attendance.

This is demonstrated by the occupancy numbers, which for PVR and Inox are declining and obviously below pre-COVID levels.
Although regional films are performing better than Hindi films, Inox currently has a screen share of 77% in non-Southern markets, while PVR has a screen share of 65%.
Here is how Bollywood has done thus far this year. By the end of this year, we may fall 40% short of the box office receipts compared to 2019, which is the pre-COVID year, with the 117 Hindi films that have been released to yet, totaling box office receipts of Rs 2,900 crore.
It's important to remember that several movies had their release dates postponed or moved to OTT platforms. It is also unquestionably true that the film exhibition industry was the most negatively impacted by the implementation of COVID, as this sector was the first to close when COVID was implemented in India and the last to reopen when the country's travel restrictions were loosened.

A thorough examination of the Bollywood film receipts for this year reveals that without compelling material, even the presence of well-known actors is ineffective at drawing audiences to the theatres. This is demonstrated by the disappointing box office results of popular films with a star-studded cast, such as Lal Singh Chadha, Ek Villain, Liger, and Raksha Bandhan.
Seven films in all have earned more than Rs 100 crore at the box office so far this year. This should be compared to 19 movies from the pre-COVID 2019 period.
The time period between a film's theatrical release and its release on an OTT platform would also affect the amount of box office receipts for that particular film.

Larger windows are preferred for big-budget films because theatre audiences, who are accustomed to the actor's stardom, get a larger-than-life experience. How the remainder of this year will fare is currently the major issue. Avataar, Drishyam 2, and Black Panther are upcoming films, and Vaathi, Kushi, and other regional films are on the schedule.

Group Media Publications
Entertainment News Platforms – anyflix.in
Construction Infrastructure and Mining News Platform – https://cimreviews.com/
General News Platform – https://ihtlive.com/
Legal and Laws News Platforms – https://legalmatters.in/
Podcast Platforms – https://anyfm.in/
Selena Gomez excitedly displays Taylor Swift's Eras Tour merchandise while cheering on her BFF in LA and exclaims, "Another one!"
The power of friendship and mutual support in the entertainment industry is a heartwarming sight to behold. Recently, Selena Gomez showcased her unwavering support for her best friend, Taylor Swift, by excitedly displaying merchandise from Swift's ongoing Eras Tour while cheering her on in Los Angeles. The heartening display of camaraderie between these two pop icons highlights the beauty of genuine friendships and the infectious excitement that accompanies a friend's success. In this blog post, we explore the significance of Selena Gomez's enthusiastic endorsement of Taylor Swift's tour merchandise and the enduring bond they share.
Celebrating Friendship and Success
Selena Gomez and Taylor Swift's friendship has been a constant source of admiration and inspiration for fans around the world. Their public displays of support for each other's achievements emphasize the importance of uplifting one another, even in the competitive entertainment industry. Gomez's enthusiastic endorsement of Swift's Eras Tour merchandise while cheering her on at a Los Angeles event beautifully encapsulates the spirit of celebrating each other's successes with genuine joy.
The "Another One!" Moment
Gomez's exclamation of "Another one!" as she proudly displayed the Eras Tour merchandise speaks volumes about her excitement and pride in Swift's accomplishments. This endearing moment not only showcases their strong friendship but also emphasizes the joy that comes with witnessing a friend's continuous journey of growth, creativity, and achievement.
The Influence of Celebrity Friendships
Celebrity friendships, like that of Gomez and Swift, hold a unique place in pop culture. They offer fans a glimpse into the personal lives of their favorite stars, making them more relatable and human. Such friendships also challenge the notion of rivalry in the entertainment industry, proving that true friendships can coexist even in a competitive environment.
Supporting Each Other's Creative Ventures
When one celebrity supports another's creative ventures, it sends a powerful message about unity and mutual admiration. Gomez's display of the Eras Tour merchandise not only promotes Swift's work but also encourages fans to engage with and celebrate their favorite artists' achievements. This kind of endorsement resonates deeply with fans, contributing to the overall success of an artist's projects.
Selena Gomez's enthusiastic display of Taylor Swift's Eras Tour merchandise while cheering her on in Los Angeles is a heartening testament to the enduring power of friendship and support in the entertainment industry. This authentic gesture reflects the genuine camaraderie these pop icons share and sends a message of positivity and unity to their fans. As Gomez and Swift continue to inspire each other and celebrate their individual journeys, their friendship remains a shining example of how genuine connections can flourish amidst the glitz and glamour of the celebrity world.
Group Media Publications
Entertainment News Platforms – anyflix.in      
Construction Infrastructure and Mining News Platform – https://cimreviews.com/
General News Platform – https://ihtlive.com/
Podcast Platforms – https://anyfm.in