Dahan, produced by Banijay Asia, becomes the most popular OTT series.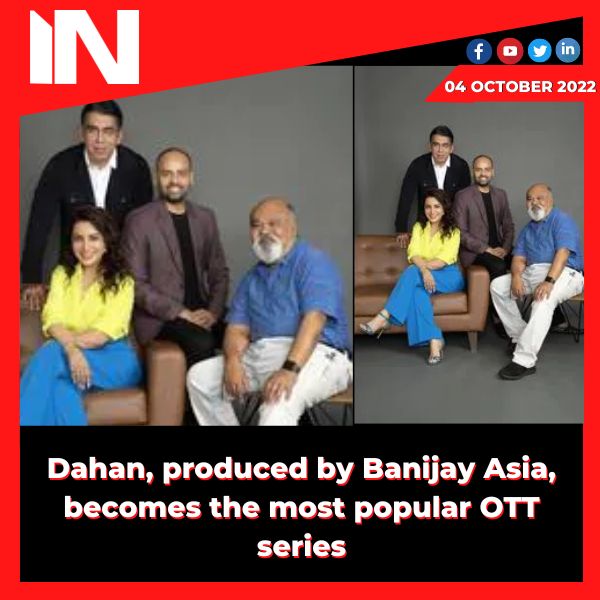 In order to make an unlikely reality, Deepak Dhar, CEO of Banijay Asia and producer of Dahan and Hostages, is renowned for gathering a large number of brilliant individuals under one roof. And Dahan:Raakan ka Rahasya, his most recent spooky suspense novel, seems to be the whole deal. Intriguing characters have been woven together by director Vikrant Pawar in a way that brilliantly blends mythology and reason.
Avni Raut, played by actor Tisca Chopra, is the star of the programme. She is a strong, vulnerable, passionate, and tender heroine. Adding depth to the programme are the actors Saurabh Shukla, Rajesh Tailang, and Mukesh Tiwari.
This paranormal thriller outperformed the well-known programmes Rings of Power, House of the Dragon, and Criminal Justice to take the top spot on the Ormax OTT report.
"Dahan is really significant to us," adds Dhar. The cast of the show features some incredibly skilled individuals, including technicians, post-production teams, and performers. Vikrant did a fantastic job of developing the world of Dahan, and he deserves all the credit for the idea he had for this land of folklore and superstition. Tisca has truly exceeded herself, and the entire cast has excelled. Through the entire process, the Disney+Hotstar team has been a fantastic partner. At Banijay Asia, we constantly work to promote the top talent because doing so results in great content, and Dahan is testament to that."
Dahan is my first project on a digital platform, and firsts are always significant, adds Pawar. Dahan's positive reception makes me feel incredibly fortunate and gratified. Long ago, I had the idea to make Dahan. To develop something like this, you need some remarkable individuals. Thank goodness I received them. Everyone who has worked on the project, including the cast and staff, has poured their hearts into it. It appears that our efforts have been fruitful.
On the other hand, Chopra says, "This was an experiment that really paid off. Congratulations to Hotstar and Banijay for having the guts to produce such a series. The viewers haven't seen such a series, and I feel incredibly lucky to be a part of it.
Such a series hasn't been seen by the public, and I consider myself fortunate to have contributed to Vikrant's idea. Dahan's creative team is insanely brilliant; from camerawork to music to visual effects, each division outdid themselves. Although I have had the pleasure of working with some outstanding talent, I am still in awe by the show's phenomenal response.
Shukla continues, "This show has a very original story. It delves far into the unknown without sacrificing reason. Dahan's producer, Deepak Dhar, has excelled at raising the bar for the programme. I'm pleased to have been a part of it because the direction, acting, and other components were all really well-balanced.
Group Media Publications
Entertainment News Platforms – anyflix.in      
Construction Infrastructure and Mining News Platform – https://cimreviews.com/
General News Platform – https://ihtlive.com/
Legal and Laws News Platforms – https://legalmatters.in/
Podcast Platforms – https://anyfm.in/
Selena Gomez excitedly displays Taylor Swift's Eras Tour merchandise while cheering on her BFF in LA and exclaims, "Another one!"
The power of friendship and mutual support in the entertainment industry is a heartwarming sight to behold. Recently, Selena Gomez showcased her unwavering support for her best friend, Taylor Swift, by excitedly displaying merchandise from Swift's ongoing Eras Tour while cheering her on in Los Angeles. The heartening display of camaraderie between these two pop icons highlights the beauty of genuine friendships and the infectious excitement that accompanies a friend's success. In this blog post, we explore the significance of Selena Gomez's enthusiastic endorsement of Taylor Swift's tour merchandise and the enduring bond they share.
Celebrating Friendship and Success
Selena Gomez and Taylor Swift's friendship has been a constant source of admiration and inspiration for fans around the world. Their public displays of support for each other's achievements emphasize the importance of uplifting one another, even in the competitive entertainment industry. Gomez's enthusiastic endorsement of Swift's Eras Tour merchandise while cheering her on at a Los Angeles event beautifully encapsulates the spirit of celebrating each other's successes with genuine joy.
The "Another One!" Moment
Gomez's exclamation of "Another one!" as she proudly displayed the Eras Tour merchandise speaks volumes about her excitement and pride in Swift's accomplishments. This endearing moment not only showcases their strong friendship but also emphasizes the joy that comes with witnessing a friend's continuous journey of growth, creativity, and achievement.
The Influence of Celebrity Friendships
Celebrity friendships, like that of Gomez and Swift, hold a unique place in pop culture. They offer fans a glimpse into the personal lives of their favorite stars, making them more relatable and human. Such friendships also challenge the notion of rivalry in the entertainment industry, proving that true friendships can coexist even in a competitive environment.
Supporting Each Other's Creative Ventures
When one celebrity supports another's creative ventures, it sends a powerful message about unity and mutual admiration. Gomez's display of the Eras Tour merchandise not only promotes Swift's work but also encourages fans to engage with and celebrate their favorite artists' achievements. This kind of endorsement resonates deeply with fans, contributing to the overall success of an artist's projects.
Selena Gomez's enthusiastic display of Taylor Swift's Eras Tour merchandise while cheering her on in Los Angeles is a heartening testament to the enduring power of friendship and support in the entertainment industry. This authentic gesture reflects the genuine camaraderie these pop icons share and sends a message of positivity and unity to their fans. As Gomez and Swift continue to inspire each other and celebrate their individual journeys, their friendship remains a shining example of how genuine connections can flourish amidst the glitz and glamour of the celebrity world.
Group Media Publications
Entertainment News Platforms – anyflix.in      
Construction Infrastructure and Mining News Platform – https://cimreviews.com/
General News Platform – https://ihtlive.com/
Podcast Platforms – https://anyfm.in