During Paris Fashion Week, Kim Kardashian received teasing for wearing just green clothing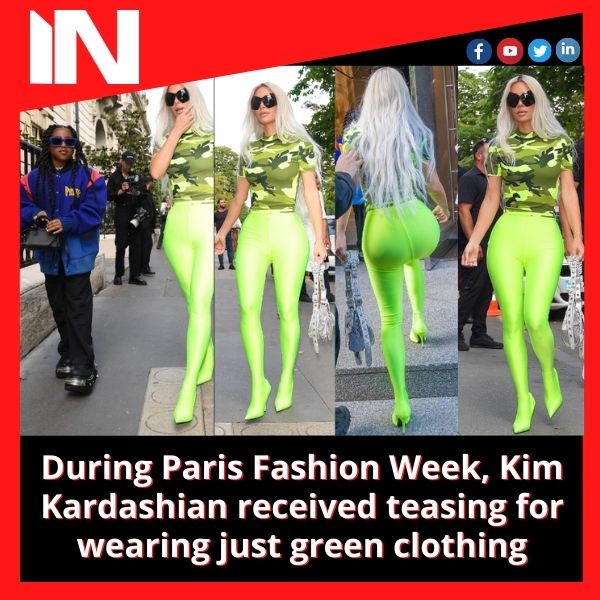 One of the most well-known celebrities in the world, American reality TV star Kim Kardashian is known for a variety of things, including her bold yet beautiful sense of style. The same is demonstrated by her illustrious sartorial evolution over time. However, it rarely shields the celebrity from online criticism or trolls, and Kim is well known for stirring up controversy. The celebrity was recently mocked for her day-out attire while in Paris for Couture Fashion Week. Kim was criticised for her all-green dress when she went out in Paris with her and Kanye West's daughter, North West.
Kim and North West travelled to Paris on Tuesday to see the offices of Jean-Paul Gaultier and the Balenciaga store. The mother and daughter, who are in Paris for Couture Fashion Week, dressed spectacularly. While North donned an outfit from her dad's old streetwear line, Pastelle, Kim opted for a neon green Balenciaga combination that included a camouflage top, neon green pantashoes (Pant+shoes), and enormous sunglasses. View the images of them below.
Kim's admirers on social media criticised her heavily for the attire she chose for the daytime outing. Internet users believed that the pantashoes, a design made popular by Kim after she began donning several Balenciaga outfits last year, were getting boring. Many also noted that since she and Kanye West split up, Kim's fashion choices have become very basic. A few individuals also remarked on how blonde she appeared. Read the remarks that follow.
"North dresses better than her mom and she fashions herself," a social media user said. "I'm not going to lie every since you and Mr. West ain't been a thing your dressing as went utterly terrible," said another. Kim has no style…It was always Kanye, a netizen remarked. Ye isn't styling her anymore, and that much is clear, a Twitter user stated.
While they were dating, Kanye West was credited with styling a number of Kim Kardashian's looks. Even the classic Met Gala 2021 look, which included an all-black Balenciaga ensemble from head to toe paired with a ponytail and heels, had a Kanye connection.
Kanye West allegedly urged Kim to don the daring and eccentric Balenciaga ensemble, according to TMZ. According to several accounts, Kanye gave Kim the confidence to use her talents and the public's imagination to push the boundaries.
Group Media Publications
Entertainment News Platforms – anyflix.in
Construction Infrastructure and Mining News Platform – https://cimreviews.com/
General News Platform – https://ihtlive.com/
Legal and Laws News Platforms – https://legalmatters.in/
Podcast Platforms – https://anyfm.in/
The 24-Carat Gold Printed Saree Worn by Kriti Sanon at the Adipurush Trailer Debut
Title: The 24-Carat Gold Printed Saree Worn by Kriti Sanon at the Adipurush Trailer Debut: A Majestic Blend of Tradition and Glamour
Introduction
Bollywood actress Kriti Sanon has always been known for her impeccable fashion choices, and she recently stole the limelight yet again with her stunning appearance at the trailer debut of the highly anticipated film "Adipurush." Kriti donned a mesmerizing 24-carat gold printed saree that left everyone in awe. In this blog post, we delve into the details of this exquisite ensemble, exploring the fusion of tradition and glamour showcased by the talented actress.
The Glamorous Gold Saree
Kriti Sanon's appearance at the Adipurush trailer debut event was nothing short of breathtaking. The talented actress chose to embrace the elegance of a traditional Indian saree while adding a touch of opulence with a modern twist. Her choice of a 24-carat gold printed saree instantly turned heads and became the talk of the town.
A Celebration of Tradition
Sarees have always been an integral part of Indian culture, representing grace, beauty, and tradition. Kriti's choice to wear a saree for this high-profile event paid homage to the country's rich heritage and showcased the enduring charm of this iconic garment. The gold-printed design further accentuated the regal aura, making her stand out as a true fashion icon.
The Fusion of Modernity and Tradition
What made Kriti Sanon's attire truly unique was the amalgamation of traditional elements with contemporary sensibilities. While the saree adhered to the traditional drape and silhouette, the 24-carat gold print added a modern touch of luxury. This fusion of styles demonstrated the versatility and adaptability of Indian fashion, seamlessly blending the past and the present.
Craftsmanship and Detailing
The craftsmanship and detailing of Kriti's gold printed saree were nothing short of remarkable. The intricate gold motifs meticulously embellished on the fabric added a touch of grandeur and finesse. The meticulous artistry involved in creating such an exquisite piece is a testament to the skilled artisans who keep traditional Indian textile techniques alive.
Accessorizing with Elegance
To complement the resplendent saree, Kriti Sanon chose minimal yet impactful accessories. She adorned herself with statement gold earrings, subtly enhancing the overall regal look. The minimalistic approach to jewelry allowed the saree to take center stage, proving that sometimes less is more when it comes to achieving a truly iconic fashion statement.
Inspiration for Fashion Enthusiasts
Kriti Sanon's choice to wear a 24-carat gold printed saree at the Adipurush trailer debut serves as an inspiration for fashion enthusiasts worldwide. It beautifully showcases how one can embrace tradition while adding a modern touch, creating a style that is both timeless and contemporary. The ensemble stands as a testament to the enduring charm of Indian fashion and its ability to captivate the global audience.
Conclusion
Kriti Sanon's appearance in the 24-carat gold printed saree at the Adipurush trailer debut was a magnificent display of elegance, tradition, and glamour. The fusion of modernity and tradition, combined with the intricate craftsmanship, made the ensemble truly exceptional. The actress's choice serves as an inspiration for fashion enthusiasts to explore the beauty of Indian textiles and embrace the rich heritage while adding their unique flair. Kriti's memorable look will undoubtedly be etched in the minds of fashion connoisseurs for years to come.
Group Media Publications
Entertainment News Platforms – anyflix.in      
Construction Infrastructure and Mining News Platform – https://cimreviews.com/
General News Platform – https://ihtlive.com/
Podcast Platforms – https://anyfm.in