KRK claims he lost 10kg in jail, only drank water; Twitter is not convinced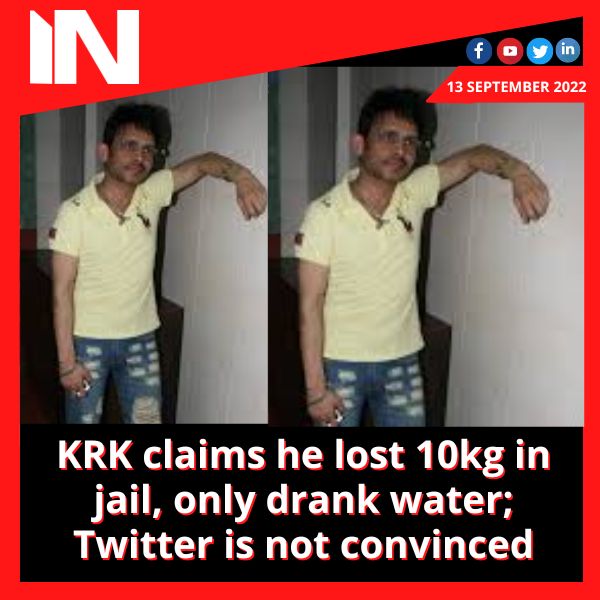 The actor and self-described film critic Kamaal R Khan, also known as KRK, recently made his Twitter comeback after serving time in jail, declaring, "I am back for my vengeance." The actor and self-described film critic was granted bail a few days ago after being detained by police at the Mumbai airport in relation to his previous tweets about actor Akshay Kumar and other Bollywood celebrities, as well as a molestation case filed against him. After "surviving with only water" for 10 days while he was in jail, Kamaal provided an update on Twitter on Tuesday and claimed to have dropped weight.
Kamaal R Khan's most recent tweet, which was about his health and elicited a variety of responses from Twitter users, came days after a message from the actor-turned-verified critic's Twitter account claimed that he was being tortured and was receiving threats to his life. "I was surviving with only water for 10 days in jail," Kamaal tweeted on Tuesday. Thus, I now weigh 10 kg less.
In response to KRK's tweet, one individual asked, "How is it even medically possible? It is impossible to shed 10 kg in 10 days, not even with extreme labour and water consumption. Another person chimed in, "10 din me 10 kilo (10kg in 10 days), is it even feasible? Be it muscular mass or even fat, it is not doable." " A user of Twitter wondered if she too could follow in KRK's footsteps and achieve similar results. She tweeted, "Can I lose 10kg weight in 10 days by only drinking water?"

Don't be frightened and make sure to retain the remaining 8kg of your weight, KRK saab, one person quipped on Twitter in reference to the actor's weight. Another person shared a picture of Kamaal and commented, "Imagine losing another 10kg muscle mass from here."
Others wondered why KRK did not review Brahmastra, the most recent movie starring Ranbir Kapoor and Alia Bhatt, which came out on September 9. The world is waiting for your Brahmastra review, someone tweeted, and another added, "Please review Brahmastra! Why did you end your review? In response to the tweet, a user wrote, "Let him breathe; he's traumatised. Poor dude is in pain and people are asking him for a movie review.
KRK was detained in connection with two separate cases: a molestation allegation filed against him at the Versova police station in 2021 and a case involving allegedly offensive tweets about actor Akshay Kumar and director Ram Gopal Verma in 2020. Police in the 2020 case said that KRK's tweets were communal and that he specifically targeted Bollywood actors. He claimed in his bail request that no crime had been committed and that the tweets in question were simply his opinions on the movie Laxmii Bomb (also known as Laxmii).

Group Media Publications
Entertainment News Platforms – anyflix.in
Construction Infrastructure and Mining News Platform – https://cimreviews.com/
General News Platform – https://ihtlive.com/
Legal and Laws News Platforms – https://legalmatters.in/
Podcast Platforms – https://anyfm.in/
Rajkumar Hirani's Dunki, which will debut a day early in overseas markets, will take Shah Rukh Khan global: Report
The anticipation surrounding Rajkumar Hirani's upcoming film "Dunki" is reaching a fever pitch, and it's not just because of the acclaimed director's return to the director's chair. The excitement is also fueled by the news that "Dunki" is set to debut one day early in overseas markets, marking a significant move to take Bollywood's Badshah, Shah Rukh Khan, to a global audience. Let's delve into this thrilling development and what it means for the eagerly awaited film.
Rajkumar Hirani: A Master of Storytelling:
Rajkumar Hirani is a name synonymous with impactful and heartwarming storytelling. With a track record that includes cinematic gems like "Munna Bhai M.B.B.S," "3 Idiots," and "PK," he has carved a niche for himself in the world of Indian cinema. The announcement of "Dunki" had fans of his work eagerly waiting for another masterpiece.
Shah Rukh Khan's Global Appeal:
Shah Rukh Khan, popularly known as the "King of Bollywood," has a global fan following that spans continents. His charismatic screen presence, versatile acting skills, and relatability have endeared him to audiences around the world. Shah Rukh Khan's films have not only resonated with the Indian diaspora but also garnered a substantial international fan base.
The Significance of an Early Overseas Release:
Releasing "Dunki" one day early in overseas markets is a strategic move that acknowledges the global appeal of both Rajkumar Hirani and Shah Rukh Khan. It's an acknowledgment of the immense excitement and anticipation among international fans who eagerly await the release of their favorite actor's films.
This move not only gives overseas fans a chance to witness "Dunki" ahead of its Indian release but also generates additional buzz and curiosity around the film worldwide. It's a testament to the growing influence of Indian cinema on the global stage.
The "Dunki" Story:
While details about the plot of "Dunki" have been kept under wraps, the combination of Rajkumar Hirani's storytelling prowess and Shah Rukh Khan's acting prowess has created sky-high expectations. The film's title suggests a playful and potentially heartwarming narrative that could resonate with audiences of all backgrounds.
The Global Journey Begins:
As "Dunki" prepares to take Shah Rukh Khan global one day early, it marks an exciting chapter in the actor's illustrious career and a moment of triumph for Indian cinema. The film's release in international markets ahead of its Indian debut is not just a strategic move; it's a celebration of the global reach and universal appeal of Bollywood.
As fans worldwide eagerly await the chance to watch "Dunki," one thing is clear: this film has all the ingredients to be a blockbuster success both in India and overseas, adding another feather to the caps of Rajkumar Hirani and Shah Rukh Khan. The journey of "Dunki" is just beginning, and it promises to be an unforgettable ride for fans across the globe.
Group Media Publications
Entertainment News Platforms – anyflix.in      
Construction Infrastructure and Mining News Platform – https://cimreviews.com/
General News Platform – https://ihtlive.com/
Podcast Platforms – https://anyfm.in