Meghan Markle wipes away tear at Queen Elizabeth II's funeral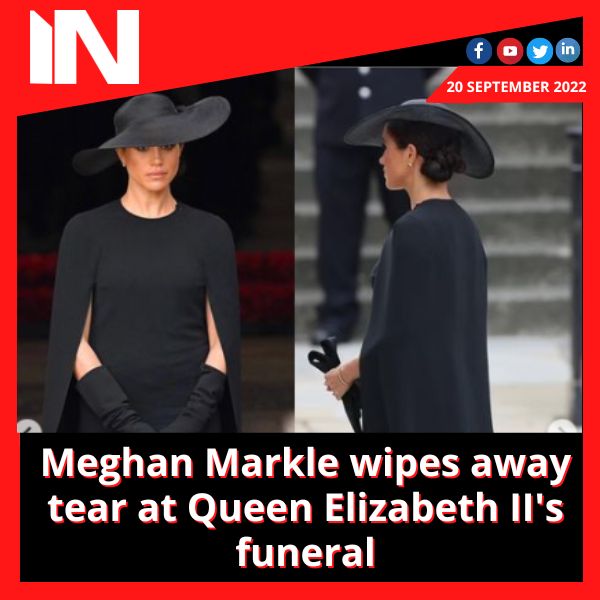 The Duchess of Sussex, Meghan Markle, a former actress, shed a few tears during Queen Elizabeth II's royal burial in London's Westminster Abbey. Meghan may be seen wiping away tears in a number of the photos that surfaced online. During the service, Meghan was seen holding hands with her husband, Prince Harry, Duke of Sussex, while also displaying tears streaming down her face.
In images posted by a fan account on Instagram, Prince Harry could also be seen attempting to hold back tears. Before Queen Elizabeth II's casket was brought to Hyde Park's Wellington Arch, they broke down in tears in front of Westminster Abbey. After that, it was brought to Windsor's St. George's Chapel, where she was interred.
In response to the images, a fan stated, "She deserves respect because she is the wife of the Queen's grandson. There is nothing you can do to change the fact that she loved Her Royal Highness." Another individual said, "You are the picture of grace and refinement, Duchess of Sussex. Angels are protecting Harry and you." "Meghan and Harry are the truest ones there," read the comment.
Following the elaborate state funeral, Queen Elizabeth II was buried in Windsor alongside her husband Prince Philip and parents. Senior royal family members gathered late on Monday for the private burying ceremony, including King Charles III.
800 mourners, many of whom were members of the queen's staff, joined members of the royal family earlier on Monday for a committal service in the chapel. It was the final public event to conclude ten days of national mourning, which included massive military parades and miles-long lines in London to see the queen's coffin lying in state.
Meghan and Harry "appear to have been uninvited to the state reception at Buckingham Palace," according to a report published by The Telegraph last week. The event was hosted by King Charles and Queen Consort Camilla. According to the paper, "it is still not clear why they were invited to an event that Royal aides said they were not expected to attend." According to sources cited in the newspaper, the pair was "baffled" by the mix-up.
Group Media Publications
Entertainment News Platforms – anyflix.in
Construction Infrastructure and Mining News Platform – https://cimreviews.com/
General News Platform – https://ihtlive.com/
Legal and Laws News Platforms – https://legalmatters.in/
Podcast Platforms – https://anyfm.in/
How Tom Cruise gets ready for action scenes: "Even shoelaces were taped"
Title: Tom Cruise's Unparalleled Dedication: Preparing for Action Scenes with Meticulous Precision
Introduction: Tom Cruise, the iconic Hollywood actor renowned for his thrilling action sequences, has time and again captivated audiences with his daredevil stunts and electrifying performances. Behind the scenes, Cruise's commitment to delivering awe-inspiring action extends to meticulous preparation and attention to detail. Recent revelations about his extraordinary dedication have shed light on his intensive approach, where even the simplest of tasks, like tying shoelaces, are executed with extraordinary precision. In this blog, we delve into Tom Cruise's remarkable preparation for action scenes, which showcases his unwavering commitment to his craft.
An Unmatched Work Ethic: Tom Cruise's success as an action star stems from his unparalleled work ethic and determination to create the most authentic and immersive experiences for audiences. His willingness to go above and beyond has solidified his status as a true professional in the industry. Cruise's preparation process, involving every aspect of his performance, exemplifies his relentless pursuit of perfection.
The Importance of Detail: In crafting action scenes, attention to detail is paramount. Tom Cruise understands that even the slightest oversight can compromise the believability and impact of a sequence. His commitment to accuracy extends to every aspect, including the smallest details like shoelaces. Reports have surfaced about Cruise taping his shoelaces during action scenes to ensure they remain tightly secured, preventing any potential accidents or distractions. This level of meticulousness demonstrates his dedication to maintaining absolute control over his movements and ensuring the highest level of safety.
Physical and Mental Conditioning: Preparing for action scenes is not just about physical training but also mental conditioning. Cruise invests significant time and effort in both aspects to deliver captivating performances. His rigorous fitness regimen and extensive training in various combat techniques are well-known within the industry. Moreover, he collaborates closely with stunt coordinators and experts to choreograph intricate sequences that push the boundaries of what is possible on screen.
Collaborative Approach: Tom Cruise recognizes the importance of collaboration in creating memorable action scenes. He actively engages with his co-stars, directors, and stunt teams, ensuring a cohesive vision and precise execution. His meticulousness is contagious, inspiring those around him to give their best and pushing the boundaries of what can be achieved. This collaborative approach enhances the authenticity and impact of his action sequences, elevating the overall cinematic experience.
Setting the Bar Higher: By leaving no stone unturned in his preparation, Tom Cruise sets the bar higher not only for himself but also for the entire industry. His unwavering commitment to his craft continues to inspire aspiring actors and filmmakers, encouraging them to invest in their performances and push their limits. Cruise's dedication to excellence has raised expectations for action scenes, motivating filmmakers and actors to strive for greater authenticity and intensity.
Conclusion: Tom Cruise's preparation for action scenes exemplifies his unmatched dedication, attention to detail, and unwavering commitment to delivering spectacular performances. His focus on every aspect, down to taping his shoelaces, showcases his dedication to maintaining precision and safety. Cruise's meticulousness not only elevates his own work but also influences the standards and expectations of the entire industry. As audiences continue to be enthralled by his captivating performances, his preparation process serves as a reminder of the effort and passion required to create cinematic magic.
Group Media Publications
Entertainment News Platforms – anyflix.in
Construction Infrastructure and Mining News Platform – https://cimreviews.com/
General News Platform – https://ihtlive.com/
Podcast Platforms – https://anyfm.in