Bigg Boss 16: Netizens are unimpressed when Gautam Vig is made to feel guilty as Sajid Khan and the hunger strikers receive pizza. (See Tweets)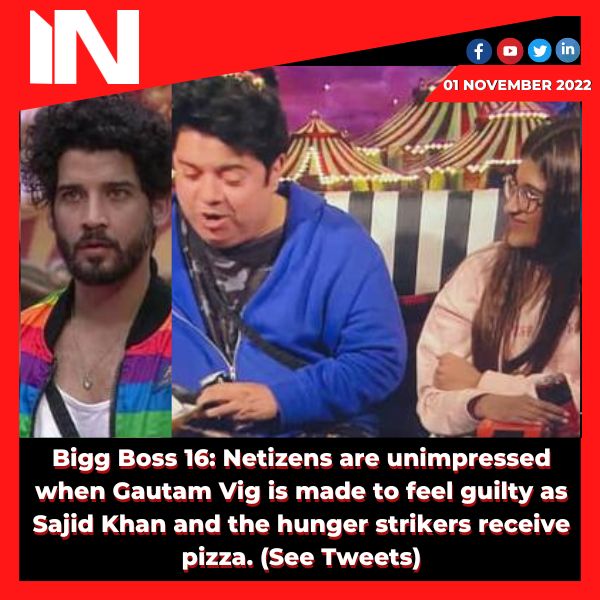 Recently, Bigg Boss 16's most recent episode came to an end. In the episode, we witnessed some of the housemates voicing their displeasure with Gautam Singh Vig and his captaincy, including Sajid Khan, Nimrit Kaur Ahluwalia, MC Stan, Gori Nagori, Shiv Thakare, and Abdu Rozik. Gautam was given the chance to be the captain in the previous Bigg Boss 16 show, but he had to forgo the meals for the entire house. Gautam initially declined but then agreed. Everyone in the home lambasted Gautam as a result, with the exception of Soundarya Sharma. The housemates retaliated against Gautam in tonight's episode.
Bigg Boss 16: Pizza is served to the hunger strikers, including Sajid Khan
Sajid Khan, Shiv Thakare, Gori Nagori, and MC Stan went on a hunger strike to protest Gautam Singh Vig in the most recent Bigg Boss 16 show. While Abdu Rozik and Nimrit Kaur Ahluwalia are also on a hunger strike, Nimrit accepts food from Soundarya while Abdu takes food from Bigg Boss. To try and teach Gautam a lesson, Bigg Boss calls everyone and tells them not to skip meals. He assigns them the chore of separating the grains of rice and daal from a large platter as their fictitious punishment.
As they divide the food grains and act out being punished outdoors in the living room, Sajid, Nimrit, Shiv, Gori, Stan, and Abdu eat pizza in the confessional. According to Bigg Boss, they will receive a ration this manner for the entire week instead of from Gautam.
Internet users are angry about the pizza party.
Gautam often reminded everyone to consume meals, showing that he sincerely cared about them all. He continued to be hungry while carrying out his captain's responsibilities. But despite eating pizza, the hungry strike gang persisted in making him feel bad. Viewers are shocked by this. View the Twitter comments here:
When Sajid Khan was given pizza, he altered the way he spoke to Gautam. He let go of his rage and approached Gautam to start a conversation. Sajid was openly cursing Gautam and his family prior to being fed.
Group Media Publications
Entertainment News Platforms – anyflix.in
Construction Infrastructure and Mining News Platform – https://cimreviews.com/
General News Platform – https://ihtlive.com/
Legal and Laws News Platforms – https://legalmatters.in/
Podcast Platforms – https://anyfm.in/
Selena Gomez excitedly displays Taylor Swift's Eras Tour merchandise while cheering on her BFF in LA and exclaims, "Another one!"
The power of friendship and mutual support in the entertainment industry is a heartwarming sight to behold. Recently, Selena Gomez showcased her unwavering support for her best friend, Taylor Swift, by excitedly displaying merchandise from Swift's ongoing Eras Tour while cheering her on in Los Angeles. The heartening display of camaraderie between these two pop icons highlights the beauty of genuine friendships and the infectious excitement that accompanies a friend's success. In this blog post, we explore the significance of Selena Gomez's enthusiastic endorsement of Taylor Swift's tour merchandise and the enduring bond they share.
Celebrating Friendship and Success
Selena Gomez and Taylor Swift's friendship has been a constant source of admiration and inspiration for fans around the world. Their public displays of support for each other's achievements emphasize the importance of uplifting one another, even in the competitive entertainment industry. Gomez's enthusiastic endorsement of Swift's Eras Tour merchandise while cheering her on at a Los Angeles event beautifully encapsulates the spirit of celebrating each other's successes with genuine joy.
The "Another One!" Moment
Gomez's exclamation of "Another one!" as she proudly displayed the Eras Tour merchandise speaks volumes about her excitement and pride in Swift's accomplishments. This endearing moment not only showcases their strong friendship but also emphasizes the joy that comes with witnessing a friend's continuous journey of growth, creativity, and achievement.
The Influence of Celebrity Friendships
Celebrity friendships, like that of Gomez and Swift, hold a unique place in pop culture. They offer fans a glimpse into the personal lives of their favorite stars, making them more relatable and human. Such friendships also challenge the notion of rivalry in the entertainment industry, proving that true friendships can coexist even in a competitive environment.
Supporting Each Other's Creative Ventures
When one celebrity supports another's creative ventures, it sends a powerful message about unity and mutual admiration. Gomez's display of the Eras Tour merchandise not only promotes Swift's work but also encourages fans to engage with and celebrate their favorite artists' achievements. This kind of endorsement resonates deeply with fans, contributing to the overall success of an artist's projects.
Selena Gomez's enthusiastic display of Taylor Swift's Eras Tour merchandise while cheering her on in Los Angeles is a heartening testament to the enduring power of friendship and support in the entertainment industry. This authentic gesture reflects the genuine camaraderie these pop icons share and sends a message of positivity and unity to their fans. As Gomez and Swift continue to inspire each other and celebrate their individual journeys, their friendship remains a shining example of how genuine connections can flourish amidst the glitz and glamour of the celebrity world.
Group Media Publications
Entertainment News Platforms – anyflix.in      
Construction Infrastructure and Mining News Platform – https://cimreviews.com/
General News Platform – https://ihtlive.com/
Podcast Platforms – https://anyfm.in