What Amitabh Bachchan said about Aishwarya Rai and her pregnancy problems | Birthday Special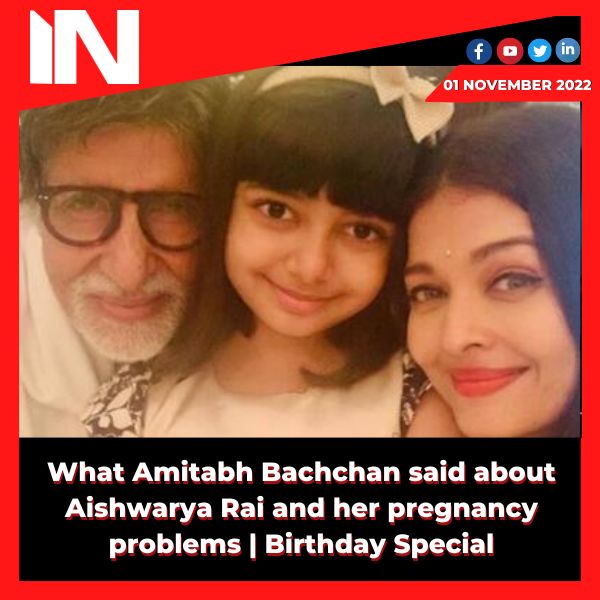 Aishwarya Rai has consistently upheld her standing as a talented actor, a well-known global figure, a devoted wife, daughter, and mother. The actress has always been at the forefront of defying convention, and she did the same with her pregnancy. The international celebrity who became one of the most well-known figures in Bollywood after winning the Miss World crown in 1994 wed actor Abhishek Bachchan, the son of megastar Amitabh Bachchan. The two welcomed their beautiful baby Aardhya Bachchan on November 16, 2011. Here's a look back at Aishwarya during her pregnancy as she celebrates her birthday on November 1st.
Aishwarya Rai Bachchan had a "late" pregnancy because she was 38 years old when she became pregnant with Aaradhya. Even if there were certain difficulties, Aishwarya chose a normal birth at a period when women felt more at ease having C-sections. Even the painkillers were rejected.
Amitabh Bachchan, Aaradhya's grandfather, spoke extensively about Aishwarya and her pregnancy troubles after Aaradhya was born in 2011. He spoke to the media about Aishwarya's tenacity and her labouring experience. We arrived there on the 14th evening after the doctors had informed us that the baby may arrive at any time. On the morning of the 16th, she gave birth to the child. This was a typical delivery; nowadays, many women choose C-sections and other procedures, but Aishwarya wanted a typical delivery.
She had to fight, but I applaud her for being in intense labour for such a long time—nearly two to three hours. She insisted, however, that she wanted a routine delivery. According to Big B, she didn't need an epidural or any painkillers, according to Indian Express.
Most recently, Aishwarya Rai had an appearance in Ponniyin Selvan I, Mani Ratnam's visionary film. In the movie, the actress portrayed Nandini, The Queen Of Pazhuvoor. Regarding her persona, Aishwarya expressed her happiness that the narrative acknowledged these powerful women of substance. Women have historically been powerful. It's just that opportunities have changed over time, according to the actress. She also praised Ratnam for giving women in this historical play the freedom to pursue their goals.
"It's fantastic how women in this story either possess or discover a means to display their power. These women were created by the artist Mani Ratnam. He has asked us (actors) to go beyond the words and script and bring the character's thought to life after working with him on multiple movies. All of my characters in his movies receive the same intelligence-enhancing treatment from him, she said.
Group Media Publications
Entertainment News Platforms – anyflix.in
Construction Infrastructure and Mining News Platform – https://cimreviews.com/
General News Platform – https://ihtlive.com/
Legal and Laws News Platforms – https://legalmatters.in/
Podcast Platforms – https://anyfm.in/
Selena Gomez excitedly displays Taylor Swift's Eras Tour merchandise while cheering on her BFF in LA and exclaims, "Another one!"
The power of friendship and mutual support in the entertainment industry is a heartwarming sight to behold. Recently, Selena Gomez showcased her unwavering support for her best friend, Taylor Swift, by excitedly displaying merchandise from Swift's ongoing Eras Tour while cheering her on in Los Angeles. The heartening display of camaraderie between these two pop icons highlights the beauty of genuine friendships and the infectious excitement that accompanies a friend's success. In this blog post, we explore the significance of Selena Gomez's enthusiastic endorsement of Taylor Swift's tour merchandise and the enduring bond they share.
Celebrating Friendship and Success
Selena Gomez and Taylor Swift's friendship has been a constant source of admiration and inspiration for fans around the world. Their public displays of support for each other's achievements emphasize the importance of uplifting one another, even in the competitive entertainment industry. Gomez's enthusiastic endorsement of Swift's Eras Tour merchandise while cheering her on at a Los Angeles event beautifully encapsulates the spirit of celebrating each other's successes with genuine joy.
The "Another One!" Moment
Gomez's exclamation of "Another one!" as she proudly displayed the Eras Tour merchandise speaks volumes about her excitement and pride in Swift's accomplishments. This endearing moment not only showcases their strong friendship but also emphasizes the joy that comes with witnessing a friend's continuous journey of growth, creativity, and achievement.
The Influence of Celebrity Friendships
Celebrity friendships, like that of Gomez and Swift, hold a unique place in pop culture. They offer fans a glimpse into the personal lives of their favorite stars, making them more relatable and human. Such friendships also challenge the notion of rivalry in the entertainment industry, proving that true friendships can coexist even in a competitive environment.
Supporting Each Other's Creative Ventures
When one celebrity supports another's creative ventures, it sends a powerful message about unity and mutual admiration. Gomez's display of the Eras Tour merchandise not only promotes Swift's work but also encourages fans to engage with and celebrate their favorite artists' achievements. This kind of endorsement resonates deeply with fans, contributing to the overall success of an artist's projects.
Selena Gomez's enthusiastic display of Taylor Swift's Eras Tour merchandise while cheering her on in Los Angeles is a heartening testament to the enduring power of friendship and support in the entertainment industry. This authentic gesture reflects the genuine camaraderie these pop icons share and sends a message of positivity and unity to their fans. As Gomez and Swift continue to inspire each other and celebrate their individual journeys, their friendship remains a shining example of how genuine connections can flourish amidst the glitz and glamour of the celebrity world.
Group Media Publications
Entertainment News Platforms – anyflix.in      
Construction Infrastructure and Mining News Platform – https://cimreviews.com/
General News Platform – https://ihtlive.com/
Podcast Platforms – https://anyfm.in