Enrique Iglesias 'shocks' Twitter; shares video of him kissing fan in Las Vegas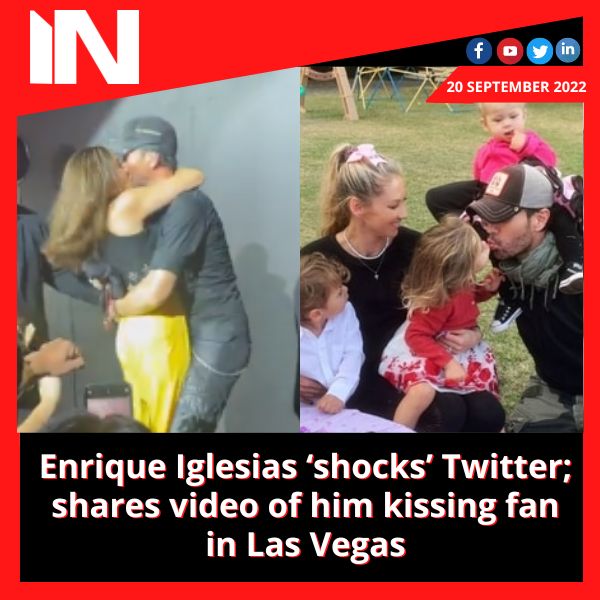 When he released a video of himself kissing a fan at a recent meet and greet event in Las Vegas, Enrique Iglesias surprised Twitter fans. Before kissing the fan on the lips, the singer, who has been in a relationship with former tennis star Anna Kournikova for more than 20 years, was seen kissing the fan's cheek. Many people on Twitter criticised the singer for grabbing the fan by the waist and allowing her to take photographs of their kiss before departing the stage with his security team. They called the behaviour "inappropriate" and "awkward."
Three children have been born to Enrique and Anna Kournikova over the course of their approximately 21-year relationship. The musician posted a video of the performance on his Twitter and Instagram accounts on Sunday, adding, "Friday night in Las Vegas @resortworldlv see you tonight!!!!" in the caption. More than a lakh people have watched the 11-second video of the musician kissing his fan on Twitter alone.
Many people on Twitter were not pleased with Enrique's kiss with the fan. Some people worried that his longtime partner Anna would not approve of the video. Even though the two haven't publicly declared their marriage, someone tweeted, "Wont your wife be upset?" How in the world can Anna put up with this, read another tweet. Another person added, "I'm confused… Anna is she okay with this? That's not me. "So improper of this woman and for you to let her do that," another Twitter user added. I have a feeling Anna won't be pleased. Someone only stated, "Shocked."
In addition to their two-year-old daughter Mary, Enrique and Anna also have identical twins Nicholas and Lucy who are four years old. The musician recently claimed that the music video where he first met the children's mother was watched by his kids. While creating the music video for the singer's 2001 single Escape, Enrique and Anna became friends. Since the beginning of the millennium, there have been rumours of their marriage, but neither of them has acknowledged anything.
Group Media Publications
Entertainment News Platforms – anyflix.in
Construction Infrastructure and Mining News Platform – https://cimreviews.com/
General News Platform – https://ihtlive.com/
Legal and Laws News Platforms – https://legalmatters.in/
Podcast Platforms – https://anyfm.in/
Singer Papon was recently admitted to a hospital in Mumbai, where he claims his kid served as his "night attendant."
Title: Papon's Heartfelt Gesture: His Kid as a Night Attendant during Hospitalization
Introduction: Renowned singer Papon, known for his melodious voice and soulful performances, recently made headlines when he was admitted to a hospital in Mumbai. However, what caught the attention of many was his heartfelt revelation that his own child served as his "night attendant" during his stay. In this blog post, we explore the touching story behind Papon's admission and the significance of his child's involvement in his recovery process.
Papon's Hospitalization: The news of Papon's hospitalization took the music industry and his fans by surprise. The singer, facing health challenges, required medical attention and care. His decision to seek treatment underscores the importance of prioritizing one's well-being, even for those in the public eye.
A Special Role for His Child: During his stay at the hospital, Papon revealed that his own child took on the role of his "night attendant." This heartfelt gesture showcases the bond between a parent and a child, where love and support transcend societal norms and roles. It highlights the extraordinary nature of this relationship and the willingness of family members to go above and beyond to provide care and comfort.
Emotional Support in Healing: Having a loved one, especially a child, by one's side during challenging times can offer significant emotional support. The presence of a caring family member can uplift spirits, reduce anxiety, and contribute to a positive healing environment. Papon's experience demonstrates the therapeutic value of familial connections and the importance of a strong support system during periods of vulnerability.
Redefining Traditional Roles: Papon's acknowledgment of his child's involvement challenges traditional gender roles and societal expectations. In a world where caregiving responsibilities are often assigned based on gender, his story stands as a powerful testament to the fluidity of these roles and the recognition of each individual's unique abilities to provide care and support.
The Power of Family: Papon's experience resonates with many individuals who understand the crucial role family plays in times of distress. The unconditional love and support of family members can significantly impact the healing process and contribute to a faster recovery. It serves as a reminder to cherish and nurture these bonds, appreciating the immense value they bring to our lives.
Conclusion: Papon's recent hospitalization brought forth a heartwarming story of his child serving as his "night attendant" during his stay. This tale of familial love and support emphasizes the powerful role family plays in times of adversity. It challenges traditional gender roles and exemplifies the unique bond between a parent and a child. Papon's experience serves as an inspiration for individuals to appreciate the significance of family and the profound impact their support can have on one's healing journey.
Group Media Publications
Entertainment News Platforms – anyflix.in
Construction Infrastructure and Mining News Platform – https://cimreviews.com/
General News Platform – https://ihtlive.com/
Podcast Platforms – https://anyfm.in