Hina Khan and Rohan Mehra, who co-starred in Yeh Rishta Kya Kehlata Hai, are back together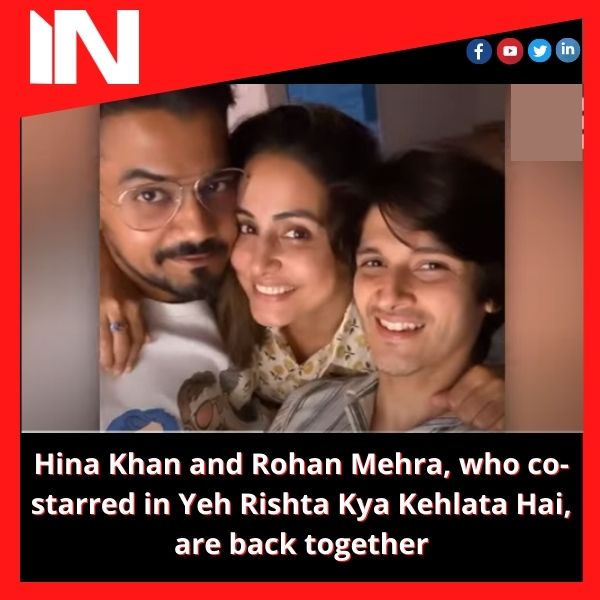 One of the most attractive actresses in the entertainment business is Hina Khan. She gained notoriety after her first television appearance on Yeh Rishta Kya Kehlata Hai, and audiences still remember her for the role of "Akshara." She is a television industry fashion star who never fails to dazzle admirers with her flawless sense of style. Hina recently made waves for her OOTDs while walking the red carpet at the famous Cannes Film Festival. She has a huge fan base, and they eagerly await the release of her images into the public domain.
Recently, Hina and Rohan Mehra, who both starred in Yeh Rishta Kya Kehlata Hai, got back together. In the show, Rohan portrayed Akshara's son Naksh. Rohan posted pictures of their pleasant encounter on social media. The actor can be seen charmingly posing with Hina and her partner Rocky Jaiswal in the Instagram story photo that she published. Hina also reposted the article on her Instagram.
Hina Khan is prepared to portray the tough police officer Radhika Shroff in Adeeb Rais' upcoming series "Seven One" on the professional front. I really enjoyed the process of being a cop, Hina said to IANS. With real settings, the approach was as authentic as it could be. I wasn't wearing makeup, so I didn't have to worry about getting dressed or taking care of my appearance for a while. because I was portraying the role as a real-life police officer. Additionally, I consider performers to be like sponges.
anyflix.in      Group Media Publications
Construction Infrastructure and Mining News Platform – https://cimreviews.com/
General News Platform – https://ihtlive.com/
Legal and Laws News Platforms – https://legalmatters.in/
Podcast Platforms – https://anyfm.in/
Disha Parmar and Nakuul Mehta discuss working together again for Bade Achhe Lagte Hain 3 and other topics.
Title: Reunion of Talent: Disha Parmar and Nakuul Mehta Discuss Working Together Again for "Bade Achhe Lagte Hain 3" and More
Introduction: The television industry has been abuzz with excitement as Disha Parmar and Nakuul Mehta, two immensely talented actors, reunite for the highly anticipated show "Bade Achhe Lagte Hain 3." Their on-screen chemistry and exceptional performances in the past have won the hearts of audiences, making their collaboration once again a cause for celebration. Recently, Disha and Nakuul shared their thoughts on working together again, their experiences, and their future aspirations.
A Trip Down Memory Lane: "Bade Achhe Lagte Hain," the original series that captivated viewers, left an indelible mark on the hearts of millions. Disha Parmar and Nakuul Mehta played pivotal roles in the show's success with their nuanced performances as Priya and Ram, respectively. Their effortless chemistry and ability to bring their characters to life made the show an unforgettable experience for fans. Now, with the announcement of the show's third installment, viewers are eagerly awaiting their on-screen reunion.
A Reunion of Talent and Camaraderie: In a recent interview, Disha Parmar and Nakuul Mehta expressed their excitement and joy at the prospect of working together once again. They shared stories of their past experiences on the set of "Bade Achhe Lagte Hain" and how the show holds a special place in their hearts. The duo praised each other's professionalism and the strong bond they formed during their previous collaboration, making their reunion all the more special.
Exploring New Dimensions: While the return to "Bade Achhe Lagte Hain" is undoubtedly a much-anticipated event, Disha and Nakuul also discussed their aspirations to explore different genres and characters beyond their previous roles. They expressed their desire to push boundaries and challenge themselves as actors, eager to embark on new projects that offer diverse and exciting opportunities for growth.
Fans' Anticipation: The announcement of Disha Parmar and Nakuul Mehta's reunion has sparked a wave of anticipation among fans. Social media platforms are buzzing with excitement as viewers eagerly await the return of their favorite on-screen pair. The fans' unwavering support and love have been a driving force for Disha and Nakuul, inspiring them to give their best performances and create magic on screen once again.
A Promising Future: As Disha Parmar and Nakuul Mehta prepare to step into their respective characters for "Bade Achhe Lagte Hain 3," the duo is poised to deliver yet another memorable performance. Their talent, combined with the creative vision of the show's makers, promises an engaging and entertaining experience for viewers. The audience can look forward to witnessing the evolution of these exceptional actors as they breathe life into new narratives and explore the depths of their characters.
Conclusion: The reunion of Disha Parmar and Nakuul Mehta for "Bade Achhe Lagte Hain 3" is a moment of excitement and nostalgia for both the actors and their fans. Their on-screen chemistry and remarkable performances have left an indelible impression in the minds and hearts of viewers. As they embark on this new journey together, audiences eagerly await their captivating performances and the magic they will create once again. With their shared talent and passion for their craft, Disha and Nakuul are poised to deliver yet another exceptional television experience that will be etched in the annals of television history.
Group Media Publications
Entertainment News Platforms – anyflix.in
Construction Infrastructure and Mining News Platform – https://cimreviews.com/
General News Platform – https://ihtlive.com/
Podcast Platforms – https://anyfm.in