Fans exclaim, "Love this friendship," as Jannat Zubair and host Rohit Shetty share a humorous video on Khatron Ke Khiladi 12.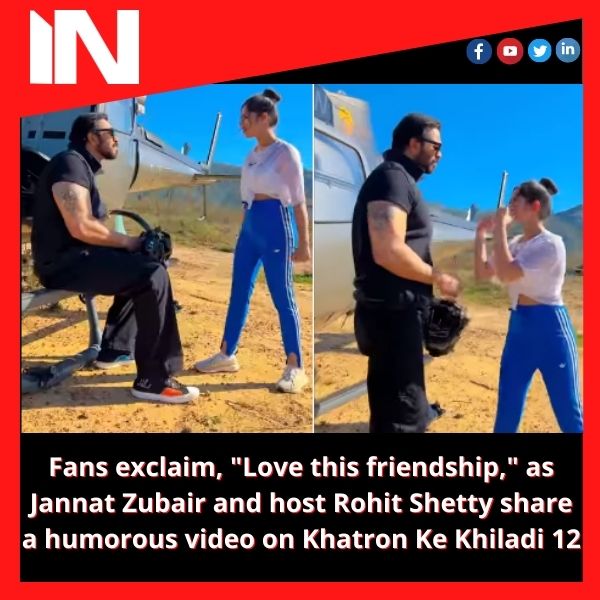 Actress Jannat Zubair is one of the most well-known people on social media and has a lot of talent. She has a long history in the television industry. The actress has had a good career, working as a kid artist and now starring in a daily soap. She currently appears in Season 12 of the reality series Khatron Ke Khiladi, which features stunts. It should be noted that the reality show's 12th season is now being filmed in Cape Town, and just like every other season, viewers can expect to see an intriguing mix of famous people competing for the title. On social media, Jannat Zubair has been updating her followers on her "Khatron Ke Khiladi 12" adventure with amusing BTS videos.
In relation to that, the celebrity recently shared a video on Instagram alongside host Rohit Shetty. As soon as Jannat shared the humorous video, it quickly went viral, and her followers flocked to leave lovely remarks. Love this bond, one individual commented. A different user said, "Wow." Additionally, they added heart-shaped emoticons to the comment box.
In a recent interview with ETimes, Jannat discussed her experience so far on the show and her coach Rohit Shetty. She discussed being the youngest participant on the show and the unique name that host Rohit Shetty gave her. She remarked of the host Rohit Shetty, "More than anything, my goal is to learn as much as I can from all of my fellow competitors as well as from our mentor Rohit Sir. I enjoy all the attention I receive on set, but when it comes to stunts, I'm given equally difficult assignments, so I always try to do my best to achieve them. Rohit gave me the nickname "Chhota package, bada dhamaka" as a result.
Speaking about Season 12, Rohit Shetty will serve as the program's host for the seventh time this year. Rubina Dilaik, Sriti Jha, Shivangi Joshi, Munawar Faruqui, Kanika Mann, Pratik Sehajpal, Mohit Malik, Tushar Kalia, Chetna Pande, Rajiv Adatia, Nishant Bhat, and other contenders are among those competing in Khatron Ke Khiladi 12.
anyflix.in      Group Media Publications
Construction Infrastructure and Mining News Platform – https://cimreviews.com/
General News Platform – https://ihtlive.com/
Legal and Laws News Platforms – https://legalmatters.in/
Podcast Platforms – https://anyfm.in/
Disha Parmar and Nakuul Mehta discuss working together again for Bade Achhe Lagte Hain 3 and other topics.
Title: Reunion of Talent: Disha Parmar and Nakuul Mehta Discuss Working Together Again for "Bade Achhe Lagte Hain 3" and More
Introduction: The television industry has been abuzz with excitement as Disha Parmar and Nakuul Mehta, two immensely talented actors, reunite for the highly anticipated show "Bade Achhe Lagte Hain 3." Their on-screen chemistry and exceptional performances in the past have won the hearts of audiences, making their collaboration once again a cause for celebration. Recently, Disha and Nakuul shared their thoughts on working together again, their experiences, and their future aspirations.
A Trip Down Memory Lane: "Bade Achhe Lagte Hain," the original series that captivated viewers, left an indelible mark on the hearts of millions. Disha Parmar and Nakuul Mehta played pivotal roles in the show's success with their nuanced performances as Priya and Ram, respectively. Their effortless chemistry and ability to bring their characters to life made the show an unforgettable experience for fans. Now, with the announcement of the show's third installment, viewers are eagerly awaiting their on-screen reunion.
A Reunion of Talent and Camaraderie: In a recent interview, Disha Parmar and Nakuul Mehta expressed their excitement and joy at the prospect of working together once again. They shared stories of their past experiences on the set of "Bade Achhe Lagte Hain" and how the show holds a special place in their hearts. The duo praised each other's professionalism and the strong bond they formed during their previous collaboration, making their reunion all the more special.
Exploring New Dimensions: While the return to "Bade Achhe Lagte Hain" is undoubtedly a much-anticipated event, Disha and Nakuul also discussed their aspirations to explore different genres and characters beyond their previous roles. They expressed their desire to push boundaries and challenge themselves as actors, eager to embark on new projects that offer diverse and exciting opportunities for growth.
Fans' Anticipation: The announcement of Disha Parmar and Nakuul Mehta's reunion has sparked a wave of anticipation among fans. Social media platforms are buzzing with excitement as viewers eagerly await the return of their favorite on-screen pair. The fans' unwavering support and love have been a driving force for Disha and Nakuul, inspiring them to give their best performances and create magic on screen once again.
A Promising Future: As Disha Parmar and Nakuul Mehta prepare to step into their respective characters for "Bade Achhe Lagte Hain 3," the duo is poised to deliver yet another memorable performance. Their talent, combined with the creative vision of the show's makers, promises an engaging and entertaining experience for viewers. The audience can look forward to witnessing the evolution of these exceptional actors as they breathe life into new narratives and explore the depths of their characters.
Conclusion: The reunion of Disha Parmar and Nakuul Mehta for "Bade Achhe Lagte Hain 3" is a moment of excitement and nostalgia for both the actors and their fans. Their on-screen chemistry and remarkable performances have left an indelible impression in the minds and hearts of viewers. As they embark on this new journey together, audiences eagerly await their captivating performances and the magic they will create once again. With their shared talent and passion for their craft, Disha and Nakuul are poised to deliver yet another exceptional television experience that will be etched in the annals of television history.
Group Media Publications
Entertainment News Platforms – anyflix.in
Construction Infrastructure and Mining News Platform – https://cimreviews.com/
General News Platform – https://ihtlive.com/
Podcast Platforms – https://anyfm.in