Navratri 2022: Special chana recipe to make your festive evenings better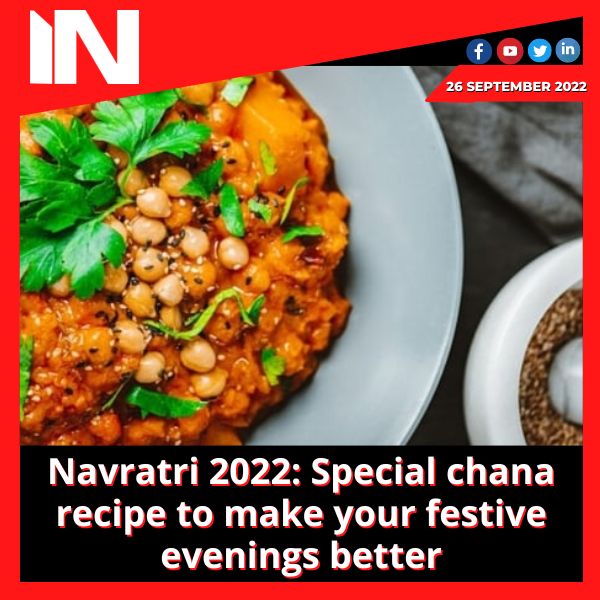 The holiday season has arrived. And so too is the variety of mouthwatering foods. During Navratri, people return home to celebrate the festival with their friends and families. The ten-day celebration honours Goddess Durga's nine different incarnations as Shakti. Navratri, which means "nine nights" in Sanskrit, is a national holiday. West Bengal celebrates Durga Puja during this period, whereas Gujarat celebrates Navratri. People don new outfits, decorate their homes and streets with lights and colour, and spend their evenings pandal hopping and worshipping the goddess. In order to perform puja for the goddess and ask for her blessings for their family, people often observe fasts during the day.
During the Navratri fast, chana is a fantastic food to consume. Chana, or chickpeas, are rich in minerals and have a number of health advantages. It aids in controlling the body's weight and blood sugar levels. Additionally, it aids in enhancing digestion, advancing brain health, and lowering the chance of chronic illnesses. For Navratri evenings, we have put together a simple recipe for kala chana. You can enjoy this cuisine with your friends, relatives, and other loved ones.
Ingredients:
1 cup boiling, dry kale chane chickpeas
1 tbsp. of ghee
12 teaspoon powdered cumin (jeera)
1 teaspoon of red pepper flakes
1 teaspoon dried coriander
1/4 teaspoon of the turmeric powder
Salt as desired
Garam masala powder, 1 teaspoon
Sprigs of fresh coriander for garnishing
serving of puris
Method:
Ghee should be added to a nonstick pan before adding the cumin, chilli, coriander, and turmeric powders. Sauté for one minute. After that, add salt and the garam masala mixture along with the black chickpeas, cover, and cook for 2 to 3 minutes. Garnish with fresh coriander leaves after transferring to a platter. accompany with hot puris.
Group Media Publications
Entertainment News Platforms – anyflix.in
Construction Infrastructure and Mining News Platform – https://cimreviews.com/
General News Platform – https://ihtlive.com/
Legal and Laws News Platforms – https://legalmatters.in/
Podcast Platforms – https://anyfm.in/
Selena Gomez excitedly displays Taylor Swift's Eras Tour merchandise while cheering on her BFF in LA and exclaims, "Another one!"
The power of friendship and mutual support in the entertainment industry is a heartwarming sight to behold. Recently, Selena Gomez showcased her unwavering support for her best friend, Taylor Swift, by excitedly displaying merchandise from Swift's ongoing Eras Tour while cheering her on in Los Angeles. The heartening display of camaraderie between these two pop icons highlights the beauty of genuine friendships and the infectious excitement that accompanies a friend's success. In this blog post, we explore the significance of Selena Gomez's enthusiastic endorsement of Taylor Swift's tour merchandise and the enduring bond they share.
Celebrating Friendship and Success
Selena Gomez and Taylor Swift's friendship has been a constant source of admiration and inspiration for fans around the world. Their public displays of support for each other's achievements emphasize the importance of uplifting one another, even in the competitive entertainment industry. Gomez's enthusiastic endorsement of Swift's Eras Tour merchandise while cheering her on at a Los Angeles event beautifully encapsulates the spirit of celebrating each other's successes with genuine joy.
The "Another One!" Moment
Gomez's exclamation of "Another one!" as she proudly displayed the Eras Tour merchandise speaks volumes about her excitement and pride in Swift's accomplishments. This endearing moment not only showcases their strong friendship but also emphasizes the joy that comes with witnessing a friend's continuous journey of growth, creativity, and achievement.
The Influence of Celebrity Friendships
Celebrity friendships, like that of Gomez and Swift, hold a unique place in pop culture. They offer fans a glimpse into the personal lives of their favorite stars, making them more relatable and human. Such friendships also challenge the notion of rivalry in the entertainment industry, proving that true friendships can coexist even in a competitive environment.
Supporting Each Other's Creative Ventures
When one celebrity supports another's creative ventures, it sends a powerful message about unity and mutual admiration. Gomez's display of the Eras Tour merchandise not only promotes Swift's work but also encourages fans to engage with and celebrate their favorite artists' achievements. This kind of endorsement resonates deeply with fans, contributing to the overall success of an artist's projects.
Selena Gomez's enthusiastic display of Taylor Swift's Eras Tour merchandise while cheering her on in Los Angeles is a heartening testament to the enduring power of friendship and support in the entertainment industry. This authentic gesture reflects the genuine camaraderie these pop icons share and sends a message of positivity and unity to their fans. As Gomez and Swift continue to inspire each other and celebrate their individual journeys, their friendship remains a shining example of how genuine connections can flourish amidst the glitz and glamour of the celebrity world.
Group Media Publications
Entertainment News Platforms – anyflix.in      
Construction Infrastructure and Mining News Platform – https://cimreviews.com/
General News Platform – https://ihtlive.com/
Podcast Platforms – https://anyfm.in