Gucci dresses 68 identical twin models in matching looks for its show at Milan Fashion Week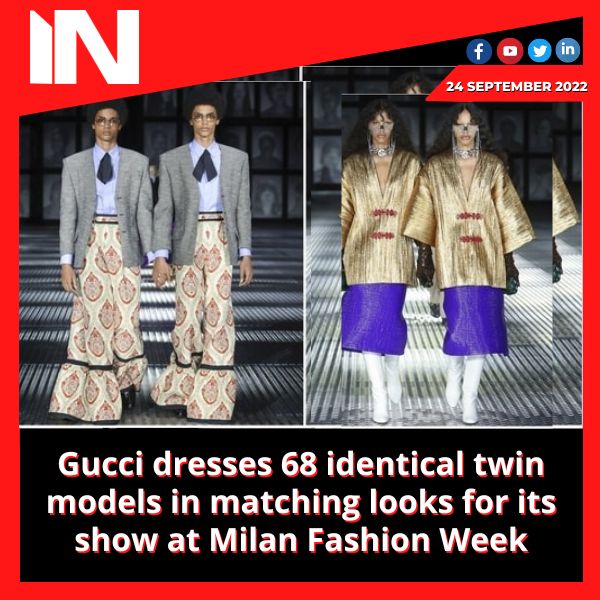 Gucci surprised viewers by sending identical twins down the catwalk at its Milan Fashion Week presentation on Friday, giving fashionistas a chance to see twice. For the collection, dubbed "Gucci Twinsburg" in reference to the Ohio town that hosts an annual festival for twins, creative director Alessandro Michele paid respect to twins and their relationship.
Before a wall was raised to reveal the models' brothers or sisters wearing the exact same attire on the opposite side, the presentation started with single models going down the catwalk.
In a powerful conclusion, the siblings strolled together while holding hands. I was born to two mothers, Giuliana and Eralda. Alessandro Michele, the design director of Gucci, stated in the show notes that the twins were "two amazing ladies who made their twinship the ultimate seal of their lives."
They shared a body and were one. They wore similar clothing and hairstyles. They were mirrored in a fascinating way. The one increased the other. That was my flawlessly doubled and doubly-doubled world.
Along with a variety of other outfits, models sported floor-length trench coats, floral dresses with kimono-inspired patterns, and ruffled silk dresses. Long beaded jewellery, sunglasses, leopard-print tights, and snakeskin boots were some of the accessories.
The fascination of twins, according to Michele, "is precisely nourished by the impossibility of the completely similar."
"Twinsburg engages in this game, creating conflict between the original and the copy. Clothes multiply as though by magic. They appear to lose their singularity status.
"The result is unclear and unsettling. There was almost a split in the concept of identity before the realisation hit: "The same clothing give out different attributes on apparently different bodies."
The final day of Milan Fashion Week is Monday.
Group Media Publications
Entertainment News Platforms – anyflix.in
Construction Infrastructure and Mining News Platform – https://cimreviews.com/
General News Platform – https://ihtlive.com/
Legal and Laws News Platforms – https://legalmatters.in/
Podcast Platforms – https://anyfm.in/
Selena Gomez excitedly displays Taylor Swift's Eras Tour merchandise while cheering on her BFF in LA and exclaims, "Another one!"
The power of friendship and mutual support in the entertainment industry is a heartwarming sight to behold. Recently, Selena Gomez showcased her unwavering support for her best friend, Taylor Swift, by excitedly displaying merchandise from Swift's ongoing Eras Tour while cheering her on in Los Angeles. The heartening display of camaraderie between these two pop icons highlights the beauty of genuine friendships and the infectious excitement that accompanies a friend's success. In this blog post, we explore the significance of Selena Gomez's enthusiastic endorsement of Taylor Swift's tour merchandise and the enduring bond they share.
Celebrating Friendship and Success
Selena Gomez and Taylor Swift's friendship has been a constant source of admiration and inspiration for fans around the world. Their public displays of support for each other's achievements emphasize the importance of uplifting one another, even in the competitive entertainment industry. Gomez's enthusiastic endorsement of Swift's Eras Tour merchandise while cheering her on at a Los Angeles event beautifully encapsulates the spirit of celebrating each other's successes with genuine joy.
The "Another One!" Moment
Gomez's exclamation of "Another one!" as she proudly displayed the Eras Tour merchandise speaks volumes about her excitement and pride in Swift's accomplishments. This endearing moment not only showcases their strong friendship but also emphasizes the joy that comes with witnessing a friend's continuous journey of growth, creativity, and achievement.
The Influence of Celebrity Friendships
Celebrity friendships, like that of Gomez and Swift, hold a unique place in pop culture. They offer fans a glimpse into the personal lives of their favorite stars, making them more relatable and human. Such friendships also challenge the notion of rivalry in the entertainment industry, proving that true friendships can coexist even in a competitive environment.
Supporting Each Other's Creative Ventures
When one celebrity supports another's creative ventures, it sends a powerful message about unity and mutual admiration. Gomez's display of the Eras Tour merchandise not only promotes Swift's work but also encourages fans to engage with and celebrate their favorite artists' achievements. This kind of endorsement resonates deeply with fans, contributing to the overall success of an artist's projects.
Selena Gomez's enthusiastic display of Taylor Swift's Eras Tour merchandise while cheering her on in Los Angeles is a heartening testament to the enduring power of friendship and support in the entertainment industry. This authentic gesture reflects the genuine camaraderie these pop icons share and sends a message of positivity and unity to their fans. As Gomez and Swift continue to inspire each other and celebrate their individual journeys, their friendship remains a shining example of how genuine connections can flourish amidst the glitz and glamour of the celebrity world.
Group Media Publications
Entertainment News Platforms – anyflix.in      
Construction Infrastructure and Mining News Platform – https://cimreviews.com/
General News Platform – https://ihtlive.com/
Podcast Platforms – https://anyfm.in