Personal revelations made by TV stars in the Bigg Boss house, according to Rubina Dilaik to Arti Singh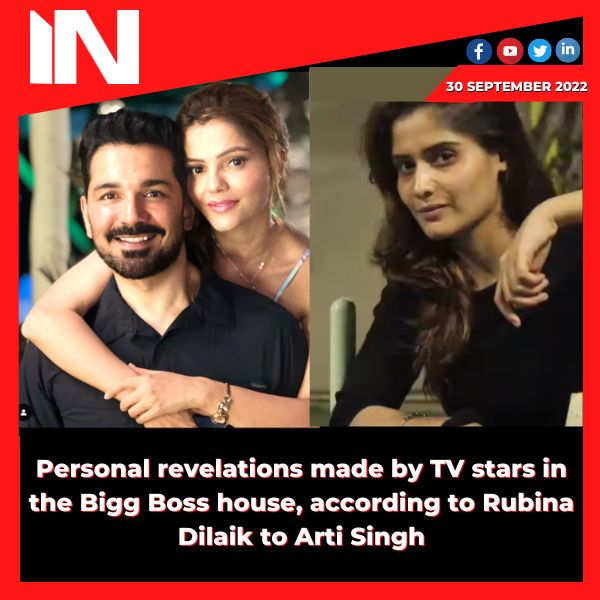 A few days before Bigg Boss 16 airs, let's take a look at some of the episodes from this reality series that everyone found shocking. The participants come into the Bigg Boss house as strangers, but after living together for a while, they often become friends and open up to them. While all of the contestant's movements are being recorded by the cameras, after a while, the contestants grow accustomed to it and stop realising that they are constantly being observed. Actors often keep their personal affairs private, but they occasionally divulge information about them on public television. Let's look at this:
Bigg Boss 14 contestant Rubina Dilaik
During the pandemic, Rubina Dilaik spoke up about her troubled marriage to Abhinav Shukla. The couple tried to give their union one more try by being together for the following six months, but destiny had other plans for them. After taking part in Bigg Boss 14, their relationship became even closer than before. The "IT" duo in the television industry is dubbed Rubina and Abhinav.
Bigg Boss 14's Eijaz Khan
After a protracted absence, Eijaz Khan returned to the Bigg Boss 14 house and disclosed that he had been assaulted as a child. He acknowledged that this was the main cause of his discomfort with other people's "touch." Eijaz had only told his therapist about this, and even his father was unaware of it. The actor said that since he wasn't at fault, he had no reluctance in sharing this in the open.
Bigg Boss 13 contestant Rashami Desai
Rashami Desai gave an emotional speech inside the Bigg Boss 13 house and revealed how her family believed she was cursed since she was a "female" She was treated unfairly because of her gender and cut ties with them. Following Bigg Boss 13 that the actress' relationship with her mother strengthened.
Bigg Boss 13's Arti Singh
Everyone was surprised by Arti Singh's disclosure, and sister-in-law Kashmera Shah offered her assistance from outside the Bigg Boss house. Arti revealed that when she was 13 years old, her tutor molested her while she was imprisoned in a room. "Two and a half months ago, I experienced a panic attack. When I was 13 years old, I experienced my first panic episode, which continued for a full year. People frequently assume that I must be depressed and that a guy may have abandoned me. When I was 13, my own servant attempted to rape me inside my own home, which made me upset "Arti Singh recounted.
Kavita Kaushik, a Bigg Boss 14 F.I.R actress, revealed that she had been verbally and physically abused by her math tutor when her parents were away. She also revealed that she had been subjected to this abuse at home.
Bigg Boss 14 contestant Vikas Gupta
In Bigg Boss 14, Vikas Gupta made another appearance. He acknowledged having a debt of Rs 1 crore. Back then, the creative producer admitted being mentally unstable and having a bad relationship with his mother and brother.
Group Media Publications
Entertainment News Platforms – anyflix.in
Construction Infrastructure and Mining News Platform – https://cimreviews.com/
General News Platform – https://ihtlive.com/
Legal and Laws News Platforms – https://legalmatters.in/
Podcast Platforms – https://anyfm.in/
The first look of Lord Ram from the new TV show Srimad Ramayan is now available, and viewers can expect to see him appear before his beloved Shabri.
"A Divine Glimpse: First Look of Lord Ram in 'Srimad Ramayan' TV Show Revealed"
In the world of Indian television, where mythological sagas have always held a special place, there's exciting news for viewers and devotees. The first look of Lord Ram from the upcoming TV show "Srimad Ramayan" is now available, promising a divine and captivating journey into the timeless epic.
For those who grew up with the tales of Lord Ram, Sita, and the epic Ramayana, this news is akin to a breath of fresh air. The anticipation for this new adaptation has been mounting, and with the first look of Lord Ram finally unveiled, fans and devotees can hardly contain their excitement.
The Iconic First Look:
The first glimpse of Lord Ram from "Srimad Ramayan" is nothing short of mesmerizing. Clad in his iconic attire and holding the illustrious bow, this portrayal captures the essence and grace of the beloved deity. With a radiant halo and a serene expression, the image resonates with the deeply spiritual and divine aura that Lord Ram is known for.
The careful attention to detail in this first look is evident, reflecting the dedication of the creators and the passion behind the project. As we behold this visual spectacle, it's clear that "Srimad Ramayan" is committed to offering an authentic and heartfelt representation of the epic tale.
A Divine Encounter: Lord Ram and Shabri:
One of the most anticipated moments in the Ramayana is the encounter between Lord Ram and Shabri. Shabri, an ardent devotee, is a character known for her unwavering faith and devotion. Viewers can expect this significant meeting to be a pivotal and emotionally charged moment in the show.
As "Srimad Ramayan" continues to take shape, this cherished encounter between Lord Ram and Shabri promises to be a touching and spiritually enriching experience. It is in these moments that the magic of the epic truly shines, and viewers can look forward to being deeply moved by the devotion and love that permeates the narrative.
The Journey Begins:
The unveiling of Lord Ram's first look marks the beginning of a grand journey for viewers and devotees. As the creators of "Srimad Ramayan" meticulously craft each episode, the audience can anticipate a show that not only retells a timeless epic but also stirs the soul and nourishes the spirit.
The Ramayana is not just a story; it's a profound spiritual journey that has resonated with generations for centuries. "Srimad Ramayan" seeks to honor this legacy and breathe new life into the tale, promising to be a source of inspiration and enlightenment.
As the first look of Lord Ram graces our screens, we are reminded of the enduring power of this epic and the unwavering faith that it represents. "Srimad Ramayan" has set the stage for a captivating journey, and viewers can hardly wait to embark on this divine adventure, where the timeless meets the contemporary, and the spiritual meets the cinematic.
Group Media Publications
Entertainment News Platforms – anyflix.in      
Construction Infrastructure and Mining News Platform – https://cimreviews.com/
General News Platform – https://ihtlive.com/
Podcast Platforms – https://anyfm.in