Jeetu Gupta, an actor in Bhabhiji Ghar Par Hain, loses his 19-year-old son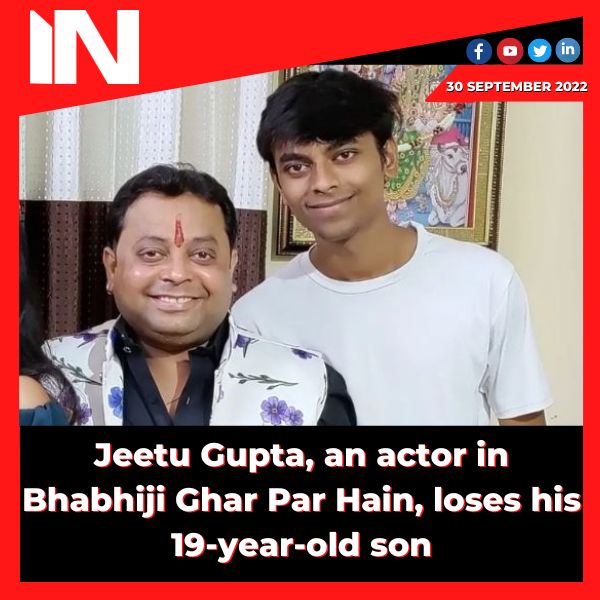 The Bhabhiji Ghar Par Hain co-stars and actor Jeetu Gupta paid their condolences to the 19-year-old lad who passed away. On the well-liked TV programme, Jeetu plays the part of Dr. Gupta. According to reports, his son Aayush Gupta was hospitalised after developing a fever. The star asked followers to pray for him earlier this week while he was on a ventilator.
In an Instagram post, Jeetu asked followers to pray for his baby. He handed me a message that said: "My son is on a ventilator and in a critical condition. Pray for him, please." Please say a prayer for my son, he said in the caption. Aayush was unable to recuperate, and Jeetu's most recent post was shared too late.
"Meri bagiya ka ek phool murjha gaya" is what Jeetu commented with a photo of himself and Aayush on Instagram. The picture seems to be from a birthday celebration. Actor Charul Malik of Bhabhiji Ghar Par Hain said, "So sad to hear about your loss Jeetu Om Shanti." Fans of the actor and the programme also expressed their sympathy.
Also on Facebook, Jeetu shared a photo of his deceased kid along with the caption "Nahi raha mera babu Aayush (My son Aayush is no more)." "Rip, Bhabhi ji Ghar per hai k Actor Mere Bhai Jeetu k Gupta k Suputra Aayush (19 years) nahi rahe (My brother and Bhabhiji Ghar Par Hain actor Jeetu's son is no more)."
Rohitashv Gour posted an emotional message on his Facebook page after sharing an image of Aayush "This loss for you and your family has left me feeling incredibly sorry. My thoughts are with you at all times. Aum Shanti Aum. The son of Bhabhiji Ghar Par Hain artist Jeetu Gupta passed away, as reported by Humare Bhabhi ji ghar par hain ke Kalakar Jeetu Gupta ji."

Group Media Publications
Entertainment News Platforms – anyflix.in
Construction Infrastructure and Mining News Platform – https://cimreviews.com/
General News Platform – https://ihtlive.com/
Legal and Laws News Platforms – https://legalmatters.in/
Podcast Platforms – https://anyfm.in/
Disha Parmar and Nakuul Mehta discuss working together again for Bade Achhe Lagte Hain 3 and other topics.
Title: Reunion of Talent: Disha Parmar and Nakuul Mehta Discuss Working Together Again for "Bade Achhe Lagte Hain 3" and More
Introduction: The television industry has been abuzz with excitement as Disha Parmar and Nakuul Mehta, two immensely talented actors, reunite for the highly anticipated show "Bade Achhe Lagte Hain 3." Their on-screen chemistry and exceptional performances in the past have won the hearts of audiences, making their collaboration once again a cause for celebration. Recently, Disha and Nakuul shared their thoughts on working together again, their experiences, and their future aspirations.
A Trip Down Memory Lane: "Bade Achhe Lagte Hain," the original series that captivated viewers, left an indelible mark on the hearts of millions. Disha Parmar and Nakuul Mehta played pivotal roles in the show's success with their nuanced performances as Priya and Ram, respectively. Their effortless chemistry and ability to bring their characters to life made the show an unforgettable experience for fans. Now, with the announcement of the show's third installment, viewers are eagerly awaiting their on-screen reunion.
A Reunion of Talent and Camaraderie: In a recent interview, Disha Parmar and Nakuul Mehta expressed their excitement and joy at the prospect of working together once again. They shared stories of their past experiences on the set of "Bade Achhe Lagte Hain" and how the show holds a special place in their hearts. The duo praised each other's professionalism and the strong bond they formed during their previous collaboration, making their reunion all the more special.
Exploring New Dimensions: While the return to "Bade Achhe Lagte Hain" is undoubtedly a much-anticipated event, Disha and Nakuul also discussed their aspirations to explore different genres and characters beyond their previous roles. They expressed their desire to push boundaries and challenge themselves as actors, eager to embark on new projects that offer diverse and exciting opportunities for growth.
Fans' Anticipation: The announcement of Disha Parmar and Nakuul Mehta's reunion has sparked a wave of anticipation among fans. Social media platforms are buzzing with excitement as viewers eagerly await the return of their favorite on-screen pair. The fans' unwavering support and love have been a driving force for Disha and Nakuul, inspiring them to give their best performances and create magic on screen once again.
A Promising Future: As Disha Parmar and Nakuul Mehta prepare to step into their respective characters for "Bade Achhe Lagte Hain 3," the duo is poised to deliver yet another memorable performance. Their talent, combined with the creative vision of the show's makers, promises an engaging and entertaining experience for viewers. The audience can look forward to witnessing the evolution of these exceptional actors as they breathe life into new narratives and explore the depths of their characters.
Conclusion: The reunion of Disha Parmar and Nakuul Mehta for "Bade Achhe Lagte Hain 3" is a moment of excitement and nostalgia for both the actors and their fans. Their on-screen chemistry and remarkable performances have left an indelible impression in the minds and hearts of viewers. As they embark on this new journey together, audiences eagerly await their captivating performances and the magic they will create once again. With their shared talent and passion for their craft, Disha and Nakuul are poised to deliver yet another exceptional television experience that will be etched in the annals of television history.
Group Media Publications
Entertainment News Platforms – anyflix.in
Construction Infrastructure and Mining News Platform – https://cimreviews.com/
General News Platform – https://ihtlive.com/
Podcast Platforms – https://anyfm.in