Ulka Gupta, a Banni Chow actress, discusses her connection with Imlie's Sumbul Touqeer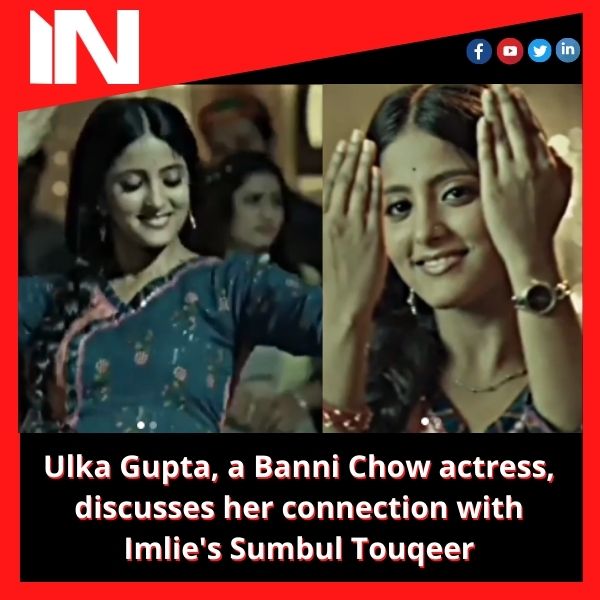 For the past year, Imlie has been among the most watched TV programmes. People enjoy the show's twists and turns, which has kept it at the top of the TRP for numerous weeks. Lead actors Fahmaan Khan and Sumbul Touqeer are generating a lot of attention due to their on-screen chemistry. Another programme, Banni Chow Home Delivery, is becoming increasingly well-liked for its innovative idea and Ulka Gupta's outstanding performance as the lead. Recently, the two series came together for a special episode, and the two actresses developed a strong friendship on set.
With only a few episodes, the show Banni Chow Home Delivery has been able to captivate its audience and is currently doing fairly well for itself. TellyChakkar talked about her action scenes, her relationships with her co-stars, and more in an interview with Ulka Gupta.
In response to a question regarding her relationship with Sumbul, she stated, "She is a sweetheart, we met at the integration episode and we clicked. We clicked right away, and Sumbul is quite supportive of us because our personalities are quite similar. The following time, Star Parivaar and I met up at Ravivaar, and we didn't need anyone because we were having so much fun. We frequently surprise each other, which gives the impression that we are dating.
Ulka has returned to television after a six-year absence. Ulka told IANS in regards to her return to small-screen acting, "I allowed myself to go with the natural flow since it was all really natural. After acting in a few films in Bollywood and the south, I thought that "Banni Chow Home Delivery" would be the best vehicle for my comeback." The actress's most recent appearance was in Jhansi Ki Rani.
anyflix.in Group Media Publications
Construction Infrastructure and Mining News Platform – https://cimreviews.com/
General News Platform – https://ihtlive.com/
Legal and Laws News Platforms – https://legalmatters.in/
Podcast Platforms – https://anyfm.in/
The first look of Lord Ram from the new TV show Srimad Ramayan is now available, and viewers can expect to see him appear before his beloved Shabri.
"A Divine Glimpse: First Look of Lord Ram in 'Srimad Ramayan' TV Show Revealed"
In the world of Indian television, where mythological sagas have always held a special place, there's exciting news for viewers and devotees. The first look of Lord Ram from the upcoming TV show "Srimad Ramayan" is now available, promising a divine and captivating journey into the timeless epic.
For those who grew up with the tales of Lord Ram, Sita, and the epic Ramayana, this news is akin to a breath of fresh air. The anticipation for this new adaptation has been mounting, and with the first look of Lord Ram finally unveiled, fans and devotees can hardly contain their excitement.
The Iconic First Look:
The first glimpse of Lord Ram from "Srimad Ramayan" is nothing short of mesmerizing. Clad in his iconic attire and holding the illustrious bow, this portrayal captures the essence and grace of the beloved deity. With a radiant halo and a serene expression, the image resonates with the deeply spiritual and divine aura that Lord Ram is known for.
The careful attention to detail in this first look is evident, reflecting the dedication of the creators and the passion behind the project. As we behold this visual spectacle, it's clear that "Srimad Ramayan" is committed to offering an authentic and heartfelt representation of the epic tale.
A Divine Encounter: Lord Ram and Shabri:
One of the most anticipated moments in the Ramayana is the encounter between Lord Ram and Shabri. Shabri, an ardent devotee, is a character known for her unwavering faith and devotion. Viewers can expect this significant meeting to be a pivotal and emotionally charged moment in the show.
As "Srimad Ramayan" continues to take shape, this cherished encounter between Lord Ram and Shabri promises to be a touching and spiritually enriching experience. It is in these moments that the magic of the epic truly shines, and viewers can look forward to being deeply moved by the devotion and love that permeates the narrative.
The Journey Begins:
The unveiling of Lord Ram's first look marks the beginning of a grand journey for viewers and devotees. As the creators of "Srimad Ramayan" meticulously craft each episode, the audience can anticipate a show that not only retells a timeless epic but also stirs the soul and nourishes the spirit.
The Ramayana is not just a story; it's a profound spiritual journey that has resonated with generations for centuries. "Srimad Ramayan" seeks to honor this legacy and breathe new life into the tale, promising to be a source of inspiration and enlightenment.
As the first look of Lord Ram graces our screens, we are reminded of the enduring power of this epic and the unwavering faith that it represents. "Srimad Ramayan" has set the stage for a captivating journey, and viewers can hardly wait to embark on this divine adventure, where the timeless meets the contemporary, and the spiritual meets the cinematic.
Group Media Publications
Entertainment News Platforms – anyflix.in      
Construction Infrastructure and Mining News Platform – https://cimreviews.com/
General News Platform – https://ihtlive.com/
Podcast Platforms – https://anyfm.in