According to research, cocoa lowers blood pressure and vascular stiffness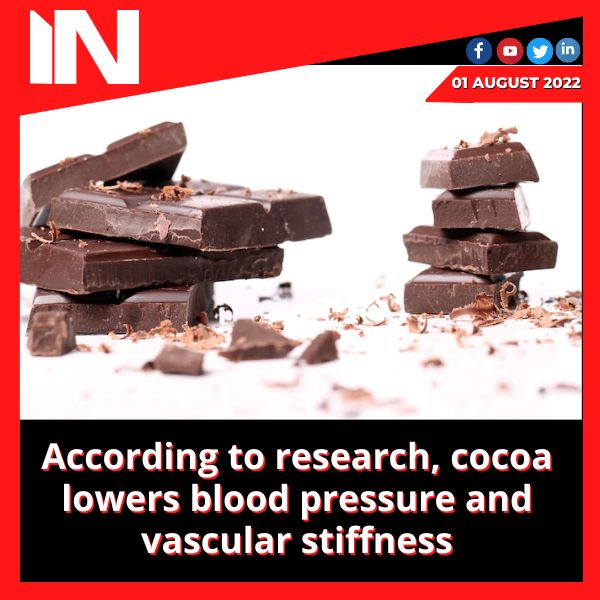 According to research from the University of Surrey, cocoa only reduces blood pressure and arterial stiffness when these factors are already elevated.
The journal "Frontiers in Nutrition" published the study's findings.
Previous research has shown that cocoa flavanols can lower blood pressure and arterial stiffness just as effectively as some blood pressure medications. However, because previous research in this area was done in strictly regulated experimental settings, it is still unknown how effective flavanols are in lowering blood pressure in daily life.
By lowering blood pressure when it is not elevated, Surrey's new research allays worries that using cocoa to treat high blood pressure might be harmful to one's health. This opens the door for its potential use in clinical settings. Using flavanols, a substance present in cocoa, to reduce blood pressure and arterial stiffness in people outside of clinical settings was the goal of the first study of its kind.
Professor of Cardiovascular Medicine at the University of Surrey, Christian Heiss, stated: "It is critical that we research novel approaches to treat such conditions because high blood pressure and arterial stiffness increase a person's risk of heart disease and strokes.
"We need to test if the results previously reported in laboratory settings safely translate into real-world settings, with people going about their everyday lives," says the study. "Before we even consider introducing cocoa into clinical practises."
Eleven healthy participants took six cocoa flavanol capsules or six placebo capsules containing brown sugar on alternate days over the course of several days. An upper arm blood pressure monitor and a finger clip that measures pulse wave velocity (PWV), a metric for arterial stiffness, were given to the participants.
Before taking the capsules, every 30 minutes for the first three hours, then hourly for the following nine hours, blood pressure and PWV measurements were made. Researchers discovered that participants' blood pressure and arterial stiffness were only reduced if they had high blood pressure; when their blood pressure was low in the morning, there was no effect.
It's noteworthy that effects were for the first time discovered eight hours after cocoa consumption. The second peak may be the result of the gut bacteria's metabolising of cocoa flavanols, according to researchers.
Prof. Heiss continued, "It is undeniable that cocoa flavanols have beneficial effects on our cardiovascular system, particularly blood vessel function and blood pressure. Doctors frequently worry that some blood pressure medications may on occasion lower blood pressure too much."
"Our findings suggest that cocoa flavanols only lower blood pressure when it is elevated. Working with the participants' personal health technologies demonstrated the daily variability of blood pressure and arterial stiffness as well as the contribution of personal health monitors to the design and delivery of efficient individualised care."
Group Media Publications
Entertainment News Platforms – anyflix.in
Construction Infrastructure and Mining News Platform – https://cimreviews.com/
General News Platform – https://ihtlive.com/
Legal and Laws News Platforms – https://legalmatters.in/
Podcast Platforms – https://anyfm.in/
Jungkook's song Seven has become the fastest to surpass 900 million streams on Spotify.
Jungkook's "Seven": A Record-Breaking Phenomenon on Spotify
In the world of music streaming, there are certain milestones that artists dream of achieving, and breaking records is often one of them. Recently, Jungkook, a member of the globally renowned K-pop group BTS, achieved a remarkable feat when his solo track, "Seven," became the fastest song to surpass 900 million streams on Spotify.
BTS, known for their chart-topping hits and dedicated fanbase, has been at the forefront of the K-pop revolution, captivating audiences worldwide. While the group's collective success is widely recognized, Jungkook's individual accomplishments have been equally awe-inspiring. His solo track "Seven" is a testament to his talent and the unwavering support of the ARMY, BTS's dedicated fanbase.
"Seven," a soulful and heartfelt song, showcases Jungkook's versatility as an artist. The track's captivating melody and poignant lyrics have resonated with fans on a profound level, making it a favorite in his discography. Its soaring popularity and streaming records are a reflection of the emotional connection that Jungkook shares with his listeners.
Spotify, one of the world's leading music streaming platforms, has become a barometer for an artist's global reach and impact. The fact that "Seven" achieved this milestone on the platform in record time speaks volumes about Jungkook's popularity and the loyalty of the ARMY.
It's important to acknowledge the influence and significance of this accomplishment. Surpassing 900 million streams is not just about the number; it's a testament to the emotional resonance that "Seven" has with listeners around the world. It's a song that has offered solace and inspiration to fans during challenging times, underlining the profound impact of music.
Jungkook's rise as a solo artist within the BTS universe is a testament to the group's commitment to individual growth and artistic exploration. "Seven" serves as a shining example of how each member of the group has something unique to offer, and Jungkook's success reaffirms the power of their collective and individual talents.
The ARMY, known for their unwavering support, played a crucial role in this achievement. Their dedication and passion for BTS and its members have consistently propelled the group and its individual members to new heights. This milestone stands as a testament to their love and commitment.
As "Seven" continues to make waves on Spotify and Jungkook's star continues to rise, it's clear that K-pop and BTS have transcended borders, languages, and cultures. They have redefined the global music landscape, and this record-breaking achievement only further solidifies their status as trailblazers in the industry.
In the world of music streaming, Jungkook's "Seven" has made history, and in the hearts of fans, it has created lasting memories. It's a reminder of the power of music to unite, inspire, and break records, and it paves the way for a future where K-pop continues to shine on the global stage. Congratulations to Jungkook and the ARMY for this remarkable achievement!
Group Media Publications
Entertainment News Platforms – anyflix.in      
Construction Infrastructure and Mining News Platform – https://cimreviews.com/
General News Platform – https://ihtlive.com/
Podcast Platforms – https://anyfm.in