'At least 2-4 times a year, visit Sidhu Moose Wala's parents,' says Gippy Grewal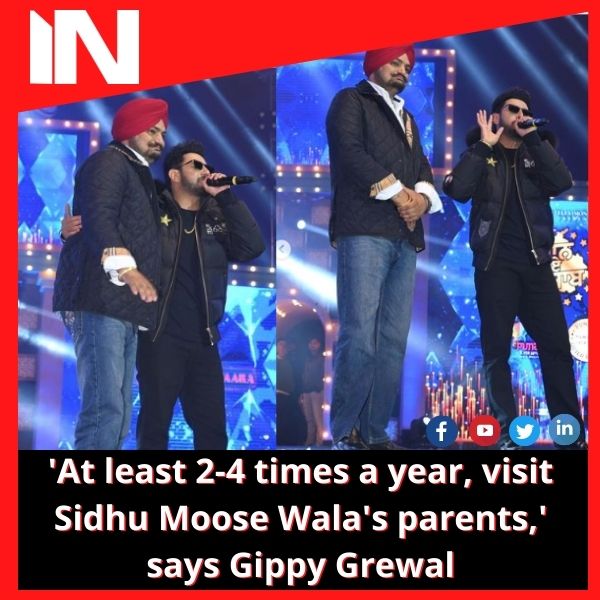 Punjabi singer Gippy Grewal has written a note for fellow Punjabi musicians on the occasion of Sidhu Moose Wala's birth anniversary. "Sidhu dreamed that the Punjabi business could be at No. 1," he wrote in Punjabi, remembering Sidhu with vintage photos. He stated that our competition is with international musicians, not with one other. However, everyone in the Punjabi industry is now blaming one another."
"Be sensible and realise that stuff like who did what doesn't important," he continued, referring to the ongoing chaos surrounding Sidhu's death. The only thing that matters is that Sidhu get justice. The only thing one can do is pay Sidhu's parents at least 2-4 visits per year, because we should imitate their son, Sidhu, and love them." Gippy also encouraged everyone to be united and enjoy one another rather than looking for flaws in one another.
Diljit Dosanjh also posted a photo of Sidhu with his parents on social media. "Creativity…Music kitey ni jaanda (Creativity and Music can never go away)," he said in the post. Fans of Sidhu are currently trending on Twitter as they remember his music.
Sidhu was killed on May 29 at Mansa, Punjab, when unknown assailants opened fire on his automobile. The tragedy occurred just one day after the Punjab Police lifted the security blanket over 424 persons, including Sidhu Moose Wala. In December of last year, he became a member of Congress.
Thousands of mourners gathered at his cremation site in Mansa, where he was born. Shubhdeep Singh Sidhu is a singer-rapper who was born in 1993. So High, Issa Jatt, Selfmade, Famous, and Warning Shots are just a few of his most well-known works.
anyflix.in                Group Media Publications
Construction Infrastructure and Mining News Platform – https://cimreviews.com/
General News Platform – https://ihtlive.com/
Legal and Laws News Platforms – https://legalmatters.in/
Podcast Platforms – https://anyfm.in/
Singer Papon was recently admitted to a hospital in Mumbai, where he claims his kid served as his "night attendant."
Title: Papon's Heartfelt Gesture: His Kid as a Night Attendant during Hospitalization
Introduction: Renowned singer Papon, known for his melodious voice and soulful performances, recently made headlines when he was admitted to a hospital in Mumbai. However, what caught the attention of many was his heartfelt revelation that his own child served as his "night attendant" during his stay. In this blog post, we explore the touching story behind Papon's admission and the significance of his child's involvement in his recovery process.
Papon's Hospitalization: The news of Papon's hospitalization took the music industry and his fans by surprise. The singer, facing health challenges, required medical attention and care. His decision to seek treatment underscores the importance of prioritizing one's well-being, even for those in the public eye.
A Special Role for His Child: During his stay at the hospital, Papon revealed that his own child took on the role of his "night attendant." This heartfelt gesture showcases the bond between a parent and a child, where love and support transcend societal norms and roles. It highlights the extraordinary nature of this relationship and the willingness of family members to go above and beyond to provide care and comfort.
Emotional Support in Healing: Having a loved one, especially a child, by one's side during challenging times can offer significant emotional support. The presence of a caring family member can uplift spirits, reduce anxiety, and contribute to a positive healing environment. Papon's experience demonstrates the therapeutic value of familial connections and the importance of a strong support system during periods of vulnerability.
Redefining Traditional Roles: Papon's acknowledgment of his child's involvement challenges traditional gender roles and societal expectations. In a world where caregiving responsibilities are often assigned based on gender, his story stands as a powerful testament to the fluidity of these roles and the recognition of each individual's unique abilities to provide care and support.
The Power of Family: Papon's experience resonates with many individuals who understand the crucial role family plays in times of distress. The unconditional love and support of family members can significantly impact the healing process and contribute to a faster recovery. It serves as a reminder to cherish and nurture these bonds, appreciating the immense value they bring to our lives.
Conclusion: Papon's recent hospitalization brought forth a heartwarming story of his child serving as his "night attendant" during his stay. This tale of familial love and support emphasizes the powerful role family plays in times of adversity. It challenges traditional gender roles and exemplifies the unique bond between a parent and a child. Papon's experience serves as an inspiration for individuals to appreciate the significance of family and the profound impact their support can have on one's healing journey.
Group Media Publications
Entertainment News Platforms – anyflix.in
Construction Infrastructure and Mining News Platform – https://cimreviews.com/
General News Platform – https://ihtlive.com/
Podcast Platforms – https://anyfm.in