At a 'fantasy' wedding, Britney Spears kisses Madonna once again and dances with Drew Barrymore and Selena Gomez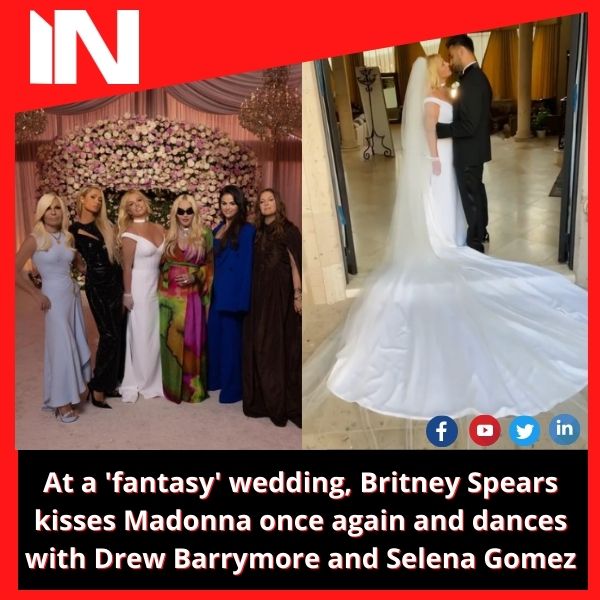 It all works out in the end. Britney Spears married her longtime partner Sam Asghari in a "dream ceremony" at her California home, attended by all of her close industry pals. She's now published photos from the wedding, which had Madonna, Drew Barrymore, Selena Gomez, and Paris Hilton among those who joined her on the dance floor. In addition, the new bride shared a statement in which she conveyed her joy at the wedding.
Britney is dressed in a white off-shoulder gown with a matching neckpiece, veil, and gloves in the photos. In a black suit with a bowtie, Sam Asghari joined her. Britney Spears in a black gown and Selena Gomez in a blue ensemble dancing with Drew Barrymore squished between them in a photo from the afterparty.
"Wow!!!" Britney captioned the photographs on Instagram. Oh, my goodness!!! WE SUCCESSED!!! WE ARE NOW MARRIED!! Gggggeeeeezzzzz!!! It had been the most amazing day!!! I was apprehensive all morning, but at 2:00 p.m., it hit me like a tonne of bricks… WE'RE GOING TO GET MARRIED!!! I experienced a panic attack and then regained control… The team that turned our house into a dream palace was incredible!!! The ceremony was fantastic, and the reception was even better!!! I'm still reeling from the fact that so many wonderful individuals attended our wedding!!! Both @drewbarrymore, my female crush, and @selenagomez, who, by the way, is way prettier in person if that's even possible, came!!! I couldn't say anything… I kissed @madonna once more, and we danced with @ParisHilton late into the night."
"Thank you @donatella versace for designing my dress," she continued, thanking everyone who helped her with her wedding gown. I was in awe of myself… Thank you for my jewellery and makeup, @StephanieGottlieb, @CharlotteTilbury, and @sofiatilbury!!! I believe we all fell at least twice on the dance floor!!! Come on, let's be honest… All of us were VOGUING!!! I adore you, @SamAsghari!!!"
Paris Hilton, who wore a black shimmering gown with a thigh-high slit to the wedding, also uploaded a few photos on Instagram. "#Icons Only," she wrote. We had a fantastic day honouring the fairytale couple. What a lovely evening!"
During the event, Britney's ex-husband Jason Alexander attempted to storm the wedding and was arrested.
anyflix.in                Group Media Publications
Construction Infrastructure and Mining News Platform – https://cimreviews.com/
General News Platform – https://ihtlive.com/
Legal and Laws News Platforms – https://legalmatters.in/
Podcast Platforms – https://anyfm.in/
Singer Papon was recently admitted to a hospital in Mumbai, where he claims his kid served as his "night attendant."
Title: Papon's Heartfelt Gesture: His Kid as a Night Attendant during Hospitalization
Introduction: Renowned singer Papon, known for his melodious voice and soulful performances, recently made headlines when he was admitted to a hospital in Mumbai. However, what caught the attention of many was his heartfelt revelation that his own child served as his "night attendant" during his stay. In this blog post, we explore the touching story behind Papon's admission and the significance of his child's involvement in his recovery process.
Papon's Hospitalization: The news of Papon's hospitalization took the music industry and his fans by surprise. The singer, facing health challenges, required medical attention and care. His decision to seek treatment underscores the importance of prioritizing one's well-being, even for those in the public eye.
A Special Role for His Child: During his stay at the hospital, Papon revealed that his own child took on the role of his "night attendant." This heartfelt gesture showcases the bond between a parent and a child, where love and support transcend societal norms and roles. It highlights the extraordinary nature of this relationship and the willingness of family members to go above and beyond to provide care and comfort.
Emotional Support in Healing: Having a loved one, especially a child, by one's side during challenging times can offer significant emotional support. The presence of a caring family member can uplift spirits, reduce anxiety, and contribute to a positive healing environment. Papon's experience demonstrates the therapeutic value of familial connections and the importance of a strong support system during periods of vulnerability.
Redefining Traditional Roles: Papon's acknowledgment of his child's involvement challenges traditional gender roles and societal expectations. In a world where caregiving responsibilities are often assigned based on gender, his story stands as a powerful testament to the fluidity of these roles and the recognition of each individual's unique abilities to provide care and support.
The Power of Family: Papon's experience resonates with many individuals who understand the crucial role family plays in times of distress. The unconditional love and support of family members can significantly impact the healing process and contribute to a faster recovery. It serves as a reminder to cherish and nurture these bonds, appreciating the immense value they bring to our lives.
Conclusion: Papon's recent hospitalization brought forth a heartwarming story of his child serving as his "night attendant" during his stay. This tale of familial love and support emphasizes the powerful role family plays in times of adversity. It challenges traditional gender roles and exemplifies the unique bond between a parent and a child. Papon's experience serves as an inspiration for individuals to appreciate the significance of family and the profound impact their support can have on one's healing journey.
Group Media Publications
Entertainment News Platforms – anyflix.in
Construction Infrastructure and Mining News Platform – https://cimreviews.com/
General News Platform – https://ihtlive.com/
Podcast Platforms – https://anyfm.in