Babe Bhangra Paunde Ne trailer: Diljit Dosanjh sells underwear, 'adopts' father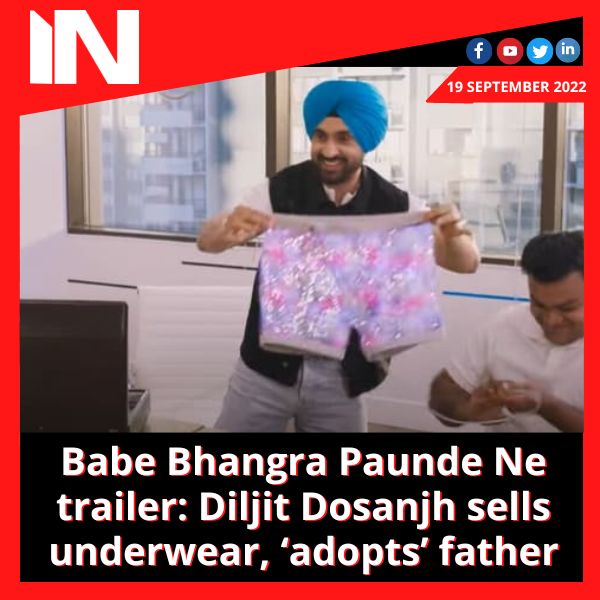 Diljit Dosanjh, whose most recent movie, Jogi, debuted on Netflix on September 16, is getting ready to star alongside Sargun Mehta in his upcoming Punjabi film, Babe Bhangra Paunde Ne. The next comedy's humorous trailer was posted by the actor and the production team on Tuesday. Diljit will do anything to become the next "three richest men in the world," even selling "galaxy" underwear and "adopting" a parent in order to receive insurance benefits.
The first scene of the three-minute Babe Bhangra Paunde Ne video features NRI Diljit Dosanjh riding a bicycle while listening to music with headphones. Then he can be seen speaking to his friends in Punjabi about the "three richest persons in the world." "How did Bill Gates, Elon Musk, and Jeff Bezos become the richest men in the world? just because of a thought. He informs them, "We have an idea as well. Then, as they unload supplies from a truck at a grocery shop, he asks the same buddies, "Who are the three richest men in the world in the future? Our trio! As the three of them unite in their preparation for the future, Diljit exclaims, "Come on, baby."
Then they reveal their first business plan: Lyra galaxy underpants. Diljit is seen presenting his company plan to an enthusiastic group of investors before one of them informs him that "Your ideas are not ready at all." Diljit and his friends devise another strategy to realise their aspirations of wealth: they "adopt" a parent and launch their firm after his passing using the proceeds from an insurance policy. They must now eliminate a father "whose validity is less."
Here comes Sargun Mehta. She unintentionally contributes to Diljit's scheme by supplying information about the health of her patients while working at an old age home. Soon after, Diljit welcomes a "father" home and gives Sargun a hug in appreciation for helping "an orphan" locate his "papaji (dad)". Prior to the insurance policy going into effect in about 25 days, Diljit must make sure his "father" does not pass away. "So now that this thing is cut to cut," Diljit says to his insurance agent. It's a race against the clock.
Despite the fact that "he fell ill as soon as he came" to live with them, Diljit and his buddies do their best to keep his "papaji" alive for the following "25 days." To the surprise of Diljit and his pals, Diljit's "father" notices a marked improvement in his health, thus it does not appear that everything is going as planned.
On Monday, Diljit announced the movie's release date on social media. "Babe Bhangra Paunde Ne… Releasing worldwide – this Dussehra 5th October," he stated in a post sharing a flyer. Babe Bhangra Paunde Ne, which will be Diljit's first collaboration with Sargun, is being directed by Amarjit Singh Saron.
Group Media Publications
Entertainment News Platforms – anyflix.in
Construction Infrastructure and Mining News Platform – https://cimreviews.com/
General News Platform – https://ihtlive.com/
Legal and Laws News Platforms – https://legalmatters.in/
Podcast Platforms – https://anyfm.in/
The creators of Pippa respond to criticism of AR Rahman's rendition of the song Karar Oi Louho Kopat by Bengali poet Kazi Nazrul Islam
In the realm of art, especially when it involves a beloved poet's work, emotions run deep. The recently released rendition of Kazi Nazrul Islam's timeless composition "Karar Oi Louho Kopat" by the legendary AR Rahman for the upcoming film Pippa has stirred discussions and, inevitably, some criticism. The creators of Pippa have chosen to respond, fostering an open dialogue about artistic interpretation, cultural sensitivity, and the collaborative spirit of creative endeavors.
A Musical Odyssey: AR Rahman's Rendition
AR Rahman, a maestro in the world of music, took on the monumental task of interpreting Kazi Nazrul Islam's iconic work for the soundtrack of Pippa. "Karar Oi Louho Kopat," known for its profound lyrics and historical significance, is a piece of cultural heritage that resonates deeply with Bengali speakers worldwide. Rahman's rendition, while undoubtedly a display of musical brilliance, prompted varied reactions from listeners, invoking discussions about fidelity to the original composition.
Navigating the Sea of Criticism: The Creators' Response
In response to the criticism, the creators of Pippa have taken a nuanced approach, acknowledging the varied sentiments expressed by the audience. In an era where cultural appreciation and appropriation are delicate themes, the creators aim to engage in a respectful and insightful conversation with those who hold Nazrul's work close to their hearts.
The Art of Interpretation: Navigating Boundaries
Artistic interpretation is a complex dance, especially when traversing the revered creations of literary giants. Rahman's rendition of "Karar Oi Louho Kopat" is not merely a cover but an interpretation, a reimagining that seeks to resonate with contemporary audiences while paying homage to the essence of the original work. The creators emphasize the intent of creating a bridge between generations, fostering a connection with Nazrul's poetry through a modern lens.
Cultural Sensitivity and Collaboration
In a world that values cultural sensitivity, the creators of Pippa express their commitment to fostering collaboration and understanding. Rahman's collaboration on this project is seen as a celebration of diversity and an effort to unite different artistic traditions. The goal is not to replace or diminish the original but to amplify its beauty for a new audience.
The Ongoing Conversation: A Celebration of Nazrul's Legacy
As the conversation around AR Rahman's rendition continues, the creators of Pippa invite fans, critics, and enthusiasts to share their perspectives. It is a testament to the dynamic nature of art, where diverse opinions contribute to a richer understanding of the creative process. The goal remains to celebrate the richness of Nazrul's legacy and ensure that his timeless verses continue to resonate across generations.
Conclusion: A Melody of Unity
In the ever-evolving landscape of art and expression, the conversation sparked by AR Rahman's rendition of "Karar Oi Louho Kopat" is an opportunity for unity. It is a chance for diverse voices to converge, creating a harmonious discourse that transcends geographical and cultural boundaries. As Pippa prepares to weave together the tapestry of history and contemporary expression, the creators invite everyone to be part of this collective journey, where the beauty of Nazrul's poetry continues to be a guiding force in the ever-evolving symphony of creative interpretation.
Group Media Publications
Entertainment News Platforms – anyflix.in      
Construction Infrastructure and Mining News Platform – https://cimreviews.com/
General News Platform – https://ihtlive.com/
Podcast Platforms – https://anyfm.in