Bizarre Food Style: New Black Base Pizza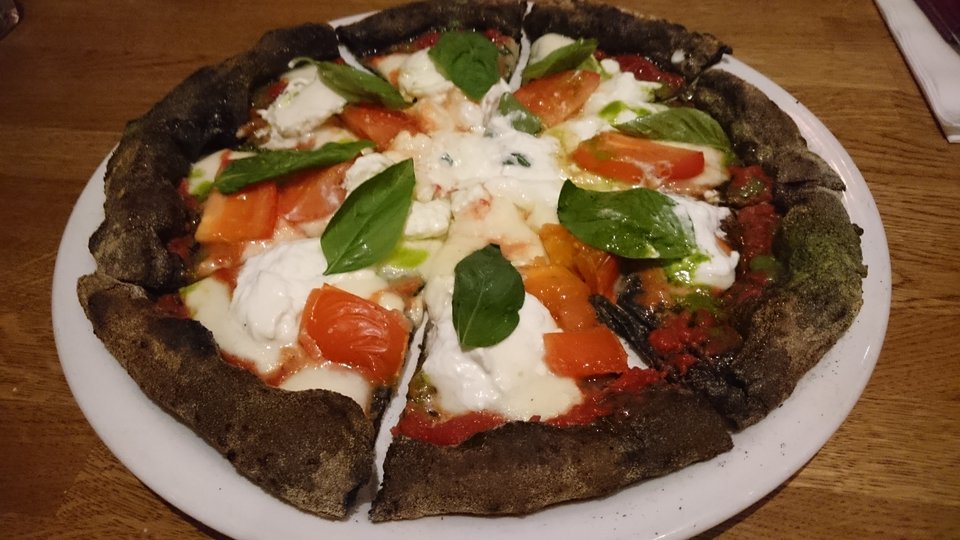 If you think India is the land of nawabs and only nawabi food is relished, then you might be not cent per cent correct. Yes, the truth is as much as Indian loves their culture; they love their food as well.
Indians have always embraced all types of food cultures from around the world. For example, noodles were taken from China and mixing it with various kinds of spices; an Indianised version was formed. There are a very few cultures from which we have not taken their cuisines and integrated into our own. But the modern Indian Food Industry professionals, the young chefs are not happy with that. They don't want to take from other cultures. They want to grow our food Industry.
Recently a new Pizza was unveiled at Gastronomica Kitchen and Bar at GK and Russmunch in Pitampura. What is so special about this Gothic Pizza, you ask? Let me put the uniqueness of the Pizza in points:
It's Black
It has a Black Crust
It is not burnt just BLACK.
Pizza is one of the delicacies that Indians love the most. What is there not to love? It has a crispy crust, soft decadent and gooey cheese, and meat, chicken, veggies. Yum!! Its heaven served on a plate. But Black Pizza, this is a new one. The customers seem happy about it. When asked about their experience eating this black Pizza, the only replies were, delicious, impressive, yummy.
What's so different?
Black Pizza is very similar to the standard Pizza. The unique touch added to it is the activated charcoal. Yes, you heard that right charcoal, as in the black thing you get after burning wood. The activated charcoal gives the Pizza the gothic, spooky, and black look. The cheese and the activated charcoal crust also results in a unique smoky flavor otherwise absent in a regular pizza.
Activated charcoal foods are a trend now. Many bizarre Foods are using activated charcoal to color themselves black. Last year, black swirled Ice Creams were killing the market in Delhi.
It is not only that activated charcoal gives flavor, texture, and color to the food. It is also suitable for us. Activated charcoal is a natural detoxification agent. It helps in absorbing major toxins from our body. Also, activated charcoal helps with:
Digestion
Lowering Cholesterol
Prevent heart diseases.
The Black Pizza is a hit. No one seems to mind its burnt-esque look. In a world where we are very adamant about following rules, we must go out and break the rules. Or else how will dishes like the Gothic Black Pizza be born.
Also, we must always remember what we learned as kids, a slice of Pizza a day keeps the heart awake. So, go out there enjoy a slice of Gothic Pizza. It's delicious and trendy. And while you are at it why not click pictures and post it. Let your friends know that you are ahead of them in the trend race.
Finally, keep an open mind and enjoy the bizarre Black Pizza. It's a new benchmark and will remain so for years to come.