Blake Lively announces her pregnancy and Ryan Reynolds is expecting their fourth child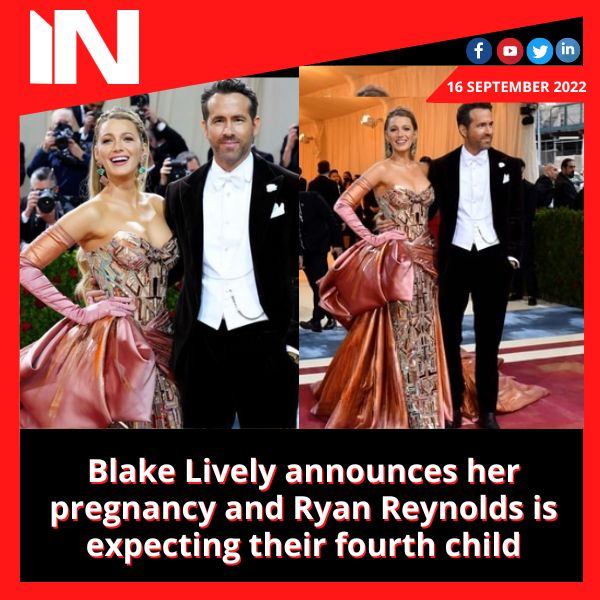 The family of Ryan Reynolds and Blake Lively is about to grow. The actor-couple, who already have three kids, will soon welcome their fourth child into the world. On Thursday night, Blake attended at a red carpet event in New York while sporting a baby bump.
Blake made her pregnancy bump public on September 15 while attending the Forbes Power Women's Summit. Fan clubs have posted photos of the actor on social media showing off her baby bulge while wearing a golden sequin dress.
The actor joked, "I just like to create," during the occasion, according to E! News. I really really enjoy creating, whether it be with food or with stories or with people or with enterprises.
In 2012, Ryan and Blake got married. The couple often keeps their girls out of the spotlight, but that hasn't prevented them from waxing poetic about their life as a unit and raising their daughters.
Blake had previously stated to Forbes in May, "Having children for me helped me feel so much more in my skin." I've never felt more secure, comfortable in my own skin, or like myself. This is not to say that I don't have plenty of insecurities, but I just feel wonderfully at peace.
James, the oldest daughter of Blake and Ryan, was born in 2014. Inez, their second daughter, was born to the couple in 2016, and Betty arrived in 2019.
With The Sisterhood of the Traveling Pants, Blake's career took off when she was a teenager in 2005. She later garnered more notoriety for her part in the popular series Gossip Girl. She has also been seen in many movies, initially teaming up with her future husband Ryan Reynolds in the superhero movie Green Lantern from 2011. In the movie The Rhythm Section from 2020, she was last spotted.

Group Media Publications
Entertainment News Platforms – anyflix.in
Construction Infrastructure and Mining News Platform – https://cimreviews.com/
General News Platform – https://ihtlive.com/
Legal and Laws News Platforms – https://legalmatters.in/
Podcast Platforms – https://anyfm.in/
How Tom Cruise gets ready for action scenes: "Even shoelaces were taped"
Title: Tom Cruise's Unparalleled Dedication: Preparing for Action Scenes with Meticulous Precision
Introduction: Tom Cruise, the iconic Hollywood actor renowned for his thrilling action sequences, has time and again captivated audiences with his daredevil stunts and electrifying performances. Behind the scenes, Cruise's commitment to delivering awe-inspiring action extends to meticulous preparation and attention to detail. Recent revelations about his extraordinary dedication have shed light on his intensive approach, where even the simplest of tasks, like tying shoelaces, are executed with extraordinary precision. In this blog, we delve into Tom Cruise's remarkable preparation for action scenes, which showcases his unwavering commitment to his craft.
An Unmatched Work Ethic: Tom Cruise's success as an action star stems from his unparalleled work ethic and determination to create the most authentic and immersive experiences for audiences. His willingness to go above and beyond has solidified his status as a true professional in the industry. Cruise's preparation process, involving every aspect of his performance, exemplifies his relentless pursuit of perfection.
The Importance of Detail: In crafting action scenes, attention to detail is paramount. Tom Cruise understands that even the slightest oversight can compromise the believability and impact of a sequence. His commitment to accuracy extends to every aspect, including the smallest details like shoelaces. Reports have surfaced about Cruise taping his shoelaces during action scenes to ensure they remain tightly secured, preventing any potential accidents or distractions. This level of meticulousness demonstrates his dedication to maintaining absolute control over his movements and ensuring the highest level of safety.
Physical and Mental Conditioning: Preparing for action scenes is not just about physical training but also mental conditioning. Cruise invests significant time and effort in both aspects to deliver captivating performances. His rigorous fitness regimen and extensive training in various combat techniques are well-known within the industry. Moreover, he collaborates closely with stunt coordinators and experts to choreograph intricate sequences that push the boundaries of what is possible on screen.
Collaborative Approach: Tom Cruise recognizes the importance of collaboration in creating memorable action scenes. He actively engages with his co-stars, directors, and stunt teams, ensuring a cohesive vision and precise execution. His meticulousness is contagious, inspiring those around him to give their best and pushing the boundaries of what can be achieved. This collaborative approach enhances the authenticity and impact of his action sequences, elevating the overall cinematic experience.
Setting the Bar Higher: By leaving no stone unturned in his preparation, Tom Cruise sets the bar higher not only for himself but also for the entire industry. His unwavering commitment to his craft continues to inspire aspiring actors and filmmakers, encouraging them to invest in their performances and push their limits. Cruise's dedication to excellence has raised expectations for action scenes, motivating filmmakers and actors to strive for greater authenticity and intensity.
Conclusion: Tom Cruise's preparation for action scenes exemplifies his unmatched dedication, attention to detail, and unwavering commitment to delivering spectacular performances. His focus on every aspect, down to taping his shoelaces, showcases his dedication to maintaining precision and safety. Cruise's meticulousness not only elevates his own work but also influences the standards and expectations of the entire industry. As audiences continue to be enthralled by his captivating performances, his preparation process serves as a reminder of the effort and passion required to create cinematic magic.
Group Media Publications
Entertainment News Platforms – anyflix.in
Construction Infrastructure and Mining News Platform – https://cimreviews.com/
General News Platform – https://ihtlive.com/
Podcast Platforms – https://anyfm.in