Chris Pine was not spit on by Harry Styles, according to the actor's representative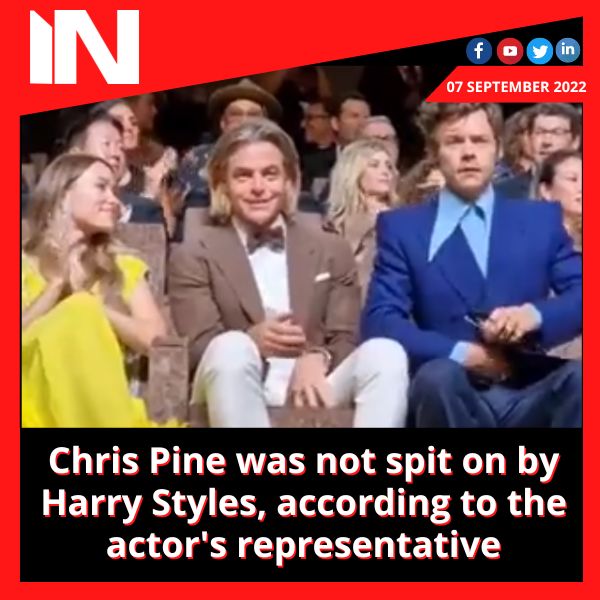 After a clip of singer-actor Harry Styles allegedly spitting on actor Chris Pine surfaced online, the actor's representative quickly shot off the allegations and referred to the tale as absurd. When Harry sat down next to Chris during the Don't Worry Darling screening at the Venice Film Festival, the incident occurred.
In the video clip, Harry appears to'spit' on Chris Pine's lap as he leans in to take a seat. Chris, who was clapping, paused in mid-stride, grinned, and looked down at his lap, which convinced others on social media that Harry had done what he had done. He then reached for his sunglasses and continued to beam. Harry sat down, waved to the crowd, and then checked his phone.
Now, in a statement to Variety, Chris' agent claimed, "This is a preposterous narrative – a pure fiction and the consequence of an unusual web illusion that is blatantly deceptive and allows for dumb speculation. Harry Styles did not spit on Chris Pine, just to be clear. Any idea that there is anything but respect between these two men is a clear attempt to generate drama that simply does not exist.
"Someone has to start a full-fledged inquiry into what happened on the don't worry darling set… wdym harry styles spitting on Chris Pine on national television," one Twitter user commented in response to the video's online appearance. I need the people in the audience behind Chris Pine and Harry Styles to speak out and speak out, someone else posted.
This comes amid persistent rumours that Olivia Wilde, the director of the movie Don't Worry Darling, and performer Florence Pugh are at odds. Observant viewers posted a video online showing Florence Pugh avoiding Olivia during the standing ovation after the premiere.
As reported by Variety, Olivia previously responded to a question regarding their alleged conflict during a press conference for their movie, "As for all the constant tabloid gossip and all the noise out there, the Internet feeds itself. I don't feel the need to give because I believe it is fully fed. On September 30, Don't Worry Darling will be available in India.
Group Media Publications
Entertainment News Platforms – anyflix.in
Construction Infrastructure and Mining News Platform – https://cimreviews.com/
General News Platform – https://ihtlive.com/
Legal and Laws News Platforms – https://legalmatters.in/
Podcast Platforms – https://anyfm.in/
Sweet Britney Spears': Pink modifies the song's lyrics in support of the performer who is going through a divorce from her husband Sam Asghari
In the ever-evolving landscape of the music industry, artists often transcend their roles as mere entertainers to become symbols of empowerment, solidarity, and support. Recently, pop icon Pink demonstrated the power of empathy and unity when she modified the lyrics of her hit song "Sweet Child o' Mine" to show support for fellow pop sensation Britney Spears, who is currently navigating the challenges of a divorce from her husband Sam Asghari. This heartfelt gesture not only showcases the deep bond between artists but also highlights the strength of sisterhood in the music world.
Britney Spears: A Resilient Journey
Britney Spears, one of the most celebrated and scrutinized pop stars of her generation, has faced her share of personal and professional struggles in the public eye. The artist's legal battles surrounding her conservatorship have made headlines globally, sparking conversations about mental health, autonomy, and the perils of fame. Amidst these challenges, Britney's music has remained a constant source of solace for her fans, and her resilience has inspired countless individuals to stand up for justice and compassion.
Pink: A Voice of Empathy
Pink, known for her dynamic vocals and empowering anthems, has always championed authenticity, individuality, and solidarity. Her music often reflects the human experience, touching on themes of love, strength, and perseverance. Her decision to modify the lyrics of "Sweet Child o' Mine" to show support for Britney Spears is a testament to her empathetic nature and her understanding of the struggles faced by fellow artists.
The Heartfelt Tribute
Pink's gesture of solidarity occurred during a live performance of "Sweet Child o' Mine." She transformed the song's lyrics to express her support for Britney Spears during this challenging time. The modified lyrics poignantly conveyed Pink's empathy and the understanding that artists, despite their fame, also experience personal trials and tribulations. This powerful tribute serves as a reminder that the bond between artists extends beyond the stage and studio—it's a bond of shared experiences, struggles, and triumphs.
Empowerment Through Unity
Pink's act of modifying her song's lyrics serves as an inspiration for artists and fans alike. It illustrates the importance of standing together during difficult times, of using one's platform to amplify the voices of those who need support, and of fostering a community that values empathy and compassion. In an industry often fraught with competition, Pink's gesture showcases the power of unity and the potential for artists to uplift and empower one another.
Group Media Publications
Entertainment News Platforms – anyflix.in
Construction Infrastructure and Mining News Platform – https://cimreviews.com/
General News Platform – https://ihtlive.com/
Podcast Platforms – https://anyfm.in