Dhokha Movie Review: Aparshakti Khurana, R Madhavan Film is Weakly Executed Game of Two Truths and a Lie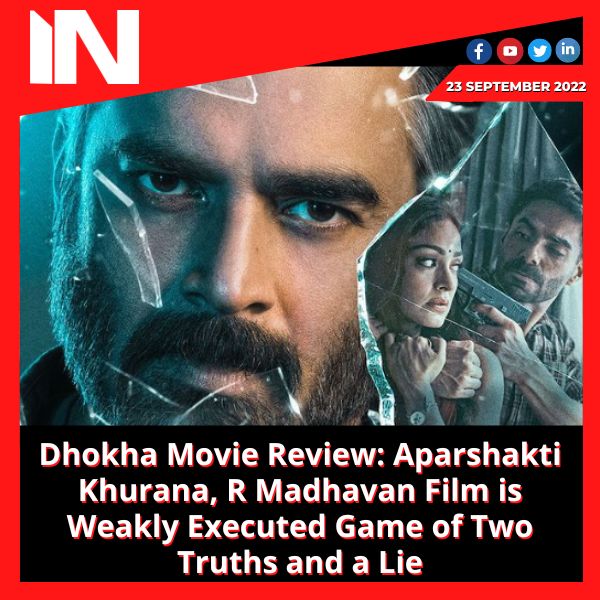 This weekend is a fairly exciting one for moviegoers. While R Balki is releasing his psychological crime thriller Chup, The Big Bull and Prince filmmaker Kookie Gulati is experimenting with the crime thriller subgenre with his most recent film, Dhokha: Round D Corner. The main cast of the movie, which also includes R. Madhavan, Aparshakti Khurana, Darshan Kumar, and Khushalii Kumar, centres on a woman who is allegedly insane and has been taken captive by a terrorist in her own home. Her husband and a group of police officers work to free her.
Sanchi, a homemaker, is played by Khushalii, and Yathaarth, her husband, is played by Madhavan, as the trailer has already shown. Terrorist Haq Gul, played by Aparshakti while Darshan Kumar, causes havoc in their life.
Inspector Malik and Gul, on the other hand, have a shared past. In an alleged bomb blast case, Malik had apprehended him and imprisoned him for several months. He apparently escapes while being transferred from one jail to another and takes Malik's gun with him.
It seems like a game of two truths and a falsehood in the first half. Each character tells the story from their perspective. Sanchi accuses Yathaarth of fraudulently labelling her as mentally ill and engaging in an extramarital affair, while Yathaarth maintains Sanchi is delusional, believes she is wrong to suspect him of having an affair with her psychiatrist, and believes she is using her sensuality to manipulate the situation.
Haq and Malik are playing the game separately. Malik alleges that Haq is a skilled Kashmiri terrorist who organised the bombings and is in the city to get revenge for a death that occurred years ago. Haq, however, insists that he is an innocent man and denies knowing anything about it.
Director Kookie Gulati adds a layer of Lima syndrome to spice things up while he is trying to entangle you in their lies. Sanchi can occasionally take charge of the situation thanks to this syndrome. And to top it off, she seduces Haq with her sensuality to keep him enthralled.
Trying to determine who is telling the truth and whether Sanchi is safe takes up most of the second half.
The movie's plot seems intriguing on paper, but it isn't fully realised in the final product. Gulati tries to make the suspense more dramatic, but somewhere along the line, he throws both elements off. Although the first half of the movie takes a while to develop, you would expect it to keep you interested right away considering the genre. However, the uneven pacing and uneven concentration prevent you from engaging with the movie fully.
Only partially does the second half of the movie attempt to save it. The film's climax is unquestionably its best moment. Gulati concentrated more on tying the knots at the end than on positioning the threads for the ties.
Aparshakti is without a doubt the movie's leading lady in terms of acting. The actor dazzles with his good Kashmiri accent and displays practically all of his acting skills throughout the film, including those of an unstable criminal, a feeble lover, a guy forced to choose between life and death, and ultimately, a devastated mentally sick man. His film is the real deal.
He has excellent support from R Madhavan. Watching him perform roles with little romance and more pushing of limits is always enjoyable. But watching Darshan Kumar play a poorly written character was devastating. Even in this circumstance, he makes an effort to save what he can, but it is insufficient.
It is disappointing to note that the movie gave Khushali Kumar, who is making her Bollywood debut with the movie, much more screen time for her curves than for her face. Given that Sanchi was the main character of the movie, her portrayal ought to have been better. #JusticeforSanchi!

A special note should be made of the movie's parody of the newsrooms, which served as a reprieve. Gulati occasionally seemed to be diverted from the suspense story, so he included sequences showing media organisations competing for TRP ratings over the coverage. A journalist who was modelled after some of the noisiest television anchors was also included in the movie. There were a few laughs as a result, but primarily it felt forced.
Group Media Publications
Entertainment News Platforms – anyflix.in
Construction Infrastructure and Mining News Platform – https://cimreviews.com/
General News Platform – https://ihtlive.com/
Legal and Laws News Platforms – https://legalmatters.in/
Podcast Platforms – https://anyfm.in/
Day 6 of the box office take for Chandramukhi 2 shows a drop to 2 crore for the Kangana Ranaut movie following the long weekend.
In the world of cinema, box office numbers can often serve as a barometer of a movie's success and audience reception. Kangana Ranaut's highly anticipated film, "Chandramukhi 2," has been making waves since its release. However, as the dust settles after the long weekend, day 6 at the box office has shown a significant drop in earnings, with the film raking in 2 crore rupees. Let's delve into what this means for the movie's overall performance and what factors could be contributing to the change in numbers.
A Promising Start
"Chandramukhi 2" generated substantial buzz and anticipation leading up to its release. Kangana Ranaut's powerhouse performances and the film's intriguing storyline had audiences eager to witness the movie on the big screen. As expected, the film got off to a strong start during its opening weekend, with impressive box office collections.
Long Weekend Highs
The long weekend, often a boon for movie releases, saw "Chandramukhi 2" enjoying robust earnings. Audiences flocked to theaters to catch the film, resulting in a surge in box office numbers. This surge is typical for highly anticipated films and can lead to a misleadingly positive perception of a movie's performance.
The Day 6 Drop
However, as the week progressed and the long weekend euphoria subsided, "Chandramukhi 2" experienced a notable drop in earnings on day 6. The movie's collection decreased to 2 crore rupees, raising questions about its ability to maintain momentum.
Factors at Play
Several factors could contribute to the drop in box office earnings:
Weekday Blues: Weekdays typically witness lower footfall at theaters due to work and school commitments. This trend often results in reduced box office numbers compared to weekends.
Audience Word-of-Mouth: The initial excitement around a film can sometimes lead to mixed or negative reviews from viewers. Word-of-mouth recommendations or critiques can impact a movie's performance as the week progresses.
Competition: The presence of other releases in theaters can divert audiences' attention and affect the box office performance of a particular film.
Marketing and Promotion: The intensity and effectiveness of a film's marketing and promotional campaigns can influence its long-term success.
The Bigger Picture
While the drop in earnings on day 6 is a noteworthy development, it's essential to remember that the box office is a dynamic arena. A single day's collection does not necessarily determine the overall success or quality of a film. "Chandramukhi 2" still has ample opportunity to recapture audience interest and sustain its box office performance.
Kangana Ranaut's dedication to her craft and her ability to deliver powerful performances are well-known in the industry. As audiences continue to flock to theaters to experience "Chandramukhi 2," the movie's ultimate box office fate will become clearer over time.
In conclusion, day 6 of box office collections for "Chandramukhi 2" reflects the natural ebb and flow of a film's performance after the initial excitement of its release. It's a reminder that the movie industry is ever-evolving, and a film's true success is often measured not just by its opening numbers but by its enduring impact on audiences.
Group Media Publications
Entertainment News Platforms – anyflix.in      
Construction Infrastructure and Mining News Platform – https://cimreviews.com/
General News Platform – https://ihtlive.com/
Podcast Platforms – https://anyfm.in