Double XL teaser: Sonakshi Sinha, Huma Qureshi poke fun at boys who body shame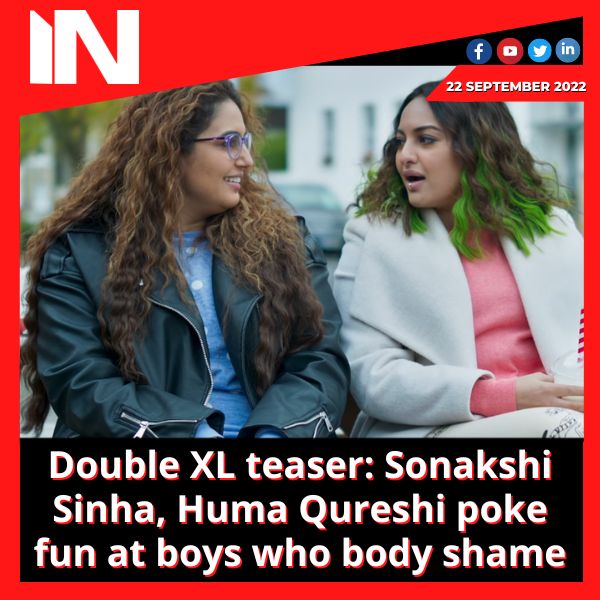 On Thursday morning, the first trailer for the upcoming comedy Double XL starring Sonakshi Sinha and Huma Qureshi was unveiled. The brief 30-second trailer, which showcases the protagonists' good looks and chemistry, was posted by the movie's production company T-Series on their official YouTube page. The crowd expressed appreciation for the small preview and expressed great anticipation for more.
Huma and Sonakshi's characters can be seen sitting on a bench in a strange city at the start of the teaser. Huma cracks a joke on how people can still detect body fat on women wearing huge, loose kurtas. She continues, "No matter how much you tuck your tummy in, jeans always get caught around the thighs," with a distinctive Bihari accent. And boys' demands are strange, Sonakshi responds with her distinctive Haryanavi tone. They desire a large bust and a slim waist.
Then, after a little pause, she asks those boys, "What if we ask you for something big or small?" in a semi-angry tone. The two pals can then be seen laughing heartily together. According to the post, the movie is "a narrative of friendship and dreams full of masti (joy)".
In addition to Sonakshi and Huma, Zaheer Iqbal and Mahat Raghavendra also appear in the movie. The fixation with weight and stereotypes of female bodies are topics covered in the movie. Zaheer stated, "Sonu and Huma did their diet as they were intended to put on weight," in an earlier interview with India Today. They gained 15 to 20 kilogrammes for the movie. They simply continued to eat. Basically, it was action, cut, and burger lao (bring food). I only recall that from the shoot.
The movie is produced by Bhushan Kumar, Krishan Kumar, Vipul D Shah, Rajesh Bahl, and Ashwin Varde, as well as Saqib Saleem, Huma Qureshi, and Mudassar Aziz and is directed by Satramm Ramani. The date of release is set for October 14.
Group Media Publications
Entertainment News Platforms – anyflix.in
Construction Infrastructure and Mining News Platform – https://cimreviews.com/
General News Platform – https://ihtlive.com/
Legal and Laws News Platforms – https://legalmatters.in/
Podcast Platforms – https://anyfm.in/
The creators of Pippa respond to criticism of AR Rahman's rendition of the song Karar Oi Louho Kopat by Bengali poet Kazi Nazrul Islam
In the realm of art, especially when it involves a beloved poet's work, emotions run deep. The recently released rendition of Kazi Nazrul Islam's timeless composition "Karar Oi Louho Kopat" by the legendary AR Rahman for the upcoming film Pippa has stirred discussions and, inevitably, some criticism. The creators of Pippa have chosen to respond, fostering an open dialogue about artistic interpretation, cultural sensitivity, and the collaborative spirit of creative endeavors.
A Musical Odyssey: AR Rahman's Rendition
AR Rahman, a maestro in the world of music, took on the monumental task of interpreting Kazi Nazrul Islam's iconic work for the soundtrack of Pippa. "Karar Oi Louho Kopat," known for its profound lyrics and historical significance, is a piece of cultural heritage that resonates deeply with Bengali speakers worldwide. Rahman's rendition, while undoubtedly a display of musical brilliance, prompted varied reactions from listeners, invoking discussions about fidelity to the original composition.
Navigating the Sea of Criticism: The Creators' Response
In response to the criticism, the creators of Pippa have taken a nuanced approach, acknowledging the varied sentiments expressed by the audience. In an era where cultural appreciation and appropriation are delicate themes, the creators aim to engage in a respectful and insightful conversation with those who hold Nazrul's work close to their hearts.
The Art of Interpretation: Navigating Boundaries
Artistic interpretation is a complex dance, especially when traversing the revered creations of literary giants. Rahman's rendition of "Karar Oi Louho Kopat" is not merely a cover but an interpretation, a reimagining that seeks to resonate with contemporary audiences while paying homage to the essence of the original work. The creators emphasize the intent of creating a bridge between generations, fostering a connection with Nazrul's poetry through a modern lens.
Cultural Sensitivity and Collaboration
In a world that values cultural sensitivity, the creators of Pippa express their commitment to fostering collaboration and understanding. Rahman's collaboration on this project is seen as a celebration of diversity and an effort to unite different artistic traditions. The goal is not to replace or diminish the original but to amplify its beauty for a new audience.
The Ongoing Conversation: A Celebration of Nazrul's Legacy
As the conversation around AR Rahman's rendition continues, the creators of Pippa invite fans, critics, and enthusiasts to share their perspectives. It is a testament to the dynamic nature of art, where diverse opinions contribute to a richer understanding of the creative process. The goal remains to celebrate the richness of Nazrul's legacy and ensure that his timeless verses continue to resonate across generations.
Conclusion: A Melody of Unity
In the ever-evolving landscape of art and expression, the conversation sparked by AR Rahman's rendition of "Karar Oi Louho Kopat" is an opportunity for unity. It is a chance for diverse voices to converge, creating a harmonious discourse that transcends geographical and cultural boundaries. As Pippa prepares to weave together the tapestry of history and contemporary expression, the creators invite everyone to be part of this collective journey, where the beauty of Nazrul's poetry continues to be a guiding force in the ever-evolving symphony of creative interpretation.
Group Media Publications
Entertainment News Platforms – anyflix.in      
Construction Infrastructure and Mining News Platform – https://cimreviews.com/
General News Platform – https://ihtlive.com/
Podcast Platforms – https://anyfm.in