From Rocky Handsome to Baaghi 2, these are 5 Bollywood action movies to see this weekend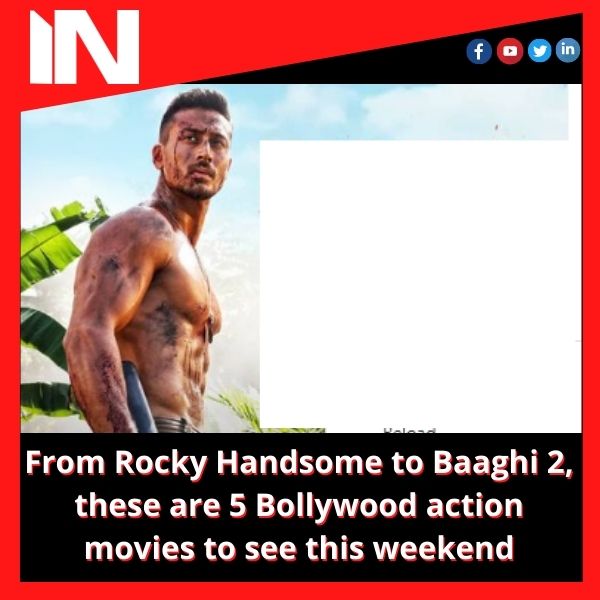 The end of another week has come and gone in the blink of an eye, and the weekend may now be used to reset. After a week filled with obligations, due dates, and goals to achieve, weekends are for relaxing, unwinding, and retiring. It's time to binge on some entertaining media during the weekend, and Bollywood has you covered with a variety of action movies to choose from to get you in the spirit for the next week.
Baaghi 2 (Disney+Hotstar): Ronny is on another quest this time to rescue his ex-kidnapped girlfriend's three-year-old daughter. With just the right amount of thrill, this action-masala movie directed by Ahmed Khan and starring Tiger Shroff will keep you glued to your televisions.
Dabangg (Netflix): A Bollywood movie hasn't got all the makings of a blockbuster in a while. The main takeaways from this Salman Khan-starring family masala movie include action, drama, tragedy, humour, romance, and a loving cop named Chulbul Pandey. Watch as Chulbul Pandey takes on a band of legendary goons in order to exact revenge for the death of his mother. This movie, which Abhinav Kashyap is directing, promises to
Koyla (Zee5): If you enjoy action movies, you should watch Koyla, an explosive action movie from 1997 that caused riots in theatres 25 years ago. For its scope and scope alone, this Shankar revenge story about exacting retribution on Raja Saab for killing his parents is worth watching. Zee5 offers the action film starring Shah Rukh Khan, Madhuri Dixit, and Amrish Puri and directed by Rakesh Roshan.
Bang Bang (Disney+Hotstar): This Sidharth Anand movie is one of the first of its kind stylized actioners produced in India, and it's well worth your time. Harleen Sahani's life changes when she falls in love with Rajveer Nanda, a thief who is on a mission to retrieve the Koh-i-noor.
5.Rocky Handsome (Sony Liv) is a highly underappreciated action film directed by Nishikant Kamat and starring John Abraham and Shruti Haasan. It tells the story of Kabir, a young guy who goes on a vindictive rampage to retrieve his kidnapped 8-year-old neighbour. The best stylized action in Bollywood may be found in this movie.
So which action movie are you planning to see this weekend?
anyflix.in Group Media Publications
Construction Infrastructure and Mining News Platform – https://cimreviews.com/
General News Platform – https://ihtlive.com/
Legal and Laws News Platforms – https://legalmatters.in/
Podcast Platforms – https://anyfm.in/
Pippa is a difficult film due to its delay.
Introduction: The process of filmmaking is often a complex and unpredictable journey, with numerous factors that can contribute to delays and challenges. One such film that has faced its fair share of obstacles is "Pippa." This highly anticipated project, directed by Raja Krishna Menon, has encountered delays, leaving both the cast and eager audiences eagerly awaiting its release. In this blog post, we delve into the reasons behind the difficulties faced by "Pippa" and the potential impact of its delayed release.
The Initial Excitement: When "Pippa" was initially announced, it garnered considerable excitement and anticipation among cinema enthusiasts. The film, based on the book "The Burning Chaffees" by Brigadier Balram Singh Mehta, tells the story of India's iconic tank battle during the Indo-Pakistan war of 1971. With a promising cast and an intriguing plot, "Pippa" had all the ingredients to become a highly anticipated film.
Unforeseen Hurdles: Despite the initial enthusiasm surrounding "Pippa," the film has encountered unexpected hurdles that have led to its delay. The complexities of production, including scheduling conflicts, technical challenges, or even financial constraints, can all contribute to the delay of a film. These obstacles often arise during the filmmaking process, requiring adjustments, additional resources, and sometimes even a complete reevaluation of the project's timeline.
The Impact on Cast and Crew: Delays in film production not only affect the release date but also impact the cast and crew involved in the project. For actors, it can mean prolonged commitments to a single project, potentially causing conflicts with other professional opportunities. Similarly, the crew members invested in the film may face uncertainties regarding job security and financial stability. The delays can take a toll on morale and enthusiasm, requiring additional patience, resilience, and adaptability from the entire team.
Audience Anticipation: When a highly anticipated film faces delays, it can be disheartening for the audience eagerly awaiting its release. Moviegoers build expectations and invest emotionally in the anticipation of a film they are excited about. Extended delays may lead to frustration, diminishing the initial excitement and causing some to lose interest in the project. Maintaining audience engagement during the delay becomes a challenge for the filmmakers and the marketing team.
Mitigating the Impact: While the delay of "Pippa" may be disappointing, it is essential to acknowledge the efforts made by the filmmakers to overcome the challenges and bring the vision to fruition. Communication with the audience, providing regular updates on the progress, and sharing behind-the-scenes content can help maintain interest and engagement. Transparency and open dialogue can go a long way in building understanding and patience among the audience.
The Potential Payoff: Despite the difficulties faced by "Pippa," it is crucial to remember that setbacks in the film industry are not uncommon. Some of the most celebrated films in history have encountered delays and obstacles during their production. With the dedication, perseverance, and talent of the cast and crew, "Pippa" has the potential to surpass expectations and deliver an exceptional cinematic experience.
Conclusion: The journey of filmmaking is rife with challenges, and "Pippa" is no exception. Its delayed release has undoubtedly posed difficulties for the cast, crew, and eager audience. However, it is essential to acknowledge the complexities of film production and the efforts made by the team to overcome the hurdles. With patience, understanding, and continued support, "Pippa" has the opportunity to rise above its delays and become a cinematic gem that captivates audiences with its compelling story and stellar performances.
Group Media Publications
Entertainment News Platforms – anyflix.in
Construction Infrastructure and Mining News Platform – https://cimreviews.com/
General News Platform – https://ihtlive.com/
Podcast Platforms – https://anyfm.in