Pankaj Tripathi explains why he won't use any other language than Hindi when speaking in movies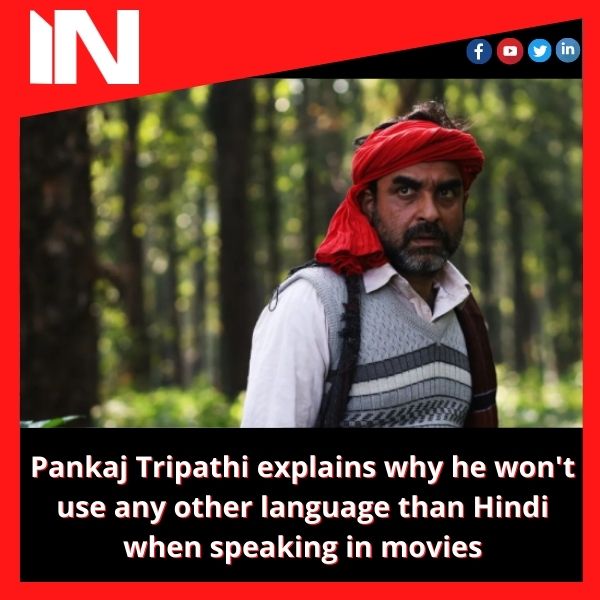 Pankaj Tripathi has acted in a variety of multifaceted roles throughout his career in the Hindi film industry, but he has no plans to continue doing so. The actor explained that this is the case since he feels that his voice significantly contributes to his acting abilities. He claimed that if he could not use his voice well while speaking in a language he is unfamiliar with, he would not be able to do justice to a character.
The actor claimed that he is against dubbing as well. He did, however, express excitement in playing a Hindi-speaking character in a foreign-language movie.
I don't like the concept of speaking in a language I'm not familiar with in any movie or web series, Pankaj told PTI. I don't like it when someone else mouths my dialogue. My voice enhances my acting and facial expressions. Otherwise, my contribution is lacking.
When asked if he would ever play the lead in a Bengali film—a language he can understand—Pankaj responded that his proficiency in the language is still insufficient. I know a little bit of Bangla and fully comprehend it, but I can't speak much," he added, adding, "Ami alpo alpo Bangla jani, bhaloi bujhi kintu bhalo bolte pari na."
For the purpose of depicting a Bengali-speaking persona, it is insufficient. Pankaj continued, "I am looking forward to being contacted with a script to my taste by any of the current crop of brilliant Bengali directors. I would be willing to do it if I was a Hindi-speaking character in a Bengali film.
Pankaj's next appearance will be in Srijit Mukherji's Bengali-dominant film Sherdil: The Pilibhit Saga. When Srijit visited Kolkata during Durga Puja in 2019, the actor recalled that Srijit told him about the movie's concept.
The movie, which was created by Bhushan Kumar and Reliance Entertainment, will hit theatres on June 24 and also features Neeraj Kabi and Sayani Gupta. Mridula Tripathi, Pankaj's wife, will also be making her Bollywood debut with a cameo in the movie, the actor recently disclosed.
anyflix.in      Group Media Publications
Construction Infrastructure and Mining News Platform – https://cimreviews.com/
General News Platform – https://ihtlive.com/
Legal and Laws News Platforms – https://legalmatters.in/
Podcast Platforms – https://anyfm.in/
Pippa is a difficult film due to its delay.
Introduction: The process of filmmaking is often a complex and unpredictable journey, with numerous factors that can contribute to delays and challenges. One such film that has faced its fair share of obstacles is "Pippa." This highly anticipated project, directed by Raja Krishna Menon, has encountered delays, leaving both the cast and eager audiences eagerly awaiting its release. In this blog post, we delve into the reasons behind the difficulties faced by "Pippa" and the potential impact of its delayed release.
The Initial Excitement: When "Pippa" was initially announced, it garnered considerable excitement and anticipation among cinema enthusiasts. The film, based on the book "The Burning Chaffees" by Brigadier Balram Singh Mehta, tells the story of India's iconic tank battle during the Indo-Pakistan war of 1971. With a promising cast and an intriguing plot, "Pippa" had all the ingredients to become a highly anticipated film.
Unforeseen Hurdles: Despite the initial enthusiasm surrounding "Pippa," the film has encountered unexpected hurdles that have led to its delay. The complexities of production, including scheduling conflicts, technical challenges, or even financial constraints, can all contribute to the delay of a film. These obstacles often arise during the filmmaking process, requiring adjustments, additional resources, and sometimes even a complete reevaluation of the project's timeline.
The Impact on Cast and Crew: Delays in film production not only affect the release date but also impact the cast and crew involved in the project. For actors, it can mean prolonged commitments to a single project, potentially causing conflicts with other professional opportunities. Similarly, the crew members invested in the film may face uncertainties regarding job security and financial stability. The delays can take a toll on morale and enthusiasm, requiring additional patience, resilience, and adaptability from the entire team.
Audience Anticipation: When a highly anticipated film faces delays, it can be disheartening for the audience eagerly awaiting its release. Moviegoers build expectations and invest emotionally in the anticipation of a film they are excited about. Extended delays may lead to frustration, diminishing the initial excitement and causing some to lose interest in the project. Maintaining audience engagement during the delay becomes a challenge for the filmmakers and the marketing team.
Mitigating the Impact: While the delay of "Pippa" may be disappointing, it is essential to acknowledge the efforts made by the filmmakers to overcome the challenges and bring the vision to fruition. Communication with the audience, providing regular updates on the progress, and sharing behind-the-scenes content can help maintain interest and engagement. Transparency and open dialogue can go a long way in building understanding and patience among the audience.
The Potential Payoff: Despite the difficulties faced by "Pippa," it is crucial to remember that setbacks in the film industry are not uncommon. Some of the most celebrated films in history have encountered delays and obstacles during their production. With the dedication, perseverance, and talent of the cast and crew, "Pippa" has the potential to surpass expectations and deliver an exceptional cinematic experience.
Conclusion: The journey of filmmaking is rife with challenges, and "Pippa" is no exception. Its delayed release has undoubtedly posed difficulties for the cast, crew, and eager audience. However, it is essential to acknowledge the complexities of film production and the efforts made by the team to overcome the hurdles. With patience, understanding, and continued support, "Pippa" has the opportunity to rise above its delays and become a cinematic gem that captivates audiences with its compelling story and stellar performances.
Group Media Publications
Entertainment News Platforms – anyflix.in
Construction Infrastructure and Mining News Platform – https://cimreviews.com/
General News Platform – https://ihtlive.com/
Podcast Platforms – https://anyfm.in