Hrithik Roshan and Saif Ali Khan Bring Back Massy Heroes On The Big Screen In Vikram Vedha Movie Review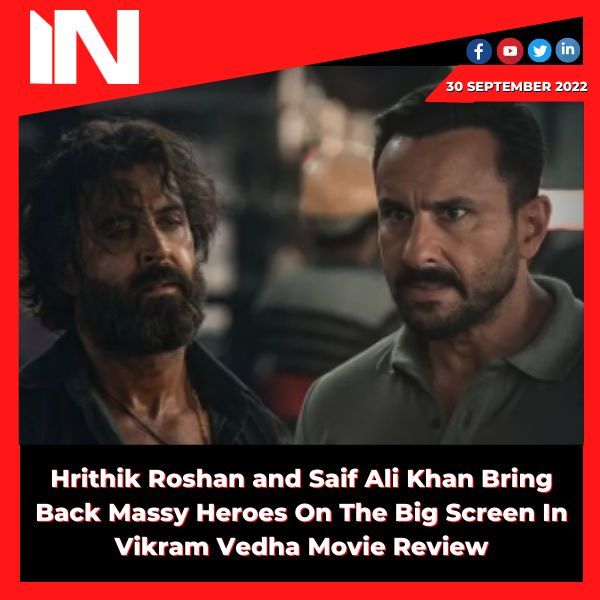 When Hrithik Roshan appeared on screen for the first time as Raj Chopra in Kaho Naa… Pyaar Hai in 2000, there were nothing short of explosions in the theatres. The actor charmed the nation with his endearing grin and skillful performance. Those memories came to mind as I saw Hrithik enter and exit scenes in Vikram Vedha while still flashing the same endearing smile that has only gotten better with time. Hrithik and the swank Saif Ali Khan team together to provide the mass-market movie that Bollywood has been waiting for in this remake of the same-named Tamil flick.
I have to admit that I did not see the original movie before writing the review. Before the new Vikram Vedha was out, I had the temptation to watch it, but I resisted because I wanted to see the world that Pushkar-Gayathri, a filmmaker team, created for Hindi filmgoers instead. In retrospect, I believe I am glad I made the decision to resist the impulse.
The idea of Vikram and Betaal from folklore serves as the foundation for Vikram Vedha. According to mythology, Vikram journeys into the deep, dark forest to free Betaal, a menacing ghost bound to a tree, so that he might give him to a saint and gain aid for his country. In the realm of Pushkar and Gayathri, encounter specialist Vikram (Saif Ali Khan) goes into the seedy underbelly of Lucknow's mafia scene to track down Vedha Betaal (Hrithik Roshan).
Similar to the proverbial story, Vikram is entangled in Vedha 'Betaal's' tales, forcing him to pick between the correct and incorrect responses. If the question is correctly answered, Betaal—in this case, Vedha—finds his way back to his tree, forcing Vikram to begin dragging him.
However, in the movie, questions are followed by a morally ambiguous story that is told in chapters, all of which serve to advance the plot. Vedha gradually and subtly alters Vikram's rigid views while demonstrating to him that everyone, including Vikram, is grey in the process. Even up until the last twist, the change in attitude changes the course of the movie.
Despite my deliberate decision to avoid giving away any plot details, I can tell you that Vikram Vedha is a visual treat, especially for Hrithik Roshan fans. PS Vinod, the director of photography, aids Hrithik in once more becoming a popular hero. Hrithik's popularity is celebrated in every frame. Hrithik is portrayed as a larger-than-life figure in a number of wide-angle and slow-motion shots that Pushkar, Gayathri, and Vinod have added.
Saif and the trio are able to counterbalance Hrithik. Even though Vedha and his stories receive a little more attention in the movie, Vinod aids Pushkar and Gayathri in transforming Saif into a flawed hero. The entire section that builds the film's central conflict and the sequence where Saif and Hrithik split the screen in the film's conclusion are the two Saif-centric scenes that particularly stuck out to me.
Strong music by Sam CS elevates the cinematography. Long after the movie is over, the music still plays in your head. Vikram Vedha's secret weapon, in addition to the audiovisual experience, is a solid narrative. The story, which was written by Pushkar-Gayathri, never has a dull moment. Every scene that is described on the storyboard is ensured by Pushkar and Gayathri.
Vikram Vedha is a fantastic movie, however it is not without issues. When split into two parts, the movie seemed unbalanced. Two chapters—one from Saif's perspective and the other from Hrithik's—make up the first half of the movie. There is too much going on in the second half. In addition to revealing Vedha's past and his relationship to Vikram, the movie also includes two side stories that are essential to the movie's resolution. The second half becomes hefty as a result of this. Some people could find this annoying, especially those who can no longer stand watching extended movies.
The Awadhi accent of Hrithik is another problem. It gets challenging to overlook his uneven accent. The green-eyed actress also struggles with delivering important speech, which results in some sequences having less of an impact than anticipated. Saif, on the other hand, excels in each scenario that is given to him. Saif provides a new side to him in Sacred Games, deviating from his cop character, and it is entertaining to see him interact with Hrithik.
In spite of its weaknesses, Vikram Vedha is a mass-produced movie that makes for a good single-screen theatre experience. I'd advise giving in to Pushkar and Gayathri's fantasy world and joining Vikram and Vedha in their game of cat and mouse.
Group Media Publications
Entertainment News Platforms – anyflix.in      
Construction Infrastructure and Mining News Platform – https://cimreviews.com/
General News Platform – https://ihtlive.com/
Legal and Laws News Platforms – https://legalmatters.in/
Podcast Platforms – https://anyfm.in/
Jr NTR fans burn firecrackers during Simhadri re-release.
Jr NTR, the popular Telugu film actor, has an ardent fan following known for their unwavering support and enthusiasm. However, a recent incident during the re-release of Jr NTR's blockbuster film Simhadri has caused controversy. Fans celebrated the occasion by igniting firecrackers, leading to a heated debate about public safety, environmental concerns, and responsible fandom. In this blog post, we will explore the incident, its implications, and the need for balanced fan celebrations.
The Re-Release of Simhadri: Simhadri, a 2003 Telugu action-drama film, remains one of Jr NTR's most beloved movies. To commemorate its anniversary, the producers decided to re-release the film, allowing fans to relish the nostalgia and experience the magic on the big screen once again. The announcement generated excitement and anticipation among Jr NTR's loyal fan base.
Fan Celebration Gone Awry: In their eagerness to celebrate the re-release of Simhadri, a section of Jr NTR's fans resorted to lighting firecrackers outside theaters. The loud explosions and billowing smoke alarmed moviegoers and nearby residents, leading to complaints and safety concerns. The incident drew criticism from various quarters, sparking a debate about responsible fandom and the need for considering public safety and environmental consequences.
The Importance of Responsible Fandom: Fans play a significant role in an actor's success, and their enthusiasm can bring immense joy to the celebrity they adore. However, it is essential for fans to remember that their actions should be responsible and respectful towards others. Expressing support and admiration should not come at the cost of causing inconvenience, harm, or damage to the surroundings.
Public Safety and Environmental Concerns: The incident of firecrackers being ignited during the Simhadri re-release raises important concerns regarding public safety and environmental impact. Firecrackers, besides being noisy, can also be hazardous and pose a risk to people's well-being, especially in crowded areas. Additionally, the environmental implications of such celebrations, including air and noise pollution, cannot be ignored.
Promoting Positive Fan Culture: While celebrating the achievements and milestones of their favorite stars, fans have the power to shape public perception. It is crucial for fan clubs and individuals to encourage positive fan culture, emphasizing activities that are inclusive, respectful, and beneficial for society. Non-disruptive celebrations such as charity events, social initiatives, and fan gatherings can foster a sense of unity and promote a positive image of fandom.
Fans can channel their enthusiasm in more responsible ways, such as organizing special screenings, conducting charity drives, or engaging in community service projects. By focusing on these avenues, fans can create a positive impact while celebrating their favorite stars without causing harm, inconvenience, or violating safety protocols.
The incident of Jr NTR fans igniting firecrackers during the re-release of Simhadri raises important questions about responsible fandom, public safety, and environmental concerns. While fans' enthusiasm is commendable, it is crucial for them to celebrate in a manner that respects the well-being of others and the environment. By promoting a culture of responsible fandom, fans can ensure that their admiration for their favorite stars does not overshadow the importance of public safety and environmental sustainability.
The director's passing this morning came as a shock to Rani Mukerji, who worked with him on Laaga Chunari Mein Daag and Mardaani. They had been planning to meet up shortly. Sarkar, who is best known for helming the 2005 drama Parineeta, passed away at Lilavati hospital in Mumbai's Bandra area, according to his wife Panchali. He was 67.
ADVERTISEMENT
about:blank
Group Media Publications
Entertainment News Platforms – anyflix.in
Construction Infrastructure and Mining News Platform – https://cimreviews.com/
General News Platform – https://ihtlive.com/
Podcast Platforms – https://anyfm.in