In episode 12 of Khatron Ke Khiladi, Kanika Mann pulls off a trick with a hyena caged and demonstrates what occurs afterwards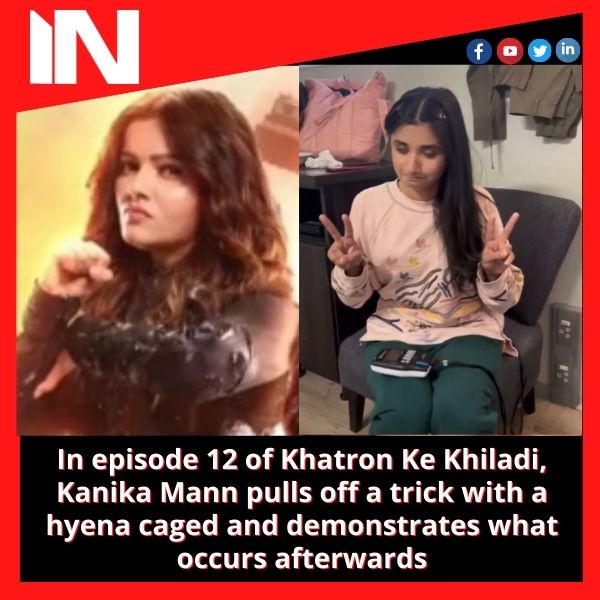 Popular celebrities who have changed into contenders for the 12th season of Khatron Ke Khiladi to perform gory feats are featured. In Cape Town, the show is being filmed. With the release of the ads, we are getting a preview of the stunts that will be in the forthcoming episodes. On its Instagram account, Colors TV posted a promo that will undoubtedly blow your mind. The advertisement's caption said, "When confronted face to face, how do Kanika and Hyena fare? Dekhiye #KhatronKeKhiladi, har Sat aur Sun, raat 9 baje, sirf #Colors par! whenever on @voot ".
In this advertisement, host Rohit Shetty describes a challenge where Kanika Mann would be caged with a hyena. As the hyena growls at Kanika, the actress begins to cry as Kanika is seen to be utterly terrified. Rubina Dilaik and Jannat Zubair, two other competitors, started crying when they saw Kanika frightened during the challenge. At the end of this commercial, it is also mentioned that a hyena damaged Kanika's leg, although the video does not show the actual damage that was done to her.
Kanika released a video on her Instagram account showing us how she was feeling after pulling off the act. Kanika is shown in this video sitting on a chair with a monitoring gadget and has a troubled expression. "Ye hafta bht khatarnaaaak chal rha hai Sare season krne jitne stunts kie hain, utne hi is hafte me kar lie," Kanika captioned the photo she shared with this.
Here is a link to Kanika's video.
Kanika Mann disclosed her worst fear to Pinkvilla in an exclusive interview before departing for Khatron Ke Khiladi season 12. "My biggest worry is not trying, not trying to be your best version," the actress admitted. The desire to improve yourself stems from self-love, optimism, and following God's way; if these things are missing, the game is finished. No matter where I am or what I am doing, I prefer to give it my all, and this makes me feel happy and pleased as a person.
Rubina Dilaik, Sriti Jha, Shivangi Joshi, Kanika Mann, Pratik Sehajpal, Mohit Malik, Tushar Kalia, Chetna Pande, Rajiv Adatia, Nishant Bhat, and Jannat Zubair are the competitors for Khatron Ke Khiladi season 12. Rohit Shetty served as host of Khatron Ke Khiladi's 12th season, which debuted on July 2nd, 2022.
Group Media Publications
Entertainment News Platforms – anyflix.in
Construction Infrastructure and Mining News Platform – https://cimreviews.com/
General News Platform – https://ihtlive.com/
Legal and Laws News Platforms – https://legalmatters.in/
Podcast Platforms – https://anyfm.in/
Disha Parmar and Nakuul Mehta discuss working together again for Bade Achhe Lagte Hain 3 and other topics.
Title: Reunion of Talent: Disha Parmar and Nakuul Mehta Discuss Working Together Again for "Bade Achhe Lagte Hain 3" and More
Introduction: The television industry has been abuzz with excitement as Disha Parmar and Nakuul Mehta, two immensely talented actors, reunite for the highly anticipated show "Bade Achhe Lagte Hain 3." Their on-screen chemistry and exceptional performances in the past have won the hearts of audiences, making their collaboration once again a cause for celebration. Recently, Disha and Nakuul shared their thoughts on working together again, their experiences, and their future aspirations.
A Trip Down Memory Lane: "Bade Achhe Lagte Hain," the original series that captivated viewers, left an indelible mark on the hearts of millions. Disha Parmar and Nakuul Mehta played pivotal roles in the show's success with their nuanced performances as Priya and Ram, respectively. Their effortless chemistry and ability to bring their characters to life made the show an unforgettable experience for fans. Now, with the announcement of the show's third installment, viewers are eagerly awaiting their on-screen reunion.
A Reunion of Talent and Camaraderie: In a recent interview, Disha Parmar and Nakuul Mehta expressed their excitement and joy at the prospect of working together once again. They shared stories of their past experiences on the set of "Bade Achhe Lagte Hain" and how the show holds a special place in their hearts. The duo praised each other's professionalism and the strong bond they formed during their previous collaboration, making their reunion all the more special.
Exploring New Dimensions: While the return to "Bade Achhe Lagte Hain" is undoubtedly a much-anticipated event, Disha and Nakuul also discussed their aspirations to explore different genres and characters beyond their previous roles. They expressed their desire to push boundaries and challenge themselves as actors, eager to embark on new projects that offer diverse and exciting opportunities for growth.
Fans' Anticipation: The announcement of Disha Parmar and Nakuul Mehta's reunion has sparked a wave of anticipation among fans. Social media platforms are buzzing with excitement as viewers eagerly await the return of their favorite on-screen pair. The fans' unwavering support and love have been a driving force for Disha and Nakuul, inspiring them to give their best performances and create magic on screen once again.
A Promising Future: As Disha Parmar and Nakuul Mehta prepare to step into their respective characters for "Bade Achhe Lagte Hain 3," the duo is poised to deliver yet another memorable performance. Their talent, combined with the creative vision of the show's makers, promises an engaging and entertaining experience for viewers. The audience can look forward to witnessing the evolution of these exceptional actors as they breathe life into new narratives and explore the depths of their characters.
Conclusion: The reunion of Disha Parmar and Nakuul Mehta for "Bade Achhe Lagte Hain 3" is a moment of excitement and nostalgia for both the actors and their fans. Their on-screen chemistry and remarkable performances have left an indelible impression in the minds and hearts of viewers. As they embark on this new journey together, audiences eagerly await their captivating performances and the magic they will create once again. With their shared talent and passion for their craft, Disha and Nakuul are poised to deliver yet another exceptional television experience that will be etched in the annals of television history.
Group Media Publications
Entertainment News Platforms – anyflix.in
Construction Infrastructure and Mining News Platform – https://cimreviews.com/
General News Platform – https://ihtlive.com/
Podcast Platforms – https://anyfm.in