In Ponniyin Selvan I, Mani Ratnam reveals that Ajay Devgn is the narrator.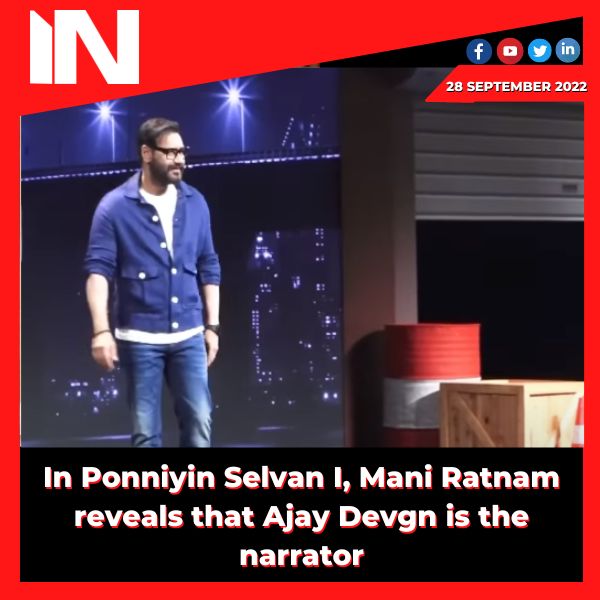 Ajay Devgn will also appear in Mani Ratnam's forthcoming, ambitious film Ponniyin Selvan: I, the director has disclosed. Vikram and Aishwarya Rai Bachchan both appear in the movie. Key parts are also played by Aishwarya Lekshmi, Jayaram, Jayaram Ravi, Prakash Raj, Trisha Krishnan, and Karthi.
In the recently released trailer, Anil Kapoor's voice could be heard. Certain sections of the Hindi trailer were narrated by Anil. The director told PTI Bhasha, "I have two more people from the Hindi cinema business to thank: one is Anil Kapoor, whose voice featured on the trailer, and another is Ajay Devgn, whose voice will be on the main film.
He was also reported in an Indian Express article as saying that he had attempted to make the movie three decades before. This is the movie that M. G. Ramachandran envisioned. And I had the idea to make it after Kamal Haasan and I starred in Nayakan in 1987. We both desired to make this movie. We hadn't begun casting at that point. Kamal was the only protagonist we had while we worked on the writing. It didn't appear because it was too large. We were unable to fit the entire narrative into one movie. Additionally, we couldn't afford it.
Ponniyin Selvan: I is a translation of the same-titled 1955 Tamil novel by author Kalki Krishnamurthy. The movie follows the life of Arulmozhivarman, a strong monarch who later rose to become Rajaraja Chola I, the great Chola ruler.
Mani Ratnam has claimed that he read the book in class 10 and was enthralled by the characters and setting. He claimed it was the first significant Tamil adventure he had ever read, and he was enthralled by the vivid style in which it was written. He claimed, "I could visualise while reading it."
Group Media Publications
Entertainment News Platforms – anyflix.in      
Construction Infrastructure and Mining News Platform – https://cimreviews.com/
General News Platform – https://ihtlive.com/
Legal and Laws News Platforms – https://legalmatters.in/
Podcast Platforms – https://anyfm.in/
Day 6 of the box office take for Chandramukhi 2 shows a drop to 2 crore for the Kangana Ranaut movie following the long weekend.
In the world of cinema, box office numbers can often serve as a barometer of a movie's success and audience reception. Kangana Ranaut's highly anticipated film, "Chandramukhi 2," has been making waves since its release. However, as the dust settles after the long weekend, day 6 at the box office has shown a significant drop in earnings, with the film raking in 2 crore rupees. Let's delve into what this means for the movie's overall performance and what factors could be contributing to the change in numbers.
A Promising Start
"Chandramukhi 2" generated substantial buzz and anticipation leading up to its release. Kangana Ranaut's powerhouse performances and the film's intriguing storyline had audiences eager to witness the movie on the big screen. As expected, the film got off to a strong start during its opening weekend, with impressive box office collections.
Long Weekend Highs
The long weekend, often a boon for movie releases, saw "Chandramukhi 2" enjoying robust earnings. Audiences flocked to theaters to catch the film, resulting in a surge in box office numbers. This surge is typical for highly anticipated films and can lead to a misleadingly positive perception of a movie's performance.
The Day 6 Drop
However, as the week progressed and the long weekend euphoria subsided, "Chandramukhi 2" experienced a notable drop in earnings on day 6. The movie's collection decreased to 2 crore rupees, raising questions about its ability to maintain momentum.
Factors at Play
Several factors could contribute to the drop in box office earnings:
Weekday Blues: Weekdays typically witness lower footfall at theaters due to work and school commitments. This trend often results in reduced box office numbers compared to weekends.
Audience Word-of-Mouth: The initial excitement around a film can sometimes lead to mixed or negative reviews from viewers. Word-of-mouth recommendations or critiques can impact a movie's performance as the week progresses.
Competition: The presence of other releases in theaters can divert audiences' attention and affect the box office performance of a particular film.
Marketing and Promotion: The intensity and effectiveness of a film's marketing and promotional campaigns can influence its long-term success.
The Bigger Picture
While the drop in earnings on day 6 is a noteworthy development, it's essential to remember that the box office is a dynamic arena. A single day's collection does not necessarily determine the overall success or quality of a film. "Chandramukhi 2" still has ample opportunity to recapture audience interest and sustain its box office performance.
Kangana Ranaut's dedication to her craft and her ability to deliver powerful performances are well-known in the industry. As audiences continue to flock to theaters to experience "Chandramukhi 2," the movie's ultimate box office fate will become clearer over time.
In conclusion, day 6 of box office collections for "Chandramukhi 2" reflects the natural ebb and flow of a film's performance after the initial excitement of its release. It's a reminder that the movie industry is ever-evolving, and a film's true success is often measured not just by its opening numbers but by its enduring impact on audiences.
Group Media Publications
Entertainment News Platforms – anyflix.in      
Construction Infrastructure and Mining News Platform – https://cimreviews.com/
General News Platform – https://ihtlive.com/
Podcast Platforms – https://anyfm.in