Kapil Sharma jokes about life before and after marriage, says 'life mein wife ke baad hi tarakki hoti hai'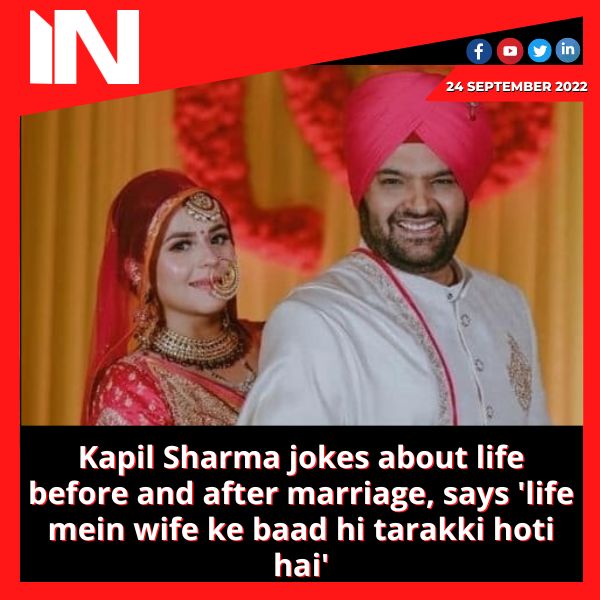 The third season of The Kapil Sharma Show, Kapil Sharma's comedy programme, has returned. In one of the new show previews, the actor-comedian is seen discussing how a man's life changes after marriage. Life mein aapki jab wife aati hai uske baad hi tarakki hoti hai (success is gained only after the admission of a wife into your life)," a leaner-looking Kapil is heard saying in a new footage that Sony TV shared on Friday.
Kapil continues by discussing how bachelors hang clothing on chairs till they resemble bean bags. When they go home after drinking, they allegedly discover the chair is missing (after it gets hidden under the heap of clothes). " He continues by drawing comparisons between bachelors who ride bikes like Rajesh Khanna before getting married and those who sit with a straight face after getting married for six years and having three children. He makes a joke about a child's shorts catching fire while being washed while they are sitting on a bike's fuel tank.
In December 2018, Kapil and his longtime girlfriend Ginni Chatrath were married. One year old Trishaan and two-year-old Anayra are the couple's children. A few months ago, Kapil took a sabbatical from The Kapil Sharma Show to focus on his next movie. In the upcoming movie Zwigato, he plays a companion who helps deliver food. The Nandita Das-directed movie will now be shown at the Busan International Film Festival next month after recently making its world premiere at the Toronto International Film Festival.
Kapil portrays an ex-floor manager of a factory who loses his job due to the pandemic, according to ANI. He then struggles with the world of ratings and rewards while working as a food delivery rider. His stay-at-home wife starts looking into other employment options in order to supplement the family's income, both nervously and eagerly anticipating her newfound independence. The movie is about how life is unrelenting, but there are also shared joyful times. It depicts the lives of inconspicuous, unseen "ordinary" individuals.
Selena Gomez excitedly displays Taylor Swift's Eras Tour merchandise while cheering on her BFF in LA and exclaims, "Another one!"
The power of friendship and mutual support in the entertainment industry is a heartwarming sight to behold. Recently, Selena Gomez showcased her unwavering support for her best friend, Taylor Swift, by excitedly displaying merchandise from Swift's ongoing Eras Tour while cheering her on in Los Angeles. The heartening display of camaraderie between these two pop icons highlights the beauty of genuine friendships and the infectious excitement that accompanies a friend's success. In this blog post, we explore the significance of Selena Gomez's enthusiastic endorsement of Taylor Swift's tour merchandise and the enduring bond they share.
Celebrating Friendship and Success
Selena Gomez and Taylor Swift's friendship has been a constant source of admiration and inspiration for fans around the world. Their public displays of support for each other's achievements emphasize the importance of uplifting one another, even in the competitive entertainment industry. Gomez's enthusiastic endorsement of Swift's Eras Tour merchandise while cheering her on at a Los Angeles event beautifully encapsulates the spirit of celebrating each other's successes with genuine joy.
The "Another One!" Moment
Gomez's exclamation of "Another one!" as she proudly displayed the Eras Tour merchandise speaks volumes about her excitement and pride in Swift's accomplishments. This endearing moment not only showcases their strong friendship but also emphasizes the joy that comes with witnessing a friend's continuous journey of growth, creativity, and achievement.
The Influence of Celebrity Friendships
Celebrity friendships, like that of Gomez and Swift, hold a unique place in pop culture. They offer fans a glimpse into the personal lives of their favorite stars, making them more relatable and human. Such friendships also challenge the notion of rivalry in the entertainment industry, proving that true friendships can coexist even in a competitive environment.
Supporting Each Other's Creative Ventures
When one celebrity supports another's creative ventures, it sends a powerful message about unity and mutual admiration. Gomez's display of the Eras Tour merchandise not only promotes Swift's work but also encourages fans to engage with and celebrate their favorite artists' achievements. This kind of endorsement resonates deeply with fans, contributing to the overall success of an artist's projects.
Selena Gomez's enthusiastic display of Taylor Swift's Eras Tour merchandise while cheering her on in Los Angeles is a heartening testament to the enduring power of friendship and support in the entertainment industry. This authentic gesture reflects the genuine camaraderie these pop icons share and sends a message of positivity and unity to their fans. As Gomez and Swift continue to inspire each other and celebrate their individual journeys, their friendship remains a shining example of how genuine connections can flourish amidst the glitz and glamour of the celebrity world.
Group Media Publications
Entertainment News Platforms – anyflix.in      
Construction Infrastructure and Mining News Platform – https://cimreviews.com/
General News Platform – https://ihtlive.com/
Podcast Platforms – https://anyfm.in