Kareena asks Vivek Agnihotri not to boycott Laal Singh Chaddha, and Vivek Agnihotri responds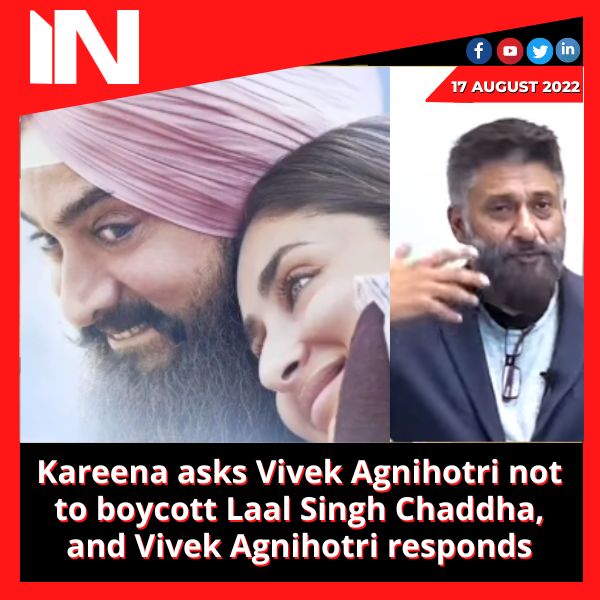 Vivek Agnihotri, the director of The Kashmir Files, appears to have poked fun at Kareena Kapoor and Laal Singh Chaddha after the actress asked fans not to boycott the movie out of respect for the 250 or so people who worked on it. Vivek responded to Kareena's statement in a similar manner on Twitter.
Kareena along with Aamir Khan play the title characters in Laal Singh Chadha. The movie is an official Hindi remake of the Tom Hanks-starring Forrest Gump from 1994. Prior to its release, the hashtag "Boycott Laal Singh Chaddha" became popular on Twitter, which brought attention to Laal Singh Chaddha. Many demanded a boycott of the movie because they believed Aamir had offended religious sensibilities in his previous film, PK.
Laal Singh Chaddha is such a beautiful movie that people shouldn't boycott it, Kareena had recently said. And I want Aamir Khan and I to appear together on screen. We've waited so long—three years, to be exact. So, please refrain from boycotting this movie because doing so is equivalent to boycotting quality cinema. And 250 people worked on the movie for two and a half years, putting in a tonne of effort. In an interview with Siddharth Kannan, she made the demand.
Vivek Agnihotri pointed out on Twitter that after some people boycotted his movie, The Kashmir Files, few people in the film industry supported it "When good content small films are sabotaged, boycotted by the dons of Bollywood, when multiplexes remove their shows, when critics band together against small films, when these things happen… Nobody considers the 250 underprivileged individuals who toiled long hours on that movie."
He also added, "Why do the kings of Bollywood continue to boycott, ban, and ruin the careers of so many outside actors, directors, and writers? When the average Indian learns about the haughtiness, fascism, and anti-Hindu sentiment of the Bollywood dons, they will drown them in hot coffee."
Additionally, he responded to a tweet about theatre attendance for Laal Singh Chaddha performances. Vivek replied to one of these tweets by asking, "Who has single-handedly led Bollywood to such mess and humiliation? Fun fact: In Bollywood, his/it/their/kingdom them's is still expanding while obliterating everyone else. Let's smell the coffee. Anyone interested in producing an objective, critical, and academic podcast on this topic?
With a 340 crore global gross, Vivek's The Kashmir Files is still the highest-grossing movie of the year. The killings of Hindus in Jammu and Kashmir served as its focal point. Laal Singh Chaddha had an initial gross of 11.70 crore and currently has a five-day total of between 45 and 46 crore.
When asked about watching The Kashmir Files after it had been released, Aamir Khan responded that every Indian should. During a Hindi-language event, he had stated, "I will definitely watch the film. It is a heartbreaking chapter in our history. It's really tragic what happened to the Kashmiri Pandits. Every Indian should watch the movie made about this topic and think back on what it's like to experience such trauma.

Group Media Publications
Entertainment News Platforms – anyflix.in
Construction Infrastructure and Mining News Platform – https://cimreviews.com/
General News Platform – https://ihtlive.com/
Legal and Laws News Platforms – https://legalmatters.in/
Podcast Platforms – https://anyfm.in/
Day 6 of the box office take for Chandramukhi 2 shows a drop to 2 crore for the Kangana Ranaut movie following the long weekend.
In the world of cinema, box office numbers can often serve as a barometer of a movie's success and audience reception. Kangana Ranaut's highly anticipated film, "Chandramukhi 2," has been making waves since its release. However, as the dust settles after the long weekend, day 6 at the box office has shown a significant drop in earnings, with the film raking in 2 crore rupees. Let's delve into what this means for the movie's overall performance and what factors could be contributing to the change in numbers.
A Promising Start
"Chandramukhi 2" generated substantial buzz and anticipation leading up to its release. Kangana Ranaut's powerhouse performances and the film's intriguing storyline had audiences eager to witness the movie on the big screen. As expected, the film got off to a strong start during its opening weekend, with impressive box office collections.
Long Weekend Highs
The long weekend, often a boon for movie releases, saw "Chandramukhi 2" enjoying robust earnings. Audiences flocked to theaters to catch the film, resulting in a surge in box office numbers. This surge is typical for highly anticipated films and can lead to a misleadingly positive perception of a movie's performance.
The Day 6 Drop
However, as the week progressed and the long weekend euphoria subsided, "Chandramukhi 2" experienced a notable drop in earnings on day 6. The movie's collection decreased to 2 crore rupees, raising questions about its ability to maintain momentum.
Factors at Play
Several factors could contribute to the drop in box office earnings:
Weekday Blues: Weekdays typically witness lower footfall at theaters due to work and school commitments. This trend often results in reduced box office numbers compared to weekends.
Audience Word-of-Mouth: The initial excitement around a film can sometimes lead to mixed or negative reviews from viewers. Word-of-mouth recommendations or critiques can impact a movie's performance as the week progresses.
Competition: The presence of other releases in theaters can divert audiences' attention and affect the box office performance of a particular film.
Marketing and Promotion: The intensity and effectiveness of a film's marketing and promotional campaigns can influence its long-term success.
The Bigger Picture
While the drop in earnings on day 6 is a noteworthy development, it's essential to remember that the box office is a dynamic arena. A single day's collection does not necessarily determine the overall success or quality of a film. "Chandramukhi 2" still has ample opportunity to recapture audience interest and sustain its box office performance.
Kangana Ranaut's dedication to her craft and her ability to deliver powerful performances are well-known in the industry. As audiences continue to flock to theaters to experience "Chandramukhi 2," the movie's ultimate box office fate will become clearer over time.
In conclusion, day 6 of box office collections for "Chandramukhi 2" reflects the natural ebb and flow of a film's performance after the initial excitement of its release. It's a reminder that the movie industry is ever-evolving, and a film's true success is often measured not just by its opening numbers but by its enduring impact on audiences.
Group Media Publications
Entertainment News Platforms – anyflix.in      
Construction Infrastructure and Mining News Platform – https://cimreviews.com/
General News Platform – https://ihtlive.com/
Podcast Platforms – https://anyfm.in