Main Bhi Chowkidar Part 3 India Hot Topics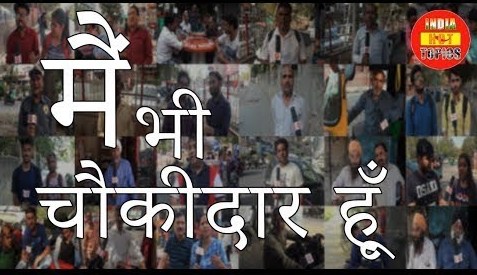 Main Bhi Chowkidar is a Hindi slogan used by the Bharatiya Janata Party in its campaign for the 2019 Indian general election. The slogan was coined by the BJP's prime ministerial candidate Narendra Modi
Know who is the thief, who is the watchman… Every Indian has a watchman who is worried about the country. I am also a watchman, you are a watchman.
For more inspiring stories and latest updates of India in an interesting way, stay connected with us, subscribe & follow the below links…
YouTube – http://bit.ly/2ZpTCWi
Facebook – https://www.facebook.com/indiahottopi…
Instagram – https://www.instagram.com/indiahottopics
Twitter – https://twitter.com/indiahottopics
For you want more interesting & amazing video content, then subscribe to our other channels of comedy, lifestyle, fashion, kids, travel, health & remedies and login to www.anyflix.tv.
India Hot Topics is India's best channel to subscribe to the latest or trending issues, mysterious and amazing facts.
It covers India's leading Sports, Politics, Entertainment, and Bollywood. Stay updated with the latest news, unknown facts about famous personalities, trending issues, daily life events and many more to know.
You will get a deeper knowledge of the latest issues in an interesting way because our mission is to make fans of you, so stay connected with us for more updates.
Thank you for watching the video
Saira Banu remembers Dilip Kumar popping the question to her amid a romantic downpour: he removed his jacket and slung it over my shoulder.
Love stories from the golden era of Bollywood have always fascinated fans, and one such timeless tale is that of Saira Banu and Dilip Kumar. Their love story has withstood the test of time, and even today, it continues to enchant generations with its charm and grace. Saira Banu, an iconic actress herself, fondly remembers the moment when the legendary Dilip Kumar popped the question to her amid a romantic downpour, a moment that epitomizes the epitome of love and devotion.
The Unfolding of a Love Story
Back in the early 1960s, when Bollywood was at the peak of its glory, Dilip Kumar and Saira Banu's paths crossed, setting the stage for an unforgettable love story. Dilip Kumar, often referred to as the "Tragedy King" of Indian cinema, had already established himself as one of the finest actors in the industry. Saira Banu, a young and vibrant actress, entered the industry with her debut in the film "Junglee" and had captured hearts with her beauty and acting prowess.
Their first encounter was on the sets of the film "Gopi," where they shared the screen for the first time. Sparks flew, and a strong bond formed between the two. Despite the significant age difference, with Dilip Kumar being almost two decades older than Saira Banu, their connection went beyond conventional norms.
The Memorable Rainy Evening
The turning point in their love story came on a fateful rainy evening. It was during the shoot of the film "Sagina" that Dilip Kumar found the perfect opportunity to express his feelings for Saira Banu. The rain had poured down relentlessly, creating a romantic ambiance that seemed straight out of a Bollywood script.
As they were shooting an intense scene, the heavens opened up, and the crew sought shelter from the sudden downpour. Amidst the rain, Dilip Kumar approached Saira Banu, who was trying to shield herself from the raindrops. With a chivalrous gesture, he removed his jacket and gently slung it over her shoulders, protecting her from the rain. This gesture was not just a physical act but symbolized his willingness to protect and cherish her throughout their lives.
The Proposal
Under the romantic downpour and with his jacket draped over her, Dilip Kumar looked into Saira Banu's eyes and mustered the courage to ask her the most significant question of his life. He confessed his love for her and asked her to be his life partner. In that heartfelt moment, Saira Banu felt a surge of emotions, and time seemed to stand still. Overwhelmed with love and joy, she tearfully accepted his proposal, and they sealed their commitment with an embrace.
A Love That Withstood the Test of Time
Dilip Kumar and Saira Banu's love story blossomed, and they tied the knot on October 11, 1966, in a private ceremony attended by close family and friends. Their love and respect for each other became an inspiration for many aspiring couples, proving that age and societal norms are mere numbers when it comes to true love.
Throughout their journey, they supported each other through thick and thin, and their unwavering bond only grew stronger with time. Dilip Kumar's acting career gradually took a backseat, and he enjoyed a peaceful life with his beloved wife Saira Banu, who continued to cherish him as the love of her life.
The love story of Saira Banu and Dilip Kumar has become a legendary tale in the annals of Bollywood's history. The romantic proposal amid the pouring rain, with Dilip Kumar draping his jacket over Saira Banu's shoulder, has etched itself in the hearts of fans forever. Their love exemplifies the beauty of pure and selfless emotions that can withstand the test of time.
As we celebrate the magic of their love story, it serves as a reminder that true love is boundless, transcending age, societal norms, and barriers. Saira Banu and Dilip Kumar's love story will continue to inspire generations to come, a testament to the enduring power of love in all its glory.
Group Media Publications
Entertainment News Platforms – anyflix.in      
Construction Infrastructure and Mining News Platform – https://cimreviews.com/
General News Platform – https://ihtlive.com/
Podcast Platforms – https://anyfm.in