Open gym vs indoor gym: Which is better for your heart health? Experts answer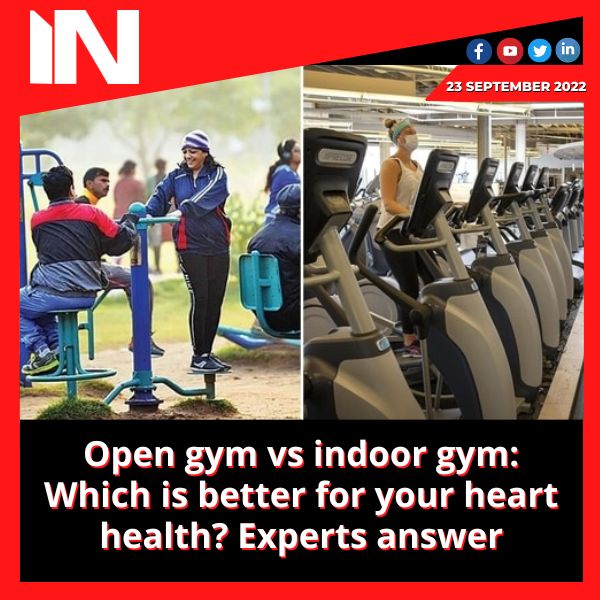 Since the pandemic, more and more individuals are choosing to exercise outdoors rather than in an enclosed gym since it not only lowers the risk of infection but also guarantees a daily dosage of sunlight, which boosts immunity, increases vitamin D absorption, and regulates your circadian rhythm. However, a lot of people still favour indoor gyms because they are frequently air conditioned and individuals don't become overly exhausted there. Additionally, a trainer is typically present to assist you in creating programmes that are appropriate for your needs. However, advocates of open gym are increasing as research shows that it also has numerous additional advantages, including those of lowering blood pressure, reducing stress, assisting with sleep issues, and improving mood. Because of World Heart Day (September 28)
Around the corner, we polled experts to determine whether open gyms or indoor gyms are better for heart health. They stated the following.
"The AC gym frequently has qualified instructors who can advise you on the best exercises to perform in order to reach your objective. To perform the focused exercise in a controlled and air-conditioned atmosphere and work out longer, you can. However, in air-conditioned environments, the body warms up more slowly and sweats far less, which results in less toxins being expelled from the body through perspiration. However, the body cools down more quickly in a controlled atmosphere, which results in reduced muscle soreness "According to Dr. Nityanand Tripathi, Director and Head of cardiology and electrophysiology at Fortis Hospital Shalimar Bagh.
While working out in an indoor gym makes the experience enjoyable, working out in the open air may offer some additional advantages, such as increased lung oxygenation due to fresh, natural air and vitamin D intake, both of which assist to avoid heart illnesses.
"The first advantage of exercising outside, especially in the morning, is being in the sun. This supplies a sizable amount of vitamin D. Vitamin D levels must be enough to prevent cardiovascular problems. In addition to sunlight, clean, natural air promotes healthy breathing and safeguards the airways for improved lung oxygenation. For the heart to operate properly, appropriate respiratory function is necessary "According to Pragnya Ravichandran, Executive Physiotherapist at Cloudnine Group of Hospitals in T Nagar, Chennai
"Since there is no close surroundings, the likelihood of spreading a communicable respiratory tract infection tends to be lower in an open-air gym. Natural body warming occurs, and exercise causes significant perspiration, which causes the expulsion of pollutants. Workouts in these gyms with instructors available on some of these websites produce good health effects, "Dr. Nityanand Tripathi explains.
Which is superior? INSIDE OR OUTSIDE GYM
Exercise itself has a number of heart-health advantages, but studies have shown that exercising outdoors can lower blood pressure and promote a healthy heart rate. Outdoor exercise facilities also aid in reducing stress, which is a risk factor for heart disease.
"Numerous studies have demonstrated how outdoor exercise improves heart health by bringing blood pressure down and slowing heart rate. Additionally, exercising outdoors relieves tension because the natural light and lush surroundings are soothing to the senses. Stress and bad emotions can deteriorate the cardio-vascular system. Additionally, it has been found that exercising outdoors lowers sleeplessness. A good night's sleep is crucial for maintaining cardiac health. Poor sleepers are more susceptible to heart attacks, "Pragya Ravichandran explains.
However, according to Dr. Aashish Contractor, Director of Sports Medicine and Rehabilitation at Sir H N Reliance Foundation Hospital in Mumbai, there is no difference between open-air and indoor gyms in terms of heart health.
"Numerous decades of research involving millions of participants has amply demonstrated the value of consistent physical activity in lowering the risk of heart disease. The heart benefits from exercise in a direct and indirect manner. The heart's ability to pump more blood every heartbeat and to resist aberrant cardiac rhythms are just a couple of the direct impacts. Indirect effects minimise the risk of a heart attack by having positive effects on blood pressure, sugar, cholesterol, and body fat "Dr. Contractor explains.
Dr. Nityanand Tripathi comes to the conclusion that exercising anywhere, whether in an air-conditioned facility or outdoors, is beneficial. However, cardio exercises are slightly more effective there during this pandemic era, while strength training is more effective in a controlled setting with a trainer present.
Group Media Publications
Entertainment News Platforms – anyflix.in
Construction Infrastructure and Mining News Platform – https://cimreviews.com/
General News Platform – https://ihtlive.com/
Legal and Laws News Platforms – https://legalmatters.in/
Podcast Platforms – https://anyfm.in/
Jawan box office collection Day 16: Shah Rukh Khan film grosses ₹953 crore globally
In the world of Indian cinema, Shah Rukh Khan has been a beloved and iconic figure for decades. His latest film, "Jawan," has taken the box office by storm, showcasing the enduring popularity of the Bollywood superstar. As the film completes its 16th day in theaters, "Jawan" continues to shatter records and has now grossed a staggering ₹953 crore globally. Let's dive into the incredible success story of this film.
Shah Rukh Khan's "Jawan" – A Blockbuster Sensation
"Jawan," featuring Shah Rukh Khan in a pivotal role, has been one of the most highly anticipated films of the year. The movie, which combines action, drama, and a captivating storyline, has resonated with audiences across the globe.
Box Office Triumph
As "Jawan" completes its 16th day in theaters, its box office collections have soared to an astounding ₹953 crore worldwide. This remarkable feat highlights the film's universal appeal and the enduring star power of Shah Rukh Khan. It is worth noting that "Jawan" has received acclaim not only in India but also in international markets, further expanding its global reach.
International Success
One of the striking aspects of "Jawan's" success is its performance in international markets. The film has not only connected with the Indian diaspora but has also found a substantial fan base among non-Indian audiences. This achievement underscores the global appeal of Shah Rukh Khan and Bollywood cinema as a whole.
Impact on Indian Cinema
"Jawan" has not only set new records in terms of box office collections but has also made a significant impact on the Indian film industry. It has demonstrated that well-crafted storytelling, stellar performances, and a compelling screenplay can still draw massive audiences to theaters, even in the age of digital streaming platforms.
Shah Rukh Khan's Stature
Shah Rukh Khan, often referred to as the "King of Bollywood," has once again proven why he remains a prominent figure in the film industry. His ability to connect with audiences across generations and borders is a testament to his enduring charisma and talent.
As "Jawan" continues its remarkable journey at the box office, it reaffirms Shah Rukh Khan's status as one of the most influential and beloved actors in the world of entertainment. The film's tremendous success reflects not only the star power of its lead but also the collective efforts of the entire cast and crew. With its global reach and record-breaking collections, "Jawan" has left an indelible mark on the landscape of Indian cinema, setting a new standard for excellence and entertainment.
Group Media Publications
Entertainment News Platforms – anyflix.in      
Construction Infrastructure and Mining News Platform – https://cimreviews.com/
General News Platform – https://ihtlive.com/
Podcast Platforms – https://anyfm.in