Oscar-winner for One Flew Over the Cuckoo's Nest Louise Fletcher dies at 88 due to natural causes at her home in France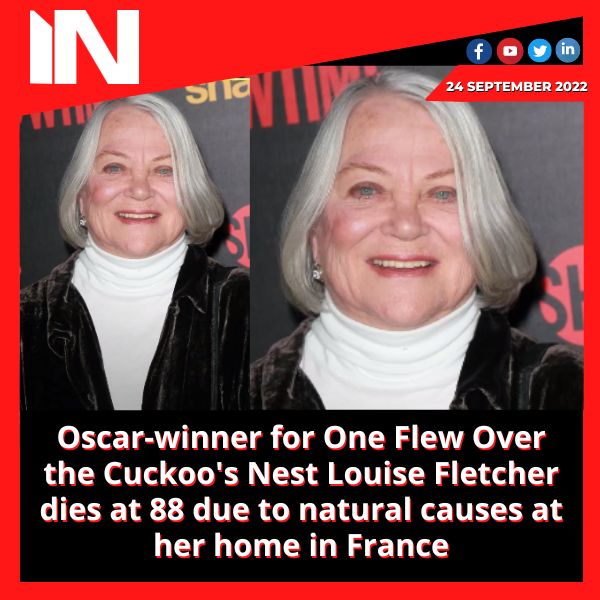 At the age of 88, Louise Fletcher passed away. The Oscar-winning actress passed away at her home in Montdurausse, France, of natural causes, her family announced in a report. She is best recognised for her role as Nurse Ratched in the 1975 Jack Nicholson and Milos Forman film One Flew Over the Cuckoo's Nest. She had already won the 1976 Academy Award for best actress in a leading role for it.
Over the course of her acting career, Louise appeared in various television shows and motion pictures. In Star Trek: Deep Space Nine, she played the Bajoran cleric Kai Winn Adami in a recurrent role. She was also well-known for her parts in Joan of Arcadia and Picket Fences. According to a source, Louise passed away in her sleep in the house she converted from a 300-year-old farmhouse while surrounded by her family.
Deadline announced Louise's passing. Her family did not give a reason for her passing, but according to her agent David Shaul, on September 23 she told them about her cherished home: "I can't believe I constructed something so essential to my well-being."
Louise was born to deaf parents on July 22, 1934, in Birmingham, Alabama, in the United States. Louise started her acting career in the late 1950s with TV shows like 77 Sunset Strip, Lawman, Bat Masterson, Maverick, and The Untouchables.
Louise became became the third woman to get an Oscar, a BAFTA, and a Golden Globe for the same performance with her Oscar victory. She spoke in sign language during her acceptance speech for the Academy Award, according to Deadline, making it one of Oscar's most enduring moments.
Jerry Bick, a movie producer, and Louise were wed from 1959 until their divorce in 1977. Her sons John and Andrew Bick, granddaughter Emilee Kaya Bick, sister Roberta Ray, brother-in-law Edward Ray, and ten nieces and nephews are all still alive, according to Deadline.
Group Media Publications
Entertainment News Platforms – anyflix.in      
Construction Infrastructure and Mining News Platform – https://cimreviews.com/
General News Platform – https://ihtlive.com/
Legal and Laws News Platforms – https://legalmatters.in/
Podcast Platforms – https://anyfm.in/
How Tom Cruise gets ready for action scenes: "Even shoelaces were taped"
Title: Tom Cruise's Unparalleled Dedication: Preparing for Action Scenes with Meticulous Precision
Introduction: Tom Cruise, the iconic Hollywood actor renowned for his thrilling action sequences, has time and again captivated audiences with his daredevil stunts and electrifying performances. Behind the scenes, Cruise's commitment to delivering awe-inspiring action extends to meticulous preparation and attention to detail. Recent revelations about his extraordinary dedication have shed light on his intensive approach, where even the simplest of tasks, like tying shoelaces, are executed with extraordinary precision. In this blog, we delve into Tom Cruise's remarkable preparation for action scenes, which showcases his unwavering commitment to his craft.
An Unmatched Work Ethic: Tom Cruise's success as an action star stems from his unparalleled work ethic and determination to create the most authentic and immersive experiences for audiences. His willingness to go above and beyond has solidified his status as a true professional in the industry. Cruise's preparation process, involving every aspect of his performance, exemplifies his relentless pursuit of perfection.
The Importance of Detail: In crafting action scenes, attention to detail is paramount. Tom Cruise understands that even the slightest oversight can compromise the believability and impact of a sequence. His commitment to accuracy extends to every aspect, including the smallest details like shoelaces. Reports have surfaced about Cruise taping his shoelaces during action scenes to ensure they remain tightly secured, preventing any potential accidents or distractions. This level of meticulousness demonstrates his dedication to maintaining absolute control over his movements and ensuring the highest level of safety.
Physical and Mental Conditioning: Preparing for action scenes is not just about physical training but also mental conditioning. Cruise invests significant time and effort in both aspects to deliver captivating performances. His rigorous fitness regimen and extensive training in various combat techniques are well-known within the industry. Moreover, he collaborates closely with stunt coordinators and experts to choreograph intricate sequences that push the boundaries of what is possible on screen.
Collaborative Approach: Tom Cruise recognizes the importance of collaboration in creating memorable action scenes. He actively engages with his co-stars, directors, and stunt teams, ensuring a cohesive vision and precise execution. His meticulousness is contagious, inspiring those around him to give their best and pushing the boundaries of what can be achieved. This collaborative approach enhances the authenticity and impact of his action sequences, elevating the overall cinematic experience.
Setting the Bar Higher: By leaving no stone unturned in his preparation, Tom Cruise sets the bar higher not only for himself but also for the entire industry. His unwavering commitment to his craft continues to inspire aspiring actors and filmmakers, encouraging them to invest in their performances and push their limits. Cruise's dedication to excellence has raised expectations for action scenes, motivating filmmakers and actors to strive for greater authenticity and intensity.
Conclusion: Tom Cruise's preparation for action scenes exemplifies his unmatched dedication, attention to detail, and unwavering commitment to delivering spectacular performances. His focus on every aspect, down to taping his shoelaces, showcases his dedication to maintaining precision and safety. Cruise's meticulousness not only elevates his own work but also influences the standards and expectations of the entire industry. As audiences continue to be enthralled by his captivating performances, his preparation process serves as a reminder of the effort and passion required to create cinematic magic.
Group Media Publications
Entertainment News Platforms – anyflix.in
Construction Infrastructure and Mining News Platform – https://cimreviews.com/
General News Platform – https://ihtlive.com/
Podcast Platforms – https://anyfm.in