Recap of Anupamaa: Kinjal provides Paritosh a second chance to raise Pari as a good father.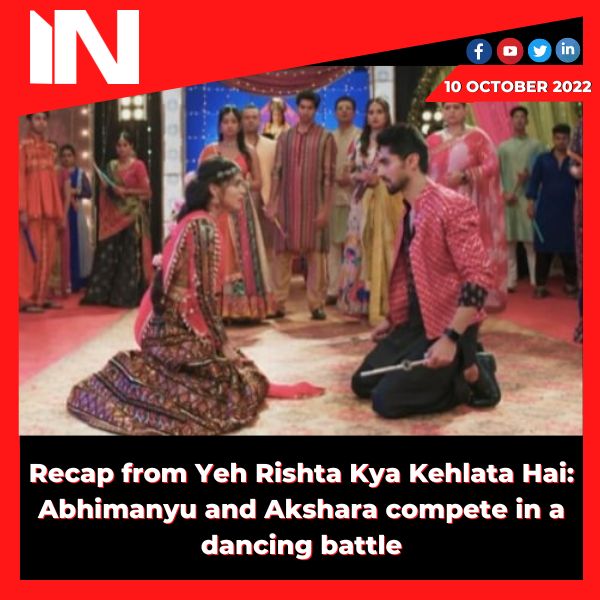 After abducting Pari, Paritosh has a breakdown in front of the Kapadia family in this episode of Anupamaa. Anupamaa and Vanraj are sick of Toshu's shenanigans, and Kinjal is considering calling the police to report him for his conduct. In his lone request to the family, Paritosh begs for another chance to care for his daughter and be a parent. Now Kinjal must choose whether she wants to give Toshu another chance. To learn more, keep reading this article.
Paritosh experiences a mental breakdown.
Toshu is finally prepared to apologise to everyone for his terrible behaviour after kidnapping Pari and staging several scenes rather than acknowledging his errors. Rakhi, however, is not yet prepared to pardon him. Despite Leela's objections, she is insistent about calling the police. Rakhi is supported by Dolly as well, but Vanraj stands in the way. Toshu also irately says, "I should call the police," to which Anupamaa corrects him once more and helps him see his error.
Toshu finally confesses his grief for failing Pari as a father by sobbing. He starts pleading for everyone's pardon. Even worse, he begs the Shahs to strike him. Anupamaa and Hasmukh express their displeasure over his behaviour after seeing his drama once more.
Leela keeps defending him. Although he appears to be repentant, his actions nonetheless reveal signs of an irresponsible and irredeemable guy. Continue reading to learn what persuades Kinjal to reconsider her decision and provide Toshu a second chance at fatherhood.
Toshu is given a second opportunity by Kinjal.
Toshu ultimately comes to his senses after receiving yet another rejection for his impolite method of requesting forgiveness. He acknowledges all of his flaws and errors. In addition, he contends that his daughter shouldn't be punished or separated from her father because of the mistake he made as a husband. He expresses regret to Kinjal and Anupama. Then, turning to Anupamaa, he declares his love for Pari and his desire to be a wonderful parent to her.
As Toshu has deceived her the most, Anupamaa leaves the choice to Kinjal. Finally, Kinjal decides to give Toshu another chance to be a father, but she is quite clear that he must not make the same mistake twice. She also warns Toshu that she will take away all of his rights as a spouse and a father if he confronts her in any way. Toshu praises Kinjal for the opportunity and agrees to all the terms. Toshu is then made to understand the significance of this second chance and how he can use it to regain everyone's trust by Vanraj, Anupamaa, and Hasmukh.
In the upcoming episodes, Anupamaa will face the end of one struggle and the start of a new, more challenging one. This time, Pakhi will be the one whose actions lead to future Anupamaa sorrow and trouble. Watch the HT highlights to learn more.
Group Media Publications
Entertainment News Platforms – anyflix.in
Construction Infrastructure and Mining News Platform – https://cimreviews.com/
General News Platform – https://ihtlive.com/
Legal and Laws News Platforms – https://legalmatters.in/
Podcast Platforms – https://anyfm.in/
Jr NTR fans burn firecrackers during Simhadri re-release.
Jr NTR, the popular Telugu film actor, has an ardent fan following known for their unwavering support and enthusiasm. However, a recent incident during the re-release of Jr NTR's blockbuster film Simhadri has caused controversy. Fans celebrated the occasion by igniting firecrackers, leading to a heated debate about public safety, environmental concerns, and responsible fandom. In this blog post, we will explore the incident, its implications, and the need for balanced fan celebrations.
The Re-Release of Simhadri: Simhadri, a 2003 Telugu action-drama film, remains one of Jr NTR's most beloved movies. To commemorate its anniversary, the producers decided to re-release the film, allowing fans to relish the nostalgia and experience the magic on the big screen once again. The announcement generated excitement and anticipation among Jr NTR's loyal fan base.
Fan Celebration Gone Awry: In their eagerness to celebrate the re-release of Simhadri, a section of Jr NTR's fans resorted to lighting firecrackers outside theaters. The loud explosions and billowing smoke alarmed moviegoers and nearby residents, leading to complaints and safety concerns. The incident drew criticism from various quarters, sparking a debate about responsible fandom and the need for considering public safety and environmental consequences.
The Importance of Responsible Fandom: Fans play a significant role in an actor's success, and their enthusiasm can bring immense joy to the celebrity they adore. However, it is essential for fans to remember that their actions should be responsible and respectful towards others. Expressing support and admiration should not come at the cost of causing inconvenience, harm, or damage to the surroundings.
Public Safety and Environmental Concerns: The incident of firecrackers being ignited during the Simhadri re-release raises important concerns regarding public safety and environmental impact. Firecrackers, besides being noisy, can also be hazardous and pose a risk to people's well-being, especially in crowded areas. Additionally, the environmental implications of such celebrations, including air and noise pollution, cannot be ignored.
Promoting Positive Fan Culture: While celebrating the achievements and milestones of their favorite stars, fans have the power to shape public perception. It is crucial for fan clubs and individuals to encourage positive fan culture, emphasizing activities that are inclusive, respectful, and beneficial for society. Non-disruptive celebrations such as charity events, social initiatives, and fan gatherings can foster a sense of unity and promote a positive image of fandom.
Fans can channel their enthusiasm in more responsible ways, such as organizing special screenings, conducting charity drives, or engaging in community service projects. By focusing on these avenues, fans can create a positive impact while celebrating their favorite stars without causing harm, inconvenience, or violating safety protocols.
The incident of Jr NTR fans igniting firecrackers during the re-release of Simhadri raises important questions about responsible fandom, public safety, and environmental concerns. While fans' enthusiasm is commendable, it is crucial for them to celebrate in a manner that respects the well-being of others and the environment. By promoting a culture of responsible fandom, fans can ensure that their admiration for their favorite stars does not overshadow the importance of public safety and environmental sustainability.
The director's passing this morning came as a shock to Rani Mukerji, who worked with him on Laaga Chunari Mein Daag and Mardaani. They had been planning to meet up shortly. Sarkar, who is best known for helming the 2005 drama Parineeta, passed away at Lilavati hospital in Mumbai's Bandra area, according to his wife Panchali. He was 67.
ADVERTISEMENT
about:blank
Group Media Publications
Entertainment News Platforms – anyflix.in
Construction Infrastructure and Mining News Platform – https://cimreviews.com/
General News Platform – https://ihtlive.com/
Podcast Platforms – https://anyfm.in