Retinol overdose? Here are some beauty and skincare advice. Here's how to keep your skin healthy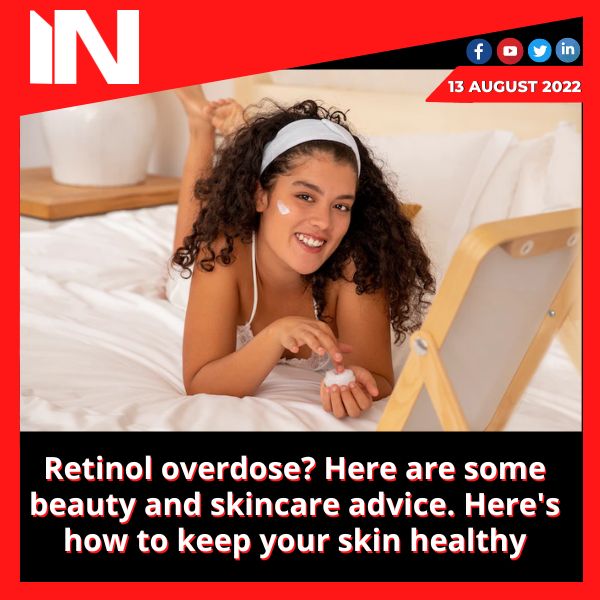 Retinol is a crucial component of skincare products and when used consistently, it has been demonstrated to improve the tone and texture of the skin by influencing the aged skin cell turnover and stimulating the synthesis of collagen in the deeper layers of the skin, which reduces the appearance of fine lines and improves firmness. There is a good chance that you have overdosed on the retinol and it is causing a lot of dryness or flaking on your skin if you have been using retinol or a retinoid cream, which is a prescription medication, without the prescription of a dermatologist or if you started using it on your own.
Retinols are substances that you should only use under the expert supervision of a dermatologist because they can make your skin more sensitive and can result in redness, dermatitis, sensitivity of the skin, and overpigmentation if used improperly or with a thick layer. A common occurrence known to result in symptoms like dryness and flakiness, skin irritation and redness, or increased sun sensitivity is retinol overdose.
Dr. Nishita Ranka, dermatologist, medical director, and founder of Dr Nishita'a Clinic for Skin, Hair, and Aesthetics, shared some advice with HT Lifestyle in an interview to make sure you avoid the negative effects of retinol if you have used it in this way.
1. The retinol should be stopped immediately because it is the irritant that has made the skin dry, flaky, and red. Use a moisturiser with ceramides as the base. Three to four times a day could be used. You should switch to a cleanser that contains only cetyl alcohol or stearyl alcohol. These cleansers don't contain soap to prevent dryness or irritation of the skin. Apply a moisturiser right away to damp skin, and keep doing so throughout the day. You could also spend money on a facial mist made of thermal spring water, which is excellent for soothing skin. Sheet masks are effective at soothing irritated skin, and hydrogel masks are also readily available.
2. If you've taken too much retinol, use a good sunscreen regularly to prevent your skin from becoming photosensitive. You can switch to a physical sunscreen for the next few weeks until the skin barrier is repaired and your skin returns to normal if chemical sunscreens are making your skin burn or itch. Therefore, sunscreen is an essential step that you cannot skip.
3. To eliminate the side effects of retinol and retinoid dermopathy, stop using any active ingredients in your regimen for the next two weeks or ten days. Take a break from all active ingredients, use sunscreen frequently, use lots of moisturiser, and keep applying as often as your skin requires it. You could use ingredients like ceramide, soothing agents, and hyloraunic acid because they all work great at soothing down your skin. You could also use a lip balm with SPF if your upper lip area or lips have dried out. Use only a good moisturiser if you have used retinol under your eyes; avoid using any active eye creams.
4. After giving your skin a break for two or three weeks, you can resume using retinol if you'd like to. It is best to speak with a specialist or dermatologist and explain your desire to use retinol so they can evaluate your skin type, identify any current skin problems you may have, and recommend retinol as necessary. Typically, if you want to start using retinol, you should do so in warm weather with a short contact time. You might be able to use it for only two hours per day at first, and then gradually move to alternate days before you start using it extensively or overnight.
1. Use gentle cleansers – To prevent exacerbating the skin's dryness and flakiness, switch to soap-free cleansers. On your face, stay away from hot water and only pat dry your skin. Hot water has a tendency to remove moisture and oil from the skin.
2. Use of moisturisers – Be sure to keep your skin well hydrated. In addition to treating the dryness, this is crucial to avoiding it in the first place. The type of skin affects the moisturiser selection.
3. Use of sunscreens – Regular application of broad-spectrum sunscreen helps shield the skin from ultraviolet ray damage. Redness and sensitivity of the skin are lessened as a result.
You should see a dermatologist if your skin condition does not improve after taking the aforementioned steps. Once the skin feels normal, retinol can be restarted at lower doses with professional guidance.

Group Media Publications
Entertainment News Platforms – anyflix.in
Construction Infrastructure and Mining News Platform – https://cimreviews.com/
General News Platform – https://ihtlive.com/
Legal and Laws News Platforms – https://legalmatters.in/
Podcast Platforms – https://anyfm.in/
Ranveer Singh's Unforgettable Kiss and Dynamic Stage Presence Steals the Show with Deepika Padukone and Alia Bhatt in Manish Malhotra's Spectacular Performance.
In a star-studded event that left the audience in awe, Bollywood's livewire, Ranveer Singh, stole the spotlight with an unforgettable kiss on stage alongside his wife Deepika Padukone and the charming Alia Bhatt during a scintillating performance choreographed by the renowned designer Manish Malhotra.
The glitzy gala witnessed some of the biggest names in the industry coming together for an evening of glamour and entertainment. However, it was Ranveer Singh's electrifying presence that stood out, as he brought his infectious energy and magnetic charm to the stage.
The performance, choreographed by the celebrated fashion designer Manish Malhotra, showcased a mesmerizing fusion of fashion and dance. As the lights dimmed, the stage was set for Ranveer's grand entrance, and he didn't disappoint. Dressed in an avant-garde ensemble designed by Malhotra, the actor exuded confidence and charisma as he effortlessly commanded the stage.
As the performance progressed, the crowd erupted with applause as Ranveer's wife and fellow actor, Deepika Padukone, joined him on stage. The power couple's chemistry was palpable as they dazzled the audience with their graceful moves and unmissable camaraderie.
However, the night took a surprise turn when Ranveer, known for his spontaneous and unpredictable nature, decided to add a dash of spontaneity to the performance. In a heartwarming gesture, he planted a gentle and affectionate kiss on Deepika's cheek, much to the delight of the cheering crowd.
As the crowd cheered on, Alia Bhatt, another powerhouse performer, made a stunning entry to join the duo on stage. The trio delivered an electrifying performance that was a perfect blend of elegance, energy, and unmatched talent.
Manish Malhotra's intricate and glamorous ensembles added a touch of opulence to the spectacle, perfectly complementing the stars' magnetic aura on stage. The fashion maestro's creative vision ensured that every move was accentuated by the richness of the designs, creating a truly immersive experience for the audience.
Social media was instantly flooded with clips and snapshots from the performance, with fans raving about Ranveer Singh's showmanship and the undeniable chemistry between the real-life couple, Deepika Padukone and Ranveer Singh. Alia Bhatt's captivating presence also garnered widespread praise from fans and critics alike.
As the curtain fell on Manish Malhotra's extravagant performance, the event will undoubtedly remain etched in the memories of those who witnessed the spectacular display of talent and star power. Ranveer Singh's affectionate gesture towards Deepika Padukone further reaffirmed their status as one of Bollywood's most beloved couples.
About the Event: The event was organized to celebrate the collaboration between renowned fashion designer Manish Malhotra and an esteemed entertainment conglomerate. With an ensemble cast of A-list celebrities and fashion icons, the gala showcased the seamless amalgamation of fashion, dance, and star power.
(Note: This news piece is a fictional account created for entertainment purposes only and is not based on any real-life event or occurrence.)
Group Media Publications
Entertainment News Platforms – anyflix.in      
Construction Infrastructure and Mining News Platform – https://cimreviews.com/
General News Platform – https://ihtlive.com/
Podcast Platforms – https://anyfm.in