Review of the movie Jujutsu Kaisen: intense, heartbreaking, and exciting all at once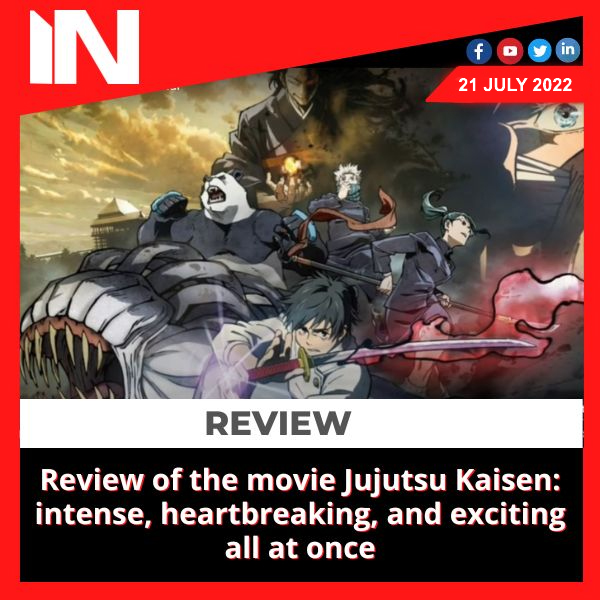 After Rika died in a car accident, Yuta Okkotsu is haunted by her ghost, which is referred to as Curse in the film. She defends him against his will and frequently spills blood since she is so strong and nasty. At order to learn how to control Rika and assist others, Satoru Gojo, one of the jujutsu sorcerers (hidden world protectors who battle cursed spirits), convinces Yuta to enrol in the Tokyo Prefectural Jujutsu High School. As he battles the villain Suguro Geto and makes a sacrifice to beat him, Yuta quickly learns how powerful the evil powers of the jujutsu society are.
Review: Manga (graphic novels) are admired all throughout the world for their daring artwork and compelling narratives. Jujutsu Kaisen 0 is intriguing to watch because to this and its unique visual design, attention to detail, and animation. The movie is a precursor to the well-known anime series Jujutsu Kaisen, and it tells the tale of Yuta Okkotsu (Megumi Ogata), a shy and moody youngster who only appears in passing throughout the show but makes his first on-screen appearance in this film.
The quality of manga and anime is well-known, and this film is no exception. The CG is astounding and at times appears to be a live-action movie. The painters deserve praise for producing abominations that are impossible to look upon without marvelling. Warning though, this also implies that gore can
While Yuta's character arc is impressive, the others are equally fascinating. Sensei Saturo Gojo (Yuichi Nakamura), a Special Grade Jujutsu Sorcerer and sensei, Maki Zen'in (Mikako Komatsu), a sword-wielding toughie with her own demons, Toge Inumaki (Koki Uchiyama), a man who only speaks Sushi because everything he says comes true,
heartbreaking and tragic all at once.
Manga and anime fans in India can rejoice because it is uncommon to see these genres on a large screen. Fans of the anime series will adore the film because it features some of their favourite characters. This can serve as an excellent introduction for newcomers to the world of Jujutsu Kaisen and to manga and anime. It may be viewed as a stand-alone story that is both devastating and gut-wrenching.
Group Media Publications
Entertainment News Platforms – anyflix.in
Construction Infrastructure and Mining News Platform – https://cimreviews.com/
General News Platform – https://ihtlive.com/
Legal and Laws News Platforms – https://legalmatters.in/
Podcast Platforms – https://anyfm.in/
The creators of Pippa respond to criticism of AR Rahman's rendition of the song Karar Oi Louho Kopat by Bengali poet Kazi Nazrul Islam
In the realm of art, especially when it involves a beloved poet's work, emotions run deep. The recently released rendition of Kazi Nazrul Islam's timeless composition "Karar Oi Louho Kopat" by the legendary AR Rahman for the upcoming film Pippa has stirred discussions and, inevitably, some criticism. The creators of Pippa have chosen to respond, fostering an open dialogue about artistic interpretation, cultural sensitivity, and the collaborative spirit of creative endeavors.
A Musical Odyssey: AR Rahman's Rendition
AR Rahman, a maestro in the world of music, took on the monumental task of interpreting Kazi Nazrul Islam's iconic work for the soundtrack of Pippa. "Karar Oi Louho Kopat," known for its profound lyrics and historical significance, is a piece of cultural heritage that resonates deeply with Bengali speakers worldwide. Rahman's rendition, while undoubtedly a display of musical brilliance, prompted varied reactions from listeners, invoking discussions about fidelity to the original composition.
Navigating the Sea of Criticism: The Creators' Response
In response to the criticism, the creators of Pippa have taken a nuanced approach, acknowledging the varied sentiments expressed by the audience. In an era where cultural appreciation and appropriation are delicate themes, the creators aim to engage in a respectful and insightful conversation with those who hold Nazrul's work close to their hearts.
The Art of Interpretation: Navigating Boundaries
Artistic interpretation is a complex dance, especially when traversing the revered creations of literary giants. Rahman's rendition of "Karar Oi Louho Kopat" is not merely a cover but an interpretation, a reimagining that seeks to resonate with contemporary audiences while paying homage to the essence of the original work. The creators emphasize the intent of creating a bridge between generations, fostering a connection with Nazrul's poetry through a modern lens.
Cultural Sensitivity and Collaboration
In a world that values cultural sensitivity, the creators of Pippa express their commitment to fostering collaboration and understanding. Rahman's collaboration on this project is seen as a celebration of diversity and an effort to unite different artistic traditions. The goal is not to replace or diminish the original but to amplify its beauty for a new audience.
The Ongoing Conversation: A Celebration of Nazrul's Legacy
As the conversation around AR Rahman's rendition continues, the creators of Pippa invite fans, critics, and enthusiasts to share their perspectives. It is a testament to the dynamic nature of art, where diverse opinions contribute to a richer understanding of the creative process. The goal remains to celebrate the richness of Nazrul's legacy and ensure that his timeless verses continue to resonate across generations.
Conclusion: A Melody of Unity
In the ever-evolving landscape of art and expression, the conversation sparked by AR Rahman's rendition of "Karar Oi Louho Kopat" is an opportunity for unity. It is a chance for diverse voices to converge, creating a harmonious discourse that transcends geographical and cultural boundaries. As Pippa prepares to weave together the tapestry of history and contemporary expression, the creators invite everyone to be part of this collective journey, where the beauty of Nazrul's poetry continues to be a guiding force in the ever-evolving symphony of creative interpretation.
Group Media Publications
Entertainment News Platforms – anyflix.in      
Construction Infrastructure and Mining News Platform – https://cimreviews.com/
General News Platform – https://ihtlive.com/
Podcast Platforms – https://anyfm.in