Sai Pallavi and Rana Daggubati's enthralling acting and climax make Virata Parvam a decent film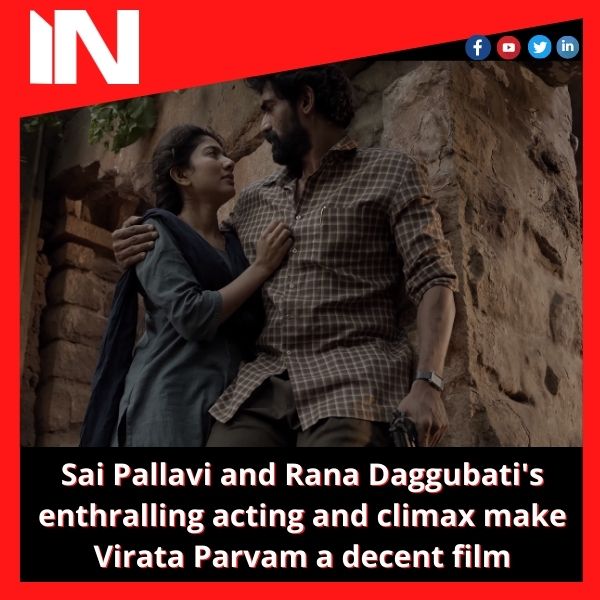 Sai Pallavi, Rana Daggubati, and others star in the film.
Venu Udugula is the director.
151 minutes of running time
2.5 out of 5
The audience member witnessing 'Virata Parvam' is immediately bombarded with conventional wisdom and cliches. Vennela (Sai Pallavi) is taught by her father, "Only two days in life are meaningful: the day we were born and the day we discover why we were born." In the early days of the Internet, the quote was a fantastic viral E-mail. Then there's Ravanna's (Rana Daggubati) revolutionary poetry, whose lines are brimming with explosive passion but have lost their energy due to the continuous usage of stolen lingo in both folk traditions and mainstream culture.
Director Venu Udugula saves the most important scenes for the final act. The touching climax has a sad tone to it. Even so, if Ravanna's character hadn't been so poorly developed, this stretch could have been even more heartbreaking. He needs to express himself verbally by yelling at the top of his lungs. We understand he's a Maoist. But why make Maoism synonymous with flamboyant poetry, Laal Salaam-ing, and loud declarations/denunciations?
Vennela is the author of the narrative. As a result, 'Virata Parvam' is the most heroine-centric novel about Naxal combat and the state's retaliation. After secretly reading Ravanna's illegal work, Vennela falls in love with him. She begins to fantasise of a life with him in the war-torn forest.
Ravanna is a mythic person in Vennela's eyes, deserving of the reverence Mirabai lavished on Lord Krishna. She is a hopeless romantic who, in a predictable course of events, turns to romanticised Naxalism. If the conflict scenes between the Maoists and the police had been the ONLY unimaginative bits, 'Virata Parvam' would have been a forgivable film. Thankfully, even Vennela's odd love for Ravanna isn't staged with poetic fancy. The only thing that stops the love tale from becoming ridiculous and weak is Sai Pallavi's magnificent performance.
Vennela's surreal love affair with a man who is unaware of her existence has a frenetic quality to it. Even when he isn't on screen, this man is expected to have a commanding presence. This idea needed a sprinkle of excellent writing because of its theatricality. Vennela's transformation from a common girl to a rare lover girl should have been plausible. However, it comes across as straightforward and unsophisticated. Vennela's willpower and capacity to battle in life-or-death situations aren't credible either.
There are no visual highs in the battles between the radicals and the cardboard cops. Themes such as incarceration violence, police torture, and continual surveillance of suspects/villagers are brought up again and again. A top cop (played by Banerjee) introduces Mahabharata's Virata Parvam to his boss in the middle of a meeting designed to devise an anti-Maoist strategy in an inadvertently amusing sequence. Try to figure out why he does it. To inform him of the need to hire a spy. Clearly, the boss never went to the police school.
The film has a habit of appearing pretentious when it comes to jargon related to or surrounding Maoists. 'State phobia,' for example, is thrown around with the glee of a kid learning about radicals for the first time. But these are small issues in comparison to how Ravanna is made to appear as if he needs life lessons from Vennela on one occasion. Isn't it because he's flawless that Vennela adores him?
Nandita Das' character contributes to the plot, but Zarina Wahab's mother will be remembered for the overly emotional interaction she has with her son. Naveen Chandra and Priyamani are passable, but Sai Chand, among the supporting cast, steals the show. The cinematography in the picture is outstanding. The BGM is adequate.
anyflix.in      Group Media Publications
Construction Infrastructure and Mining News Platform – https://cimreviews.com/
General News Platform – https://ihtlive.com/
Legal and Laws News Platforms – https://legalmatters.in/
Podcast Platforms – https://anyfm.in/
Varisu: Audio debut date for Vijay's film is announced; Check out
Fans of Thalapathy Vijay will be excited to hear that the audio debut date for his upcoming film, Varisu, has been announced! The film, which is set to release on 12 January 2023, will feature six songs composed by Thaman S in collaboration with Vijay.
This will be the first time that Vijay and Thaman have worked together, and fans are already eagerly anticipating the film's release. Varisu is sure to be a treat for both Vijay and Thaman fans alike!
Group Media Publications
Entertainment News Platforms – anyflix.in
Construction Infrastructure and Mining News Platform – https://cimreviews.com/
General News Platform – https://ihtlive.com/
Legal and Laws News Platforms – https://legalmatters.in/
Podcast Platforms – https://anyfm.in/