Strange advice from Ayushmann Khurrana for Mumbai fans with illnesses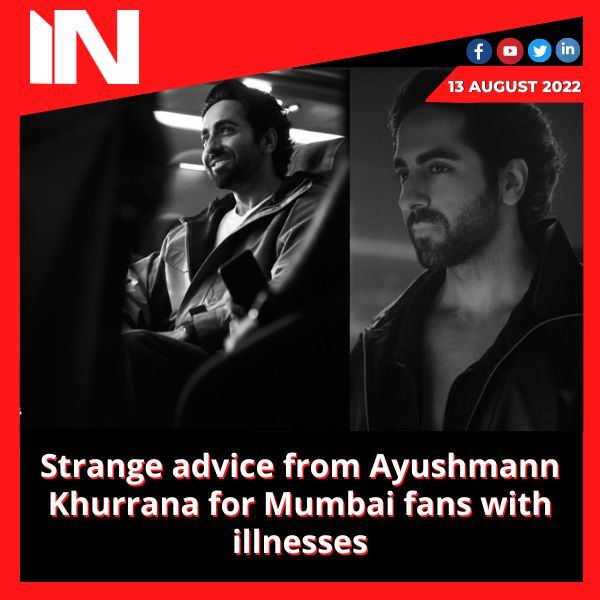 Ayushmann Khurrana made a comment about how many Mumbai residents are battling viral infections as the monsoon season continues. The actor gave his fans a home remedy and advised them to adhere to the superstition of tying a black thread around their ankles or wrists.
On Friday, Ayushmann posted a black-and-white photo from his flight to Instagram with the caption, "Inside the plane. from the window seat 1A's creek. It's time to disguise once more. Mumbai viral/cold infection se joojh raha hai, suna hai. I'd appreciate a glass of warm water in the interim. You could also add some kaali mirch. Kaala dhaaga bhi baandh lo haath paon mein Hum sab ko nazar lag gayi hai.
(I've heard that viral and cold infections are rife in Mumbai. Drink some warm water spiced with black pepper. Additionally, bind your hands and feet with black thread. We have all received the "evil eye."
What a beautiful picture of you, mere maan!!!! wrote Angad Bedi in response to his post. The image was praised by Saiyami Kher, who described it as a "Lovely shot." Many of his followers also praised how he appeared in the photo.
Ayushmann last appeared in Anek, a film by Anubhav Sinha. He portrayed a covert agent sent to India's Northeast to broker a truce between the federal government and the region's separatist groups. A few weeks after its release, the actor took a flight to Europe for a family vacation.
In Anubhuti Kashyap's Doctor G, which he describes as being made on a "subject that will make people ponder about an important social issue told in the most entertaining manner," Ayushmann will now be seen. He calls Action Hero, his other upcoming movie, "super fresh, zany, and quirky."
Speaking earlier about his upcoming movies, Ayushmann said, "Because of the wide variety of my upcoming films in 2022, I'm hoping for an incredibly exciting year in cinema. I've always tried to carefully choose projects that are unusual, and I'm sure I'm bringing audiences the best of what I could find to watch and enjoy on the big screen."
Group Media Publications
Entertainment News Platforms – anyflix.in
Construction Infrastructure and Mining News Platform – https://cimreviews.com/
General News Platform – https://ihtlive.com/
Legal and Laws News Platforms – https://legalmatters.in/
Podcast Platforms – https://anyfm.in/
Day 6 of the box office take for Chandramukhi 2 shows a drop to 2 crore for the Kangana Ranaut movie following the long weekend.
In the world of cinema, box office numbers can often serve as a barometer of a movie's success and audience reception. Kangana Ranaut's highly anticipated film, "Chandramukhi 2," has been making waves since its release. However, as the dust settles after the long weekend, day 6 at the box office has shown a significant drop in earnings, with the film raking in 2 crore rupees. Let's delve into what this means for the movie's overall performance and what factors could be contributing to the change in numbers.
A Promising Start
"Chandramukhi 2" generated substantial buzz and anticipation leading up to its release. Kangana Ranaut's powerhouse performances and the film's intriguing storyline had audiences eager to witness the movie on the big screen. As expected, the film got off to a strong start during its opening weekend, with impressive box office collections.
Long Weekend Highs
The long weekend, often a boon for movie releases, saw "Chandramukhi 2" enjoying robust earnings. Audiences flocked to theaters to catch the film, resulting in a surge in box office numbers. This surge is typical for highly anticipated films and can lead to a misleadingly positive perception of a movie's performance.
The Day 6 Drop
However, as the week progressed and the long weekend euphoria subsided, "Chandramukhi 2" experienced a notable drop in earnings on day 6. The movie's collection decreased to 2 crore rupees, raising questions about its ability to maintain momentum.
Factors at Play
Several factors could contribute to the drop in box office earnings:
Weekday Blues: Weekdays typically witness lower footfall at theaters due to work and school commitments. This trend often results in reduced box office numbers compared to weekends.
Audience Word-of-Mouth: The initial excitement around a film can sometimes lead to mixed or negative reviews from viewers. Word-of-mouth recommendations or critiques can impact a movie's performance as the week progresses.
Competition: The presence of other releases in theaters can divert audiences' attention and affect the box office performance of a particular film.
Marketing and Promotion: The intensity and effectiveness of a film's marketing and promotional campaigns can influence its long-term success.
The Bigger Picture
While the drop in earnings on day 6 is a noteworthy development, it's essential to remember that the box office is a dynamic arena. A single day's collection does not necessarily determine the overall success or quality of a film. "Chandramukhi 2" still has ample opportunity to recapture audience interest and sustain its box office performance.
Kangana Ranaut's dedication to her craft and her ability to deliver powerful performances are well-known in the industry. As audiences continue to flock to theaters to experience "Chandramukhi 2," the movie's ultimate box office fate will become clearer over time.
In conclusion, day 6 of box office collections for "Chandramukhi 2" reflects the natural ebb and flow of a film's performance after the initial excitement of its release. It's a reminder that the movie industry is ever-evolving, and a film's true success is often measured not just by its opening numbers but by its enduring impact on audiences.
Group Media Publications
Entertainment News Platforms – anyflix.in      
Construction Infrastructure and Mining News Platform – https://cimreviews.com/
General News Platform – https://ihtlive.com/
Podcast Platforms – https://anyfm.in