The "I see food" posture as interpreted by Rakul Preet Singh in a white coordinated outfit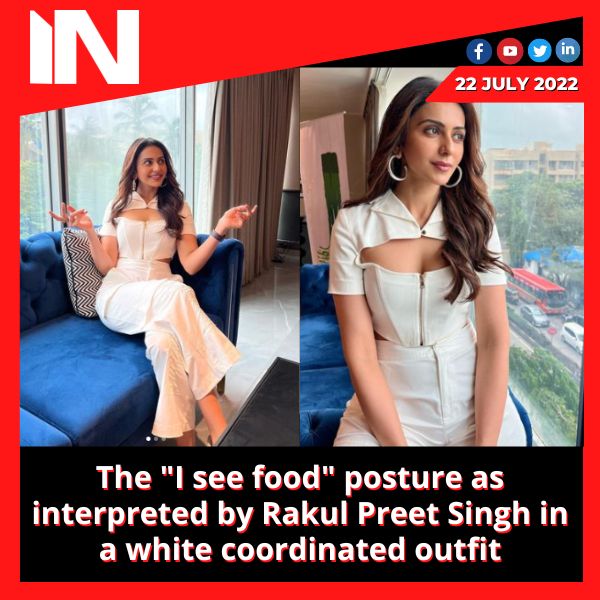 Rakul Preet Singh is a professional at nailing fashion objectives. Nearly every day, the actor gives her admirers significant fashion clues to follow. Rakul Preet knows how to make her Instagram family drool with bits from her fashion photoshoots, whether it's a shimmering gown, a casual outfit, or the six yards of grace. When not working for the cinema, Rakul Preet is frequently seen posing gorgeously for fashion photoshoots in eye-catching outfits. We are not at all complaining because Rakul Preet's fashion sense is improving daily.
Rakul Preet published some photos from a recent fashion photo shoot on Friday, and they have fashion enthusiasts scrambling to figure out how to pull off this look in white. Rakul Preet served as the Self Cntrd fashion house's inspiration for the photographs and wore a white matching set. The actor dressed in a white crop top with a plunging neckline, closed collars, and a cropped length. She paired it with a pair of wide-legged, high-waisted white pants. Rakul Preet displayed her silly side for the cameras while posing in an indoor setting. Rakul Preet can be seen in the first image turning her back to the camera in what she later described as her interpretation of a natural posture.
The actor is shown grinning widely in the second photo taken on set, adding, "I see food expression." The actor is seen posing by a window in the final image while averting his gaze. Rakul Preet completed her ensemble for the day with a pair of white hoops that she purchased from Shoplune.
Rakul Preet wore her hair open in voluminous soft wavy curls with a middle part, styled by Anshika Verma. The star chose a natural makeup look to go with her white outfit. Rakul Preet looked as lovely as ever with nude eyeshadow, mascara-coated eyelashes, drawn eyebrows, contoured cheeks, and a tint of nude lipstick.

Group Media Publications
Entertainment News Platforms – anyflix.in
Construction Infrastructure and Mining News Platform – https://cimreviews.com/
General News Platform – https://ihtlive.com/
Legal and Laws News Platforms – https://legalmatters.in/
Podcast Platforms – https://anyfm.in/
The 24-Carat Gold Printed Saree Worn by Kriti Sanon at the Adipurush Trailer Debut
Title: The 24-Carat Gold Printed Saree Worn by Kriti Sanon at the Adipurush Trailer Debut: A Majestic Blend of Tradition and Glamour
Introduction
Bollywood actress Kriti Sanon has always been known for her impeccable fashion choices, and she recently stole the limelight yet again with her stunning appearance at the trailer debut of the highly anticipated film "Adipurush." Kriti donned a mesmerizing 24-carat gold printed saree that left everyone in awe. In this blog post, we delve into the details of this exquisite ensemble, exploring the fusion of tradition and glamour showcased by the talented actress.
The Glamorous Gold Saree
Kriti Sanon's appearance at the Adipurush trailer debut event was nothing short of breathtaking. The talented actress chose to embrace the elegance of a traditional Indian saree while adding a touch of opulence with a modern twist. Her choice of a 24-carat gold printed saree instantly turned heads and became the talk of the town.
A Celebration of Tradition
Sarees have always been an integral part of Indian culture, representing grace, beauty, and tradition. Kriti's choice to wear a saree for this high-profile event paid homage to the country's rich heritage and showcased the enduring charm of this iconic garment. The gold-printed design further accentuated the regal aura, making her stand out as a true fashion icon.
The Fusion of Modernity and Tradition
What made Kriti Sanon's attire truly unique was the amalgamation of traditional elements with contemporary sensibilities. While the saree adhered to the traditional drape and silhouette, the 24-carat gold print added a modern touch of luxury. This fusion of styles demonstrated the versatility and adaptability of Indian fashion, seamlessly blending the past and the present.
Craftsmanship and Detailing
The craftsmanship and detailing of Kriti's gold printed saree were nothing short of remarkable. The intricate gold motifs meticulously embellished on the fabric added a touch of grandeur and finesse. The meticulous artistry involved in creating such an exquisite piece is a testament to the skilled artisans who keep traditional Indian textile techniques alive.
Accessorizing with Elegance
To complement the resplendent saree, Kriti Sanon chose minimal yet impactful accessories. She adorned herself with statement gold earrings, subtly enhancing the overall regal look. The minimalistic approach to jewelry allowed the saree to take center stage, proving that sometimes less is more when it comes to achieving a truly iconic fashion statement.
Inspiration for Fashion Enthusiasts
Kriti Sanon's choice to wear a 24-carat gold printed saree at the Adipurush trailer debut serves as an inspiration for fashion enthusiasts worldwide. It beautifully showcases how one can embrace tradition while adding a modern touch, creating a style that is both timeless and contemporary. The ensemble stands as a testament to the enduring charm of Indian fashion and its ability to captivate the global audience.
Conclusion
Kriti Sanon's appearance in the 24-carat gold printed saree at the Adipurush trailer debut was a magnificent display of elegance, tradition, and glamour. The fusion of modernity and tradition, combined with the intricate craftsmanship, made the ensemble truly exceptional. The actress's choice serves as an inspiration for fashion enthusiasts to explore the beauty of Indian textiles and embrace the rich heritage while adding their unique flair. Kriti's memorable look will undoubtedly be etched in the minds of fashion connoisseurs for years to come.
Group Media Publications
Entertainment News Platforms – anyflix.in      
Construction Infrastructure and Mining News Platform – https://cimreviews.com/
General News Platform – https://ihtlive.com/
Podcast Platforms – https://anyfm.in